1. ISIS rings confiscated at Ben Gurion Airport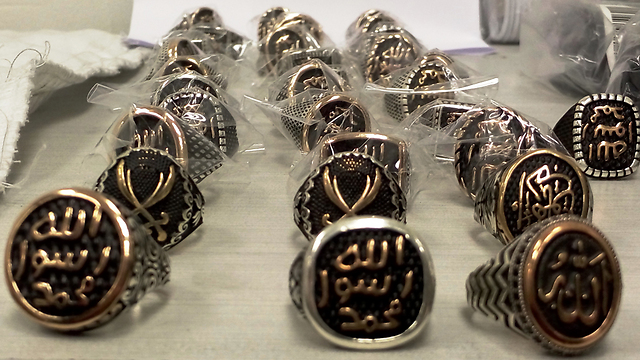 Although this package only contained rings, customs said Tuesday that they feel satisfied with their work. "A large number of rings mean that there are buyers. It's scary and shocking to know that in the lands of the Palestinian Authority there are those who support that murderous organization. And who knows? Maybe with our help they'll discover a cell or ideological organization of ISIS," said a customs security employee.
2. John Nash, the man who was featured in the dramatized account of his own life in the movie, 'A Beautiful Mind'. died with his loyal and devoted wife in a car accident. His work on game theory and economics is truly revolutionary and can be made accessible through the brain changing book, Moral Calculations by Laszlo Mero.
3. Breaking: ISIS Executes 400 Syrian Soldiers in Palmyra
4. (non muslim British) Pupils show off their designs for new mosque
(My design would be a banner with a slogan. "Mosques only enlighten us when they are in flames")
Teacher, Fiona McCallion, said: "I saw the article in the paper and I thought it looked wonderful. I determined there and then to let the Imam know that we at Tang Hall Primary School thought that the new mosque would be a great asset to the our local community, and a splendid work of architecture to boot.

"I spoke to my class and we decided to draw our designs for the new mosque, then invite the Imam to come and see them.

"Despite being an extremely busy man, he came in , talked to the children, congratulated them on their pictures and invited them to visit both the current and planned mosques. He then spoke in front of a whole school assembly, and his personable, down-to-earth demeanour won everyone over."
5. George Galloway complaint passed on to police by expenses watchdog
(A little like getting Al Capone on income tax evasion, if anything real comes of this at all)
6. Iraq: IS militias claim the al-Waleed crossing *GRAPHIC*
Islamic State (IS, formerly ISIS/ISIL) militias have reportedly seized the last border crossing between Iraq and Syria that was under Iraqi security forces control, Sunday. The al-Waleed border crossing (known as al-Tanaf on the Syrian side), which is just to the south of Palmyra, a UN World Heritage site that purportedly fell under the complete control of IS on Thursday.
7. "It is Not Possible to Think of Giving Up" Gates of Vienna
JLH has translated an inspiring interview with the prominent German Counterjihad activist Michael Stürzenberger. The translator includes this note:
Many of us at GoV have commented and reported on Michael Stürzenberger — or "Stürz" as Oz-Rita likes to call him — over the past years, and I vividly remember his days as a columnist and interviewer at Politically Incorrect. We have watched in awe as he took on the powers-that-be in Munich, revived the White Rose with its only surviving member, and suffered numerous counterstrokes. But until reading his answers at the end of this interview, I did not appreciate the full extent of his day-to-day misery. A horrifying example of what one of our most prominent American political families christened (and practiced) as "the politics of personal destruction".

It is sad that the leftist pressure can alienate even friends and relatives. It is deeply ironic to think of the legitimate pleas for tolerance of minorities, women, and gays over the years, often made by some of the same people who are now happy to see the misery of ostracism visited on people who disagree with them.
The translated interview from Journalistenwatch:
"It Is the Duty of An Enlightened Citizen to Resist Islam!"
Thank you M., ML., GoV., Oz-Rita, CB Sashenka and many more. The fight has not yet begun. So let us not despair just yet.