1. If only the driver had said they were coming from clown school…
2. Israel: Arabs Fly Nazi Flag near Hevron
A resident, Uri Arnon, told the Tazpit News Agency: "I felt we were going back 75 years, losing our hold on the land. The Arabs no longer feel the need to hide their murderous tendencies, announcing out loud that they wish to annihilate us."
3. Pope says Koran is a book of peace and Islam is a peaceful religion
(This feels like a partial clip. It appears to end in the middle of his argument, just to be entirely fair to the pontiff)
4. Buckinghamshire groomed girl abused by 60 men in 'ring of horror'
One girl, who was aged 12 or 13 at the time, alleges she was abused and passed between 60 men who had sex with her, in Aylesbury, Buckinghamshire.

Eleven men, on trial at the Old Bailey, variously deny 52 sexual offences between 2006 and 2012. […]

Charges included the multiple rape of a child under 13, child prostitution and administering a substance to "stupefy" a girl in order to engage in sexual activity.

In all, 45 charges relate to one child, who cannot be identified for legal reasons and is known as "A", and four against a second girl, referred to as "B".
(Click through for a who's who of Indian and Pakistani muslim, and even a Sikh name(s))
(More here at the Express which includes the phrase, "in a word, 'grooming'" when in fact it would, if it were honest, read, 'In a word, harem of child sex slaves')
5. Sahara desert gun battle yields drugs haul, says France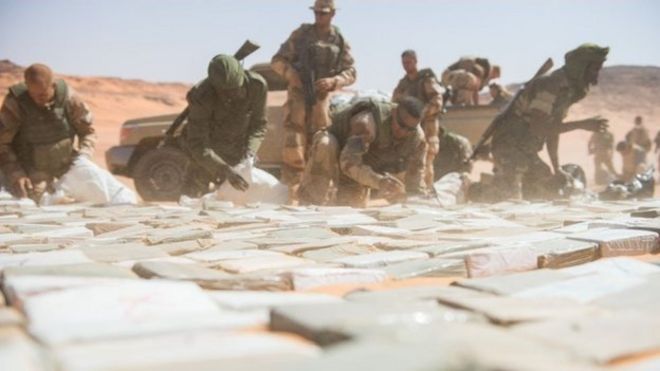 (Showing once again that in islam, anything is OK so long as it assists the process of islamic supremacy and is a crime if it inhibits that goal, no matter what the thing is, in this case massive drug possession with intent to traffic)
The French army says it has seized 1.5 tonnes of drugs and a cache of weapons after stopping a convoy of militants in the desert in north-eastern Niger.

Militants in two pickup trucks opened fire on French and Nigerien forces after refusing to stop at a checkpoint on 14 May, the French military said.

Soldiers discovered the illegal cargo after a fire-fight in which three militants were killed, it added. […]

Widespread trafficking in the Sahel region is a major source of funding for militant Islamist groups across the continent, analysts say.

Operation Barkhane, which comprises French forces as well as troops from Mali, Mauritania, Burkina Faso, Niger and Chad, was established in August 2014 to stop the emergence of jihadist groups.
6. Pope did call Abbas an "angel of peace" as they admit it and apologize to Israel for the remark
(Well that settles that then)
7. Some solid links on Iraq and Ramadi, the US and the Islamic State here in this comment
8. All Australians, please have a look at this excellent government initiative to look into food labeling schemes and redo legislation where needed. This includes but is not limited to halal schemes which are rife with issues.
(Non Australians may want to look at this to see if a version of it can be implemented in our own countries as well)
Than you Oz-Rita, M., and many many more who have left quite interesting and important links in the comments