1. Complaint says crosses at Catholic school offensive, prevent Muslim prayers
Crosses in every room at Washingon D.C.'s Catholic University of America are a human rights violation that prevent Muslim students from praying.
That's the complaint to the Washington, D.C. Office of Human Rights filed by a professor from rival George Washington University across town.

GWU Law School Professor John Banzhaf takes the Catholic institution to task for acting "probably with malice" against Muslim students in a 60-page complaint that cites "offensive" Catholic imagery all over the Catholic school, which he says hinder Muslims from praying.
2. Copenhagen buses burned in 'anti-Israel attack'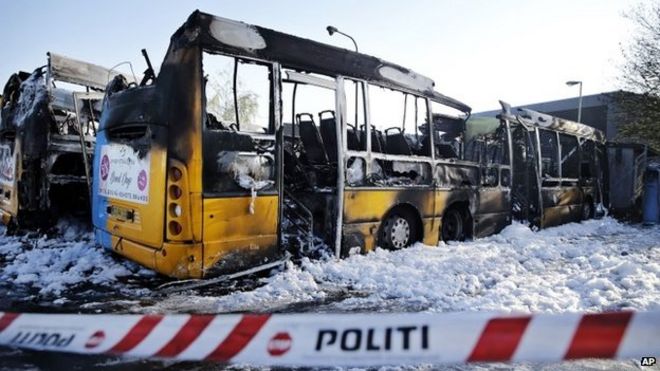 Four Danish buses were destroyed in a suspected arson attack that police believe may have a political motive. The buses were found on fire in the early hours of Friday morning in Copenhagen. Another was found covered in anti-Israeli graffiti.

Last week, the city's transit authority ordered the removal of advertisements by a pro-Palestinian group calling for a boycott of Israeli goods. The group behind the adverts condemned the fire, calling it "a criminal act".
(And yet it seems an awful lot like the group behind the adverts were in fact the ones that attacked the Danish Transit vehicles. Shades of Sinn Féin?)
3. This mini lecture by Judge Jeanine Pirro on the reaction to Pamela Geller's cartoon contest is among the best things she has ever done. Its thorough and researched and deals with many components of the issue not yet dealt with by anything remotely MSM.
4. Macedonia mourns 6 officers killed in yesterdays attack by an estimate of 70 gunmen. Almost certainly muslim.
5. Mark Steyn weighs in on the attack in Texas: "Stay Quiet and You'll Be Okay"
6. Islamic antisemitism is boiler plate. But this is creative
7. People are putting up drawings of the pirate mohamed here and there around the US
(They offer the file should anyone feel the urge to print it and use the same image for whatever purpose) More on that here. 
8. 22 killed in Macedonia gun battle
Thank you M., Draculea, C.B. Sashenka, and many more.
In many nations, and quite explicitly in the UAE, it is illegal for anyone to eat during Ramadan during the skip-lunch times of the muslims. A paragraph is pasted below on this from the Express:
The Muslim festival of Ramadan normally takes place over the summer months and involves people fasting from sunrise to sunset.

In the UAE it is illegal to eat while the rest of the nation is fasting and you could be imprisoned for doing so. This year Ramadan falls between June 18 and July 17.
This needs to be understood for what it is. A law of supremacy and not religious observance as they are making it clear that non-believers can be jailed for not observing this ritual and likely, any believer would be called an apostate for non-observance and it could be worse for them. This is a great example of the islamic end game for territories they are conquering by the Milestones process. Tuck this law in the back of your mind and check what other countries and territories have this law, and where this law is being enforced by sharia thugs even where there is no legislation on it. This would be revealing about the near future of recently invaded lands by muslim military colonists most certainly.