1. Grover Norquist's Alleged Islamist Ties Threaten Reelection to NRA Board of Directors
(Breitbart links are a war zone of auto play adds)
Here is the Wiki on GN and for a 10 part course on islamic infiltration in the US with more information on Mr. Norquist than anyone would ever want, please check Frank Gaffney's site here
2. Canadian Liberal MP proposes we give up the right to face our accusers.
3. MTA Votes to Ban All Political Advertising After Judge OKs "Hamas Killing Jews" on City Buses
(And other groups gather momentum to ban advertising of hot people cause it makes those of us who don't look like them feel bad, and then anti GM food people will want all vegetable adds featuring 'non-organic' food banned and global warming alarmists will want to get rid of any add that shows a place having a really nice day)
The nation's largest mass transit system has voted to ban all political advertising on its subways and buses after a judge ruled that a pro-Israel group was allowed to display an advertisement containing the phrase "Hamas Killing Jews" on New York City buses.

The resolution passed Wednesday by a vote of 9-2 at the MTA's board meeting after the finance committee approved it earlier in the week. The cash-strapped agency says such advertising only accounts for less than $1 million of its annual advertising revenue of $138 million.
4. Yemen crisis: Saudi Arabia stops Houthi 'border attack'
Saudi troops have repelled a major attack on their border by Houthi rebels from Yemen, Saudi state media says.

Air strikes carried out by a Saudi-led coalition have targeted the Shia Muslim rebels since late March.

But this is the first major assault on Saudi territory since the strikes began. The Saudi reports say "dozens" of rebels were killed.
5. Geert Wilders and some US congressmen get questioned by CAIR during a press conference in Washington DC today. This is a great video.
(Looking for the whole press conference still. There is a brief article about his day in DC here)
6. German police seize explosives in anti-terror raid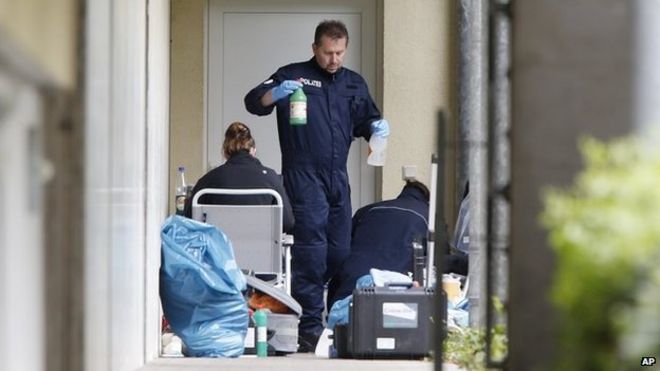 Officers raided a flat in the town of Oberursel and reportedly found a pipe bomb, an assault rifle and bomb-making chemicals.

Police confirmed that a man and a woman had been detained overnight.

Local media said the couple have been under surveillance since one of them bought a large quantity of hydrogen peroxide using a fake name.
(Pretty sure there is a blonde joke in there somewhere)
7. German lady meets Israeli students at Auschwitz
8. More tweets from Italian streets by alleged Islamic State members looking for targets
9. France plans rehabilitation unit for returning jihadists
(What a great idea! I cannot see how this will fail.)
Thank you Ox AO., BCF., Richard, M., and all and still more to come, Waiting for more translators to wake up.