1. Baltimore Riots: Governor Declares State Of Emergency As City Descends To Chaos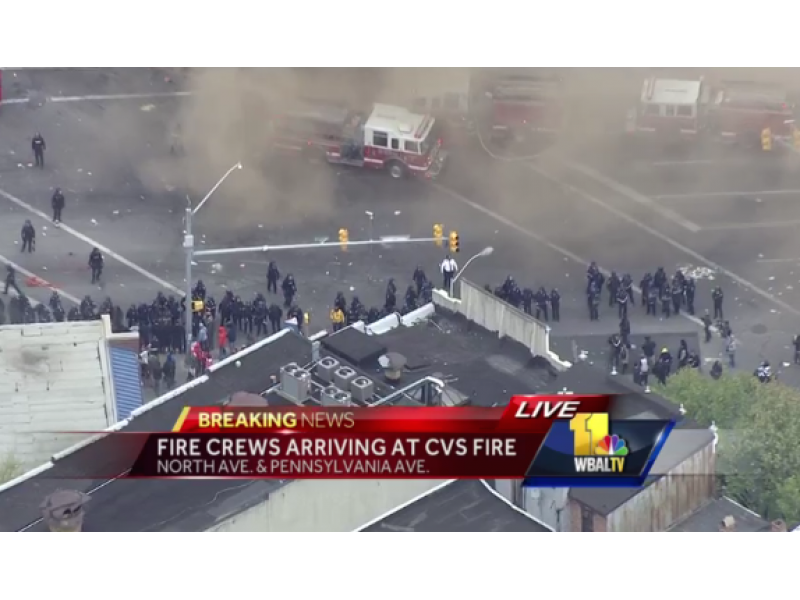 Protesters in Baltimore began looting, setting fires and throwing rocks, bricks and anything else they could get their hands on Monday, injuring several officers as police donned riot gear in response to violence hours after the funeral for Freddie Gray, who died while in custody more than a week ago.

Police report at 7:15 p.m. that a violent and aggressive group is moving to the area of North Ave and Smallwood St., and they encouraged motorists to avoid the area.

Gov. Larry Hogan issued a state of emergency at 7 p.m. Monday. Maryland State Police were on hand, and police departments from around the region sent scores of officers to help quell the chaos.
2. UN admits Palestinians fired rockets from UNRWA schools
(Well dog my cats indeed)
The UN finally investigated the Palestinian storing of rockets in UNRWA schools and their use of the schools to launch rockets against Israel, all of which constitute grave violations of the Geneva Conventions and international humanitarian law.
Key findings gleaned from the UN report:
Hamas and/or Islamic Jihad stored rockets in UNRWA schools. The board found, in the case of the UNRWA Jabalia Elementary "C" and Ayyobiya Boys School, referring to the discovery of weapons there on 22 July 2014, that "it was highly likely that a Palestinian armed group might have used the premises to hide weapons."
3. Gunman storms Bosnia police station shouting 'Allahu akbar,' kills 1
SARAJEVO, Bosnia-Herzegovina –  A gunman stormed into a police station in a northeastern Bosnian town shouting "Allahu akbar" on Monday, killing a policeman and wounding two others, authorities said.

The gunman was killed during the attack in the town of Zvornik, police spokeswoman Aleksandra Simojlovic told The Associated Press. "Allahu Akbar" is the Arabic phrase for "God is great."

Zvornik is a town in the Bosnian Serb part of the country and it is located at the border with Serbia. During the 1992-95 war, almost all Muslims were expelled or killed as part of a Serb campaign. Only a few thousand returned to the region after the war.
4. Here is a very interesting article about a question period in the Canadian parliament with the security minister. He is explaining in diplomatic language where the money to fund jihad in Canada is coming from.
(National Post reports on it here)
5. Muslim police chief only one not to salute the flag of the US during ceremony
An assistant Chief of the Miami Police Department (MPD) broke ranks and chose not to salute the American flag while attending a police ceremony in uniform last week.

Anita Najiy, a 32 year veteran of the MPD and reportedly a Muslim, stood at attention while all the other officers around her placed their hands over their hearts, as they recited the Pledge of Allegiance.
6. Anti-Israel activists attempt to hijack Baltimore riots
(Kind of says a lot that the Anti-Israel crowd try to hijack riots for their purpose. Its not like they try and write a better opera or invent medicines that cure diseases or in any way try and make things that improve the human and global condition. Instead they take the most destructive things and try to bend it to their wills)
We saw it in Ferguson where "pro-Palestinian" activists spread lies that Israel trained the Ferguson police, and actually embedded themselves in the protests to try to turn the protests into anti-Israel protests.

The same thing has happened repeatedly with #BlackLivesMatters protests, most notably the dangerous blockade of the San Mateo – Hayward Bridge.

This is part of the emerging theme of anti-Israeli activists trying to tie unrelated movements, such as fossil fuel divestment, to Palestinian issues.

Now we are seeing it with the Baltimore riots.

The usual suspects, like Max Blumenthal, were out in full force immediately, trying to establish a link between the Baltimore police and Israel because some police trained in an Israeli form of martial arts:
7. Saudi Arabia arrests 93 Islamic State suspects: state news agency
…including at least 65 Saudi nationals, the interior ministry said in a statement carried on the official Saudi Press Agency on Tuesday.
Thank you M., CB Sashenka, Gates of Vienna, Blazing Cat Fur, ML., and all. More to come shortly.