First. lets compare two stories from today's news feed:
1. Bacon Found Wrapped Around Edmond Mosque's Door Handles
EDMOND, Oklahoma –
The Oklahoma chapter of Council on American-Islamic relations wants state and federal law enforcement to investigate after bacon strips were found wrapped on the door handles of an Edmond mosque.

Edmond police received a report Sunday morning about bacon being left in the parking lot and entrance of the Islamic Society of Edmond. Muslims are prohibited from consuming pork products.
(It would be interesting to see how they treat this case, how long it takes to catch the person, if they name the person and what they do to them and compare the same things with this story:
1b. No One Injured After Shots Fired At Nashville Synagogue
Photo: West End Synagogue, Nashville
Jewish institutions and local synagogues in Nashville, Tennessee are on high alert after shots were fired into the West End Synagogue on Monday morning.

Police have sent extra patrol units to synagogues in the area as the investigation continues.

According to police spokesman Don Aaron, reports The Tennessean, a maintenance worker heard the gun shot at the synagogue, and saw a bullet hole at the front of the building.
(Muslims aren't allergic to bacon. They just aren't supposed to eat it. Neither are Jews. The bacon was a message that someone doesn't like the religion of islam. The shots were a message that someone wants to apply lethal force to Jewish people. Both cases in the USA and both in the last 2 days. Let's see how it plays out)
2. Female Muslim Author Beaten, Sent to Mental Hospital After Praising Rushdie
Zainub Priya Dala, a South African Muslim author and psychologist, was "violently attacked for expressing admiration for Salman Rushdie" the day after praising the author. After countless phoned-in threats to recant, Dala was placed under psychiatric care in which she was "drugged until I could not walk" and advised to adopt a proper Muslim lifestyle.

Dala recently published her first novel, What About Meera. Last month, at a literary festival in Durban, she said she "admired the writing of Arundhati Roy and Rushdie."

Three days later, three men forced her car off the road, held a knife to her throat, banged her face with a brick and broke her cheekbone. They called her "Rushdie's bitch." Had a taxi not passed by, she is sure she "would've been stabbed."
(This woman may be what a genuine refugee would look like. The kind we should take but rarely make it here. A great comment on the story -"Lunatics running the asylum literally" -ML)
3. UN Gives Iran Leadership Post in Agency for 'Gender Equality and Empowerment of Women'
CNSNews.com) – With little fanfare, a U.N. body has given Iran seats on several entities, including one dealing with women's empowerment, another with children, a third with narcotics and a fourth with crime prevention and criminal justice.
4. Clifton man arrested after allegedly throwing firecrackers at Passaic synagogue, report says
PASSAIC – A 21-year-old Clifton man is accused of throwing lit firecrackers outside a synagogue and yelling "Allahu Akbar" before fleeing, according to a Northjersey.com report.

Rizek Musheisen has been charged with bias intimidation, possession of fireworks and criminal mischief, said Passaic Police Department spokesman Andy White.

According to the report, police responded to the Ahavas Israel Synagogue on Van Houten Ave. around 8 p.m. after a report of suspicious activity.
5. Man dumps four pig heads outside 'mosque'
Pig heads have been dumped outside a building, days after claims it was being used as a mosque.
A plastic bag containing four pigs' heads were left on the doorstep of an old ambulance station, which is now a community centre, in Solihull near Birmingham just after 9.30pm last night, West Midlands Police said.

It follows claims last week that the local council was investigating whether the centre had been turned into a mosque without permission.
(People who will go crazy about this will likely say nothing about the bags of human heads muslims are dumping in the formerly Christian parts of the Middle East or playing soccer with them etc. etc.)
6.  Attacks Kill 28 Civilians in and Around Baghdad
A wave of attacks in and around Baghdad on Tuesday killed at least 28 people as Iraqi security forces repelled an attack by the extremist Islamic State group on the country's largest oil refinery, officials said.

The attacks came as Iraqi Prime Minister Haider al-Abadi met with President Barack Obama in Washington and appealed for greater support from the U.S.-led coalition carrying out airstrikes against IS militants who captured a third of both Iraq and neighboring Syria in a blitz last year.

Obama pledged $200 million in U.S. humanitarian aid to Iraq to help those displaced by Islamic State attacks — an offer of assistance that appeared to fall short of the Iraqi prime minister's request for greater military support.
7. Islamists 'Setting Up Anti-British Schools'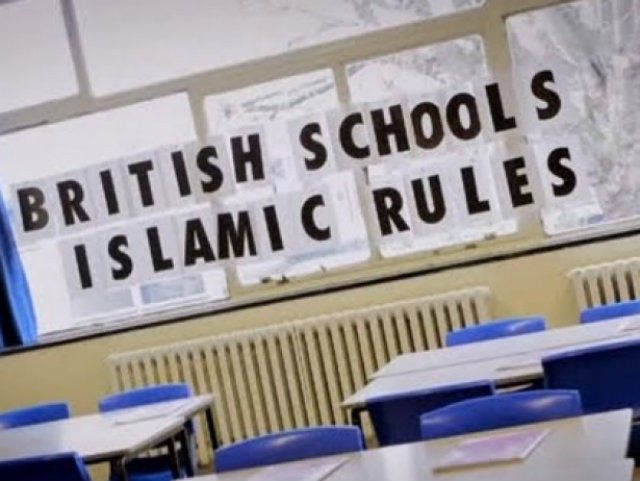 UK authorities are to investigate up to 50 schools set by extremists for being "anti-British". Many of these schools were started by a teacher who was embroiled in the "Trojan Horse" scandal last year, where Islamist extremists reportedly tried to take over a series of state schools.

These schools, which allegedly "subvert British values", are based around the UK and have managed to escape inspection so far by operating outside the traditional education system. Launched as private tuition centres, they operate by teaching only a limited amount of hours per week, with students officially registered as being home schooled.

It is thought that children of Pakistani, Bengali and Somali origin are particularly at risk of radicalisation after their parents withdrew them from mainstream education to be educated at these centres.
Thank you ML. M., Richard, Yucki, Buck, Wrath of Khan, and all. More to come shortly.