1.  Breitbart: STUDENTS DEFEND TEACHER DISCIPLINED FOR CALLING ISLAM 'IDEOLOGY OF WAR'
After backlash following a report by KHOU 11 News on a Texas high school teacher calling Islam an "ideology of war," students worry the teacher has resigned.

Breitbart News earlier reported about the school district disciplining the teacher after it learned he had passed out a pamphlet in his class describing Islam as an "ideology of war."

Students and community members have come to the teacher's defense. A petition with more than one thousand signatures has circulated calling for the school to bring back the teacher.

Peyton Green, a student who is a senior at the Texas high school, was in the class last semester. She said he used the same handout then, but there was no backlash or scrutiny from any students or administration.
(It would have been better if he had included sources for his statements)
2. Egyptian court sentences leader of outlawed Muslim Brotherhood and 13 other senior members to death for inciting chaos and violence
(If they love death more than we love life, as they often state they do, then I expect the MB will be celebrating tonight. Yet something tells me they won't be)
3. Ottawa April 10 2015: Explosion and resultant fire guts building on Bank St.
Michael Valenti was walking by the building on his way to Irene's Pub on the same side of the building when an explosion occurred, sending debris towards Valenti and cutting his face and leg. The 26-year-old said he is lucky to be alive. "I heard a loud bang and a bunch of glass hit me," Valenti recalled.
(There is a video at the site with an interview with a witness who heard an explosion and was hit with flying glass. Below, pictures from this afternoon)
4. Hannity seems to share our opinion of Obama's feelings about Christianity Vs. his feelings for Islam
5. A gang suspected of links to the Islamic State group planned possible kidnappings, an execution and attacks on Jewish shops and public buildings in Spain, an investigating judge said on Friday.
[…]
Authorities now fear the jihadists may extend their attacks into Europe.

"They were considering abducting a person in Spain, dressing them in an orange overall in the style of the group known as Islamic State, interrogating them and cutting their throat in order to broadcast it" by video, a source in the investigation told AFP.

Isis has frequently broadcast footage showing their execution victims wearing orange suits of the same style given to prisoners at the controversial US military prison in Guantanamo Bay.

Gang members had also discussed "abducting the director of a bank branch" for ransom, the source added. […]
Police investigations revealed that the suspected cell founder, Antonio Saez Martinez — dubbed "Ali the Hairdresser" — told other members he came close to launching an attack on a Jewish bookshop in Barcelona, Judge Pedraz wrote.

He allegedly proposed attacks with guns and grenades against synagogues, security forces and the Catalan regional parliament.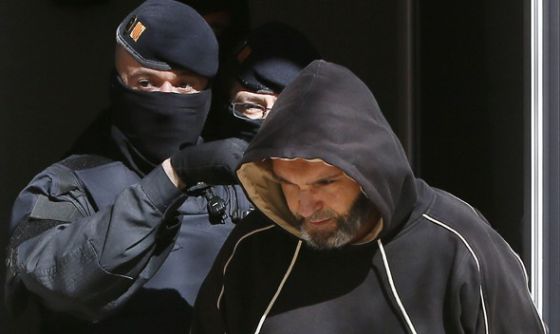 6. Turkish state TV bans opposition advert
(And who could find that problematic. Nobody, right? Signed guy at the gulag)
The opposition advert featured the slogan "we applaud as a nation" and criticised the "oppression" of justice, freedom and secularism in the country.

It urged voters to attend the party's first mass election rally on Saturday.

The controversy follows a ruling by a court in Ankara on Thursday, which ordered CHP leader Kemal Kilicdaroglu to pay damages for insulting President Erdogan in a speech in 2013.
7. Italian coastguard pick up 1000 Libyan illegals
(Italy seems also to have an issue with high degrees of enrichment)
Thank you M., JU., Maria J., Wrath of Khan, Tundra T., and all who contributed. There is more.