1. Israel Institutes Sweeping Travel Warning
TEL AVIV — The Counter-Terrorism Bureau (CTB) of the Israeli National Security Council published its semi-annual travel advisory Monday urging citizens to stay away from 41 countries, nearly a quarter of UN member states.

In advance of the upcoming Passover and summer holiday season, CTB notes that warnings are based on "solid and reliable information, which reflects a real threat, based on the intelligence picture for a specific period."

Rankings range from Code Burgundy — countries where citizens are either forbidden or strongly urged not to visit due to "very high concrete threat" — to Code Yellow, where "ongoing potential threats" warrant essential travel only.

"Recent terrorist attacks by Islamic extremists in Belgium, Canada, Australia, France and Denmark raise concerns over additional attacks against Western targets, including Israeli and Jewish targets, by veterans of the fighting in Syria and Iraq who are affiliated with Global Jihad (including Islamic State) and by local elements inspired by the terrorist organizations," CTB announced on Monday.
2. Iran-backed rebels in Yemen loot secret files about U.S. spy operations
Secret intelligence files held by Yemeni security forces and containing details of American intelligence operations in the country have been looted by Iran-backed militia leaders, exposing names of informants and plans for U.S.-backed counter-terrorism operations, U.S. officials say.

U.S. intelligence officials believe additional files were handed directly to Iranian advisors by Yemeni officials who have sided with the Houthi militias that seized control of the capital of Sana last September and later toppled the U.S.-backed president.

For American intelligence networks in Yemen, the damage has been severe. Until recently, U.S. forces deployed in Yemen had worked closely with President Abdu Rabbu Mansour Hadi's government to track and kill Al Qaeda operatives, and President Obama hailed Yemen six months ago as a model for counter-terrorism operations.
The writing on the car reads:
Allah is the greatest
Death to America
Death to Israel
Curse on the Jews
Victory to Islam
(I don't want to give Obama any ideas, but wouldn't it be faster if he just nuked his own cities?)
3. Sunnis Vs. Shiias. English subs available by clicking CC
(A good look into the mindset of these people. Some graphic content)
4. SOMALI MUSLIMS SWARM SCHOOL, FORCE LOCKDOWN AFTER SOMALI POSTS ISIS-SUPPORTIVE PICTURE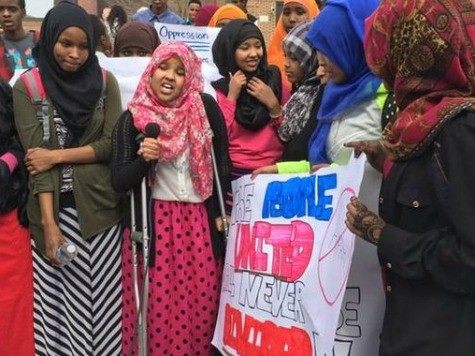 Over a hundred alien Somali Muslims, imported into the U.S., courtesy of non-discriminatory refugee policies, swarmed St. Cloud Technical High School on Friday in a rage.
Shockingly, a fight broke out between Somali Muslim students on Friday, two days after a student posted a social media image of a wheelchair-bound girl whom posters claimed to be affiliated with the Islamic State (ISIS). A student is reportedly being "disciplined" for the photo–meaning he or she will be given a reprimand and will be allowed to roam society freely without restriction or inhibition after inciting jihad against America.
Jeff Oxton of the St. Cloud Police Department reassured media that the angry, alien mob will not be punished, and police were on hand not to arrest lawbreakers, but to "keep the situation calm" by refusing to engage with Somali agitators.
5. U.S. officials fear Iran might attack American troops in Iraq: report
U.S. officials have growing concerns Iran might launch attacks against American troops in Iraq should nuclear talks between Tehran and world powers collapse, journal Politico reported on Wednesday.

The U.S. officials, according to the report, voiced concern that a collapse in the nuclear talks between Iran and the P5+1 (United States, United Kingdom, Russia, China, and France, plus Germany) could embolden Iranian hard-liners and potentially lead to attacks on Americans in Iraq.

According to the report, U.S. officials also voiced concern over the safety of U.S. troops in Iraq in relation to U.S. attempts to see the ouster of Syrian President Bashar al-Assad, one of Iran's principal allies in the region.
6. Saudi warplanes bomb Houthi positions in Yemen
Warplanes of the Royal Saudi Air Force bombed the positions of Yemen's Houthi militia and destroyed most of their air defenses, Al Arabiya News Channel reported early on Thursday.

Arab Gulf states had announced that they have decided to "repel Houthi aggression" in neighboring Yemen, following a request from the country's President Abedrabbo Mansour Hadi.

In their joint statement Saudi Arabia, UAE, Bahrain, Qatar and Kuwait said they "decided to repel Houthi militias, al-Qaeda and ISIS [Islamic State of Iraq and Syria] in the country."

The Gulf states warned that the Houthi coup in Yemen represented a "major threat" to the region's stability.

It also accused the Iranian-backed militia of conducting military drills on the border of Saudi Arabia, a leading member of the GCC, with "heavy weapons."

In an apparent reference to Iran, the statement said the "Houthi militia is backed by regional powers in order for it be their base of influence."
7. Germanwings Pilot Was Locked Out of Cockpit Before Crash in France
Thank you GoV., CB Sashenka, M., WTD., and many more and way more to sort through.