1. Venezuela to install finger scanners in supermarkets to tackle hoarding, panic buying amid shortages
(This is a very bad portent for the future in Venezuela)
2. US makes non-binding deal with Iran? Wait what?
3. UK Muslim group seeks to brand depictions of Muhammad as "hate speech"
The Muslim Action Forum (MAF), a group that describes itself as "working on the front line to deal with affronts to global civility" has announced a legal and political strategy to have depictions of the prophet Mohammed banned in the UK. And according to a press release published on the group's website last week, the group will work towards its goal via a combination of litigation and lobbying MPs.
4. Mark Steyn weighs in on Queen Hillary
5. An Iranian journalist speaks eloquently on the meaning of freedom for those of us not in an Islamic country
6. An interesting article from the Tehran times. Some are interpreting it as a foretelling of a rather major Sunni-Shiia bloodbath about to erupt across the middle East. I certainly find it interesting that they will not be held to task for threatening the "annihilation" of enemies the way for example, Israel would if it used language remotely like that.
7. Canadian Public Safety Minister likens jihad to Naziism
8. ISIS destroys Sufi shrines in Libya
ANSAmed) – ROME, MARCH 11 – The Islamic State (ISIS) has reduced a number of Sufi shrines in Libya to rubble, reported the Daily Mail on Tuesday.

The newspaper published photos showing militants destroying a Sufi shrine using a sledgehammer and a bulldozer. The photos were reportedly taken from a site run by the Tripoli branch of ISIS, but it is unclear when the destruction occurred. Sufi sites and especially the tombs of saints have been targeted in the past by other Libyan extremist groups.
9. Chinese authorities say Muslim Uighurs have joined ISIS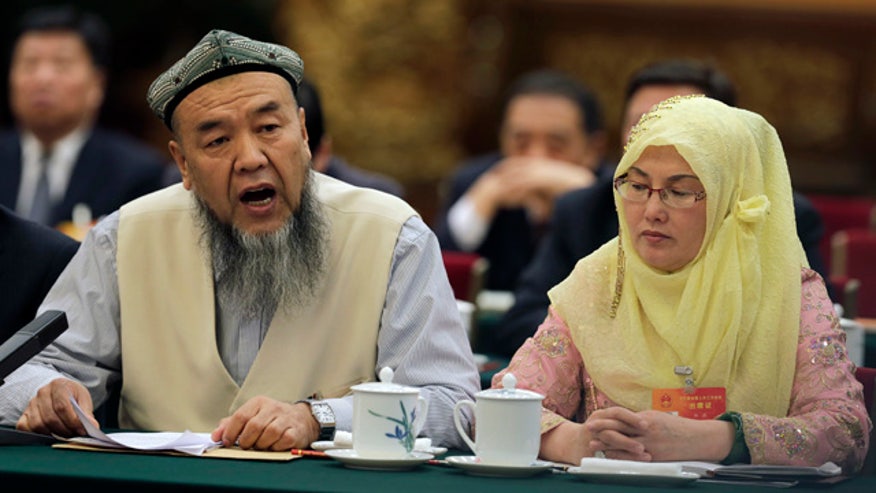 March 10, 2015: A delegate, left, from the Xinjiang Uyghur Autonomous Region speaks during the Xinjiang delegation group's meeting on the sideline of the National People's Congress in Beijing. (AP Photo/Andy Wong)
BEIJING –  Chinese officials say that members of the country's Muslim Uighur ethnic minority have gone overseas to fight with ISIS, which controls sections of Syria and Iraq, and returned to take part in plots at home.
Thank you Yucki, CB Sashenka, M., Richard, Shabnam, GOV., congratulations Don! and to all who watch a crazy world with the hope of making sense of it together. You are all the life raft of my sanity.