1. Immigration Street: TUC calls for Channel 4 to drop documentary
(Something tells me that there is far more to the story not being told than the odd hints that are. One example might be that it is a union which wants the show dropped and probably forced it to be modified. This might indicate that unions are now more about communist and islamic politics than they are about representing the interests of the laborers that pay for it)
The leader of Britain's trade union movement has called for Channel 4's Immigration Street documentary to be shelved.

The programme, due to be broadcast on Tuesday, has been criticised by residents of Derby Road in Southampton where it was filmed.

TUC general secretary Frances O'Grady said it would "encourage social division and hostility".

Channel 4 insisted the street would be "represented fairly and accurately".

The show was originally intended to be a six-part series but will now broadcast as one hour-long episode after filming was disrupted by protests.
2. Half a million protest against Kirchner in Argentina
(AGI) Buenos Aires, Feb 19 – Hundreds of thousands of people, as high as 500,000 according to some local police estimates, have taken to the streets in Buenos Aires in a colossal protest against President Cristina Kirchner. Federal police gave a far lower estimate of 50,000. The demonstration, held with symbolic silence, is taking place a month after the death of Alberto Nisman, a public prosecutor who accused Kirchner of covering up a 1994 terrorist attack against a Jewish centre
3. Somalia extremists urge attacks on US shopping malls
JOHANNESBURG (AP) — A video purported to be by Somalia's al-Qaida-linked rebel group al-Shabab urged Muslims to attack shopping malls in the U.S., Canada, Britain and other Western countries.

In the video, released late Saturday, the extremist group again said its September 2013 attack on the Westgate Mall in Nairobi, Kenya, was in reprisal for Kenyan military involvement in Somalia. Sixty-seven people died in the attack. The video, using footage from major news organizations, showed the assault on the mall.

The masked narrator of the 76-minute video warned of more attacks in Kenya and concluded by calling on Muslims to attack shopping malls, specifically mentioning the Mall of America in Minnesota, the West Edmonton Mall in Canada and the Westfield mall in Stratford, England.

The authenticity of the video could not be immediately verified by The Associated Press.

The narrator, his face wrapped in a black-and-white kaffiyeh-type scarf and wearing a camouflage jacket, spoke with a British accent and appeared to be of Somali origin. He accused Kenyan troops in Somalia of committing abuses against Somali Muslims.
4. Young girl suicide bomber kills several in northeastern Nigeria
Witnesses and hospital sources said a total of six people were killed after she triggered the explosive devise in a market in the northeastern city of Potiskum on Sunday.

"(She) refused to be checked at the gate to the market and an argument ensued," witness Ibrahim Maishago told the Reuters news agency by telephone. "She let off the bomb, killing herself and five others, while many were injured."

The AFP news agency cited a local vigilante leader, who said that in addition to the six killed, 19 others had been rushed to hospital suffering from varying degrees of injury.

Both wire services cited witnesses who said the girl appeared to be only seven or eight years old.

There was no immediate claim of responsibility for the bombing, but since last year, the Islamist militant group Boko Haram has been known to use female and child suicide bombers to carry out attacks.
5. BBC does story about ring of 1000 muslims protecting Oslo Synagogue after another muslim shot 2 people dead there. Photo only shows about 11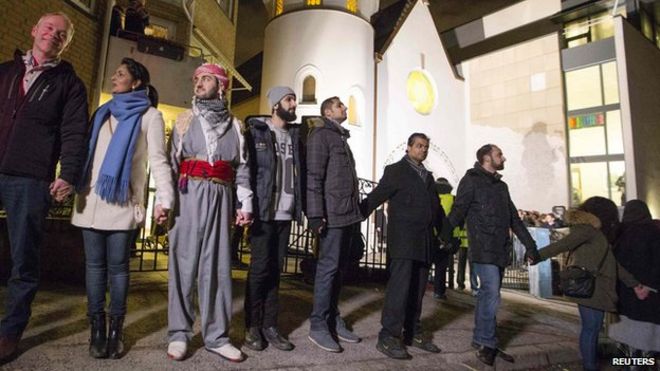 5b. Breitbart explains why the photo only shows about 11
(Showing that the BBC, Vice news most likely, and nearly all mass media short of FOX, Breitbart and The Daily Mail should be viewed as enemy propaganda)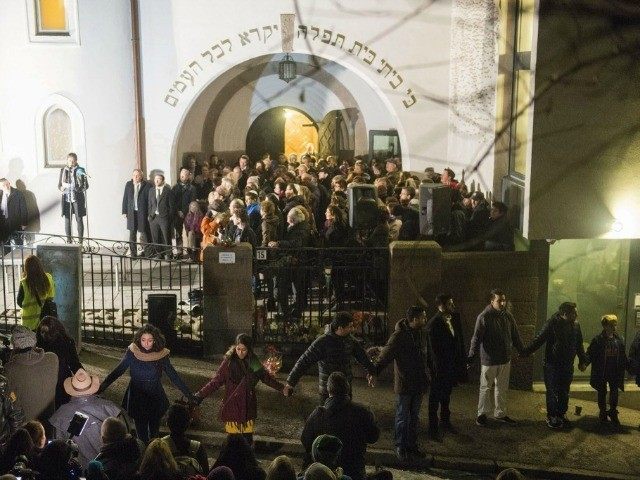 The weekend's feel-good story about a Muslim "ring of peace" formed to "protect" Jews at an Oslo synagogue turned out to be a complete fabrication by the mainstream media, according to an eyewitness report, local officials, and attendees' photos.

According to a local eyewitness, only about 20 or so Muslims formed the "ring of peace" around the Oslo synagogue. In fact, pictures from multiple angles show that there wasn't enough people to form a ring, so the locals instead formed a horizontal line in front of the synagogue.
6.  Two men who raped a vulnerable Polish tourist in a London park just hours after she had arrived in the UK have each been jailed for 14 years.
Thank you Tasha Carr, M., CB Sashenka, ML., GoV., UK Pete, Buck and all.