1. WATCH: John Cantlie's Last Video 'From Inside Aleppo'
Youtube removed it. For the moment this one below is live. Thank you M
British hostage John Cantlie has appeared in a new video from ISIS entitled From Inside Aleppo. The clip is described as Cantlie's last. The video show groups of children in Aleppo with Cantlie hauntingly telling the camera that these kids "will form the Mujahideen of the next generation." The 12 minute long clip was uploaded on February 9.
2. Britain First report on the mass muslim melee about the cartoons in London
(Make sure you check this video at around the 10:00 mark)
3. MAD is dead. a defense policy paper by Israeli MOD.
(Long but not unimportant)
The central conflict of the Middle East is not territorial but ideological; not about borders but about Islamic Jihadism and Western liberty. No ideology, least of all radical Islam, can be defeated by concessions, which encourage, energize, and inspire Jihadists. Those who wish for peace must face and assimilate this fact, and realize that territorial concessions, or any concessions in any realm in the struggle against militant Islam, have been consistently counterproductive.
From Oslo to Annapolis, we have engaged in a top-down strategy. We aimed to reach a political horizon or a final settlement agreement with the Palestinian leadership, hoping that political reform among Palestinians would follow. I propose we replace this approach with a bottom-up strategy in which the PA first proves its willingness and ability to govern.
4. 'What are you waiting for?': Slick new ISIS campaign puts new face on homegrown terror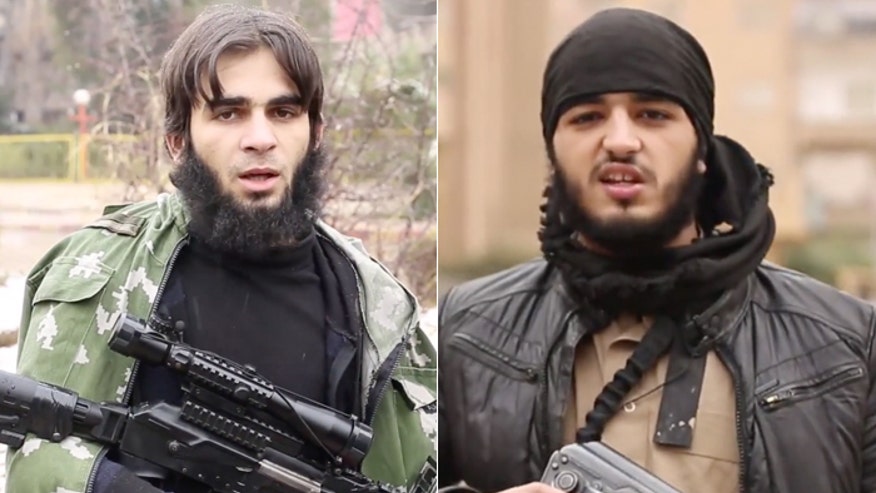 The French-speaking ISIS fighters show their faces, an indication that they have no intention of coming back to France. (Screengrab courtesy of TRAC)
Buoyed by the Islamist terror attack on satirical magazine Charlie Hebdo, ISIS has continued a slick campaign with the twisted theme, "What are you waiting for?" and featuring fresh-faced jihadists urging radicals in French-speaking countries to stay put and kill innocents.
5. Bill Warner did a proper historical timeline on how the islamic jihad against Europe led to crusades. 
6. Kuwaiti refugee who murdered wife after torturing her for two hours with screwdrivers and a drill while blasting out Koran to hide her screams is jailed for at least 23 years
Thahi Manaa beat his wife Sara Al'Shourefi, 28, for two hours with metal bars, an electric drill, two screwdrivers and shelf during the 'ferocious and chilling' attack.

The bloodstained weapons were found near the mother-of-four's body, which police found stuffed in cupboard after Manaa had bound the woman's legs with parcel tape.
MARSEILLE, France (Reuters) – Gunmen fired on a police car in Marseille on Monday in what local officials said was a drug-related incident, just hours before a visit by Prime Minister Manuel Valls to hail a drop in crime in France's second city.

Residents of the La Castellane neighborhood on the north side of the city, home to some 7,000, were told to stay indoors. A creche was evacuated as troops from the GIPN special forces unit were sent into the sealed-off estate, a police source said.

"There were shots fired in the direction of a police vehicle coming from hooded individuals armed with Kalashnikovs," local police chief Pierre-Marie Bourniquel told Reuters

Bourniquel later confirmed it was his vehicle that had been targeted. He had gone to the scene after residents called to report they had seen armed men in the area. Bullets were embedded in a bank above his car, he said.
8. ISIS is running out of suicide bombers, Daily Mail
("And all the best ones are gone!" -American Carol)
A group of Isis' fighters
(ANSAmed) – LONDON –  The Islamic State (ISIS) is reportedly experiencing a shortage of those willing to carry out suicide missions for the group, reports Mail Online. The publication cited the anti-ISIS activists group Raqqa Is Being Slaughtered Silently, which is in close contact with some inhabitants of the Syrian city Raqqa.
Thank you Draculea, M., antikythera, PM., GoV., and all. More to come.