1. Extremists Rampage in Northeast Nigeria, No Troops Fighting
Islamic extremists are rampaging through villages in northeast Nigeria's Adamawa state, killing, burning and looting with no troops deployed to protect civilians, fleeing villagers said Wednesday.

More than 40 people have been killed in seven villages as houses and mosques have been burned down and businesses and homes looted this week, according to Emmanuel Kwache and state legislator Adamu Kamale.

"They don't spare anything: they slaughtered people like rams and they burned down our houses after looting food," Kwache said. "There's no presence of troops, some residents are hiding on top of hills, while those that could not run were abducted, particularly youths and women."

Kamale said he has appealed in vain to authorities to send troops since the attacks began on Friday. On Monday, he said, the militants moved from villages to the town of Michika. […]

The city of 2 million residents appears to be surrounded. Three roads lead to areas held by Boko Haram. The militants are believed to be attacking the fourth road leading to the northern city of Kano, according to residents too scared to leave though they fear an imminent attack.
(Are they doing calls to payer yet in the national assembly?)
2. Admiral Kirby on Bergdhal:
3. Jordanian TV: Amman agrees to ISIS prisoner swap
4. Jan 28 2015: Muslim Brotherhood-Aligned Leaders Hosted at State Department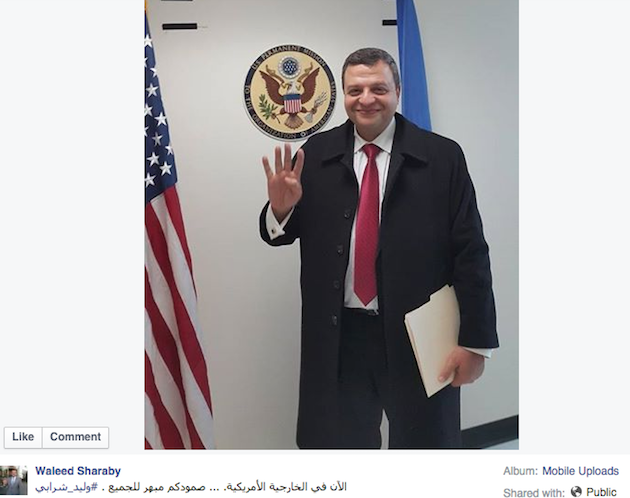 The State Department hosted a delegation of Muslim Brotherhood-aligned leaders this week for a meeting about their ongoing efforts to oppose the current government of President Abdel Fattah al-Sisi of Egypt, who rose to power following the overthrow of Mohamed Morsi, an ally of the Brotherhood, in 2013.

One member of the delegation, a Brotherhood-aligned judge in Egypt, posed for a picture while at Foggy Bottom in which he held up the Islamic group's notorious four-finger Rabia symbol, according to his Facebook page.
5. Video shows Hezbollah Brigades convoy transporting American M1 tank
A video uploaded to YouTube appears to show a large Hezbollah Brigades convoy transporting weapons, troops, and armored vehicles to the front to fight the Islamic State.

Several American-made military vehicles, including an M1 Abrams tank, M113 armored personnel carriers, Humvees, and Mine-Resistant Ambush Protected vehicles (MRAP), as well as Iranian-made Safir 4x4s and technicals (armed pickup trucks) are in the convoy.

The Hezbollah Brigades is US-designated foreign terrorist organization that has been involved in killing American soldiers in Iraq.
6. This is what Kobane looks like after months of heavy fighting
7. Canadian Muslim group funnelled $300K to Hamas-linked charity: Documents
MONTREAL — One of the country's largest Muslim organizations gave hundreds of thousands of dollars to a Hamas-linked charity, and vocally supported an Egyptian Islamist group, QMI Agency has learned.
The Muslim Association of Canada (MAC), based in the Toronto suburb of Mississauga, Ont., owns or operates at least 20 Islamic schools and 15 mosques in Ontario, Alberta and Quebec.
MAC's website says the group is centred around "holistic educational and spiritual development" and "has no organizational link or affiliation with other organizations."
However, QMI obtained an RCMP search warrant linking the group to IRFAN-Canada, a banned charity group and a listed terrorist organization also based in Mississauga.
Thank you M., Richard, Draculea, Grace,  Don L., and all. More to come shortly.