1. Dozens Of Churches Torched In Hebdo Protest
(Oh those whacky muslims. Is there anything they won't do? Let's tune in today to see what mayhem the religion of peace gets up to. Same channel and all day long!)
Forty-five churches have been torched in Niger over the use of a Prophet Mohammed cartoon on the cover of Charlie Hebdo magazine.

At least five people died and 128 were injured in the capital Niamey during protests against the image on the front of the satirical publication.

The controversial magazine ran a caricature showing the prophet under the headline "All is forgiven" just days after an Islamist attack on its offices in Paris that left 12 people dead.
(The videos at site are worth seeing. Especially the first one where young african muslim children can be heard dancing and singing and shouting "allah akbar" with delight in the streets as they burn churches, Christians are killed, and watch bibles scatter in the winds)
2. Saudi Arabia: Man arrested for filming officers publicly beheading woman in street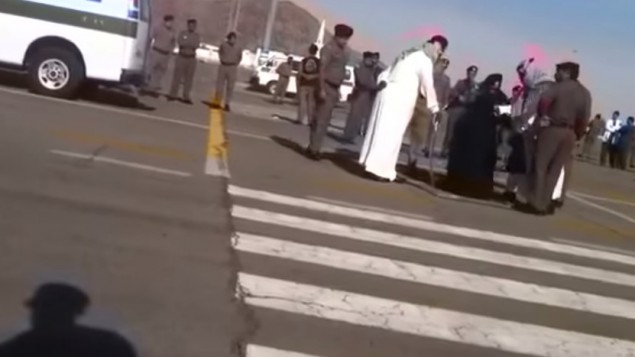 Saudi news outlets revealed that the man had been arrested but did not state what he would be charged with.

However, an Interior Ministry spokesman confirmed that filming the incident would be classed as a cybercrime under the country's strict form of Sharia law, based on the Quran.
(That's because the Saudis don't have a formal charge for, 'making islam look like what it is to unbelievers') More on this story here
3. Towie fan who travelled to Syria begs father to take her home in reunion at Turkish detention centre as she reveals what life is like inside ISIS stronghold of Raqqa
A British woman who travelled to Syria with her young son before escaping an ISIS stronghold has begged her father to take her home after describing life with the jihadists as 'hard'.
Tareena Shakil, 25, ran away to the war-torn country last October after telling relatives she was going on holiday to Spain with her 17-month-old son Zaheem.
However, the TOWIE fan said life in the ISIS-held city of Raqqa was 'hard' and she escaped back across the Turkish border after, she claims, the militants tried to force her into marrying a one-legged fighter.
Now Shakil, from Burton-on-Trent, Staffordshire, has asked her father for forgiveness and begged him to 'please take me home,' after being told she could potentially be sent back to Syria and into the clutches of the terrorist group.
4. ISIS cell members caught beheading animals as they practised how to decapitate people for an attack in Israel
ISIS cell members who used animals to practice how to behead people ahead of an imminent attack are the first to be discovered operating in Israel.

The seven men were caught just before executing an attack and had brutally slaughtered live animals, Israel's Shin Bet intelligence agency said.

All seven admitted to belonging to ISIS and were part of a plot to attack Druze Israelis – a branch of Shia Islam – as well as police officers and the security service.
5. Scottish garbage truck driver named, passed rigorous medical exam recently. Many questions left unanswered
6. Three Muslims are burned to death in Indian village in revenge attack after Hindu boy is murdered for being friends with a girl there
At least four Muslim villagers were killed, three of them burned to death, when their thatched huts were set on fire during a clash between Hindu and Muslim groups in eastern India, a government official said.

Police had arrested 14 people Monday on charges of arson and murder, said Ranjit K Mishra, a local superintendent of police.

Security has been tightened in and around Sarayian village in Bihar state with some 500 police officers assigned to the area.
The remains of burnt and ransacked huts still smoulder in a village following a clash between Hindus and Muslims nearly 105 kilometers (65 miles) north of Patna. At least four Muslims were killed in the violence
(Muslims who live in thatched huts shouldn't kill Hindus)
7. Miss Lebanon poses with Israeli beauty queen at Miss Universe contest and now faces demands to be stripped of her title

Thank you UK Pete!