1. Algerian muslims march against drawings.
(Is the plural of Algerian, 'algae'?)
2. Breitbart: Massive Pakistan Protests Against Charlie Hebdo 'Filthy Blasphemers'
(Video at link)
Tens of thousands are taking to the streets in a display of national unity as the Pakistani national parliament moved to condemn the French satirical magazine Charlie Hebdo for publishing cartoons of Mohammed.

Rallies saw chanting against the West and "blasphemers", and the burning of the French flag. Yesterday, the Pakistan parliament passed a resolution on the release of the Charlie Hebdo survivors edition, which prominently featured images of Mohammed, a practice condemned by Muslims worldwide.
3. The video we linked to yesterday, M. informs us, was a woman being executed for 'adultery', probably in the Islamic State.
4. Watch: John Kerry Brings Hugs, James Taylor to Repair Relations with France
(If the Obama admin really wanted to repair relations with France, they should have brought a stuffed effigy of Jerry Lewis and a ventriloquist. Of course, that was before the French knew Jerry was Jewish)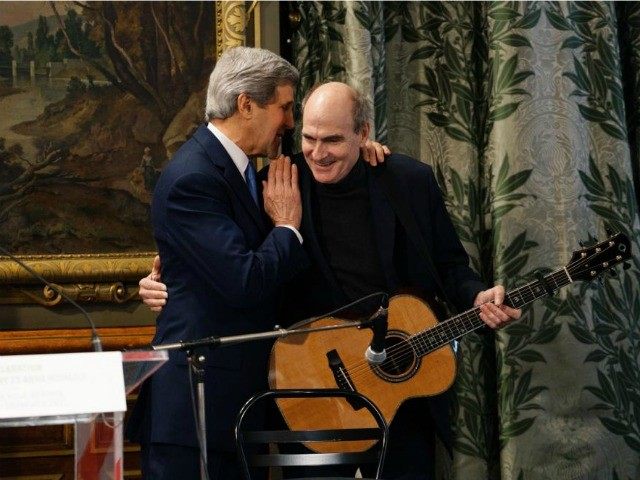 5. U.S. to send 400 troops to train Syrian rebels
The United States will send 400 troops to train moderate Syrian rebels this spring, Pentagon spokesman Maj. James Brindle confirmed the planned deployment early Friday morning.

The plan is part of the U.S. strategy to roll back the Islamic State of Iraq and Syria (ISIS) group that has seized much of eastern and northern Syria.

Last month, President Barack Obama signed into law a massive defense policy bill that endorsed his plan to fight ISIS militants, including air strikes and training Iraqis and moderate Syrian rebels.
(Fool me once, shame on you. Feel me twice, shame on me. Fool me 72 times a year for 6 years and prove Lincoln wrong. You can in fact fool all the people all the time)
6. German police tipped off that Islamists may target rail stations
* Berlin and Dresden railway stations could be targeted

* Minister says all efforts made to protect the public

* Police arrest two in raids on Islamist groups (Updates with security warning)

By Thorsten Severin

BERLIN, Jan 16 (Reuters) – German authorities have received specific warnings of the risk of militant attacks on central railway stations in Berlin and Dresden, security sources told Reuters on Friday, after pre-dawn police raids on 12 homes linked to radical Islamists.

"We've been tipped off about possible attacks on these rail stations," one source said. The warning came from foreign intelligence agencies, according to Der Spiegel news magazine.
Thank you Maria J., M., Richard, UK Pete, Buck, and many more as well as much more to come.