1. France – Paris – Roissy Airport – Sep 23 2014 :
(This is not benign. Like mosques themselves, public demonstrations of islamic worship are meant to be triumphalism or provocations. They are meant to control the space. This is not equivalent to Harri-Krishnas for example)
2. NYC Officials Denounce Anti-Islam Transit Ads
(Sanctimony. Its the Crack Cocaine of the political and religious elite)
Elected officials and religious leaders from several faiths on Tuesday denounced anti-Islamic ads that are appearing soon on New York City transit buses and subway stations.
Six different ads will appear this week on some Manhattan subway entrances and next week on 100 buses. Some of the ads depict American journalist James Foley with his masked executioner in the moments before he is beheaded. Another is an image of a Muslim leader next to Adolf Hitler.
"We can reject hatred," city Comptroller Scott Stringer said at a news conference held in front of City Hall. "This is the kind of hatred that we must have zero tolerance for."
(I could write an essay about what is wrong with what these people are saying. But for the moment, two points. If they actually want to denounce hatred, then denounce the beheading Hitler worshiping aspects of Islam. And why is it that leftists always talk about tolerance for everything except what they don't like, and then its always "zero-tolerance" and no one ever calls them on it?)
3. Islamophobia: Tony Abbott urged to speak out against attacks on Muslims
(As usual whenever Muslims plan horrific actions to destroy our legal system, rape our children and force them into sex slavery, plan mass attacks against our persons with bombs and beheadings, and bring down our buildings and aircraft, our leaders are very worried about a backlash against people who are visibly adherent to the ideology which demands those actions. A backlash that never comes but really probably should)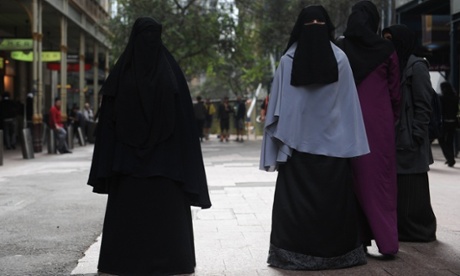 Tony Abbott has been urged to speak out more strongly against Islamophobia in Australia following reports of mosques being defaced, women verbally abused on the street and death threats issued to Muslim figures.

Community leaders have said they are deeply worried that Australia's mission against Islamic State (Isis) and recent anti-terrorism raids are fuelling attacks against Muslims in Australia.
4. Brian Lilley on the Islamic State call to attack Canadians
(Please note: the word 'Kafir" that issued at least twice in the Islamic State segment cannot be translated in a single word. But for those who don't know, it means the most hated unbelievers who deserve death because our disbelief is the greatest crime to these people and one deserving of death)
5. Muslim teenager barred from A-level lessons at top girls' school after turning up for new term wearing full-face veil
(This will be revealing. It will be important to see how this plays out)
A Muslim student at a top girls' school has yet to start her A-levels because of a row over her wearing a full-face veil, it was revealed today.

The unnamed 16-year-old pupil, who has attended Camden School for Girls in north London for the past five years without wearing the niqab, wants to enter the coeducational sixth form.

But headmistress Elizabeth Kitcatt is understood to have banned her from joining the sixth form if she insists on wearing the full-face veil – because it goes against school rules.
6. A government department donated £18,000 to a charity coalition with ties to the Muslim Brotherhood, a group whose activities Britain has vowed to curtail following concerns over their extremist links in the Middle East, it has been claimed.
Last week the Telegraph revealed that the government was set to impose curbs on Muslim Brotherhood-linked organisations after a report by a senior diplomat exposed its ties with Islamist armed groups in Middle East and elsewhere.
7. Vegetarian campaign near mosque sparks clashes 
(Frankly I am surprised there is not a great deal more of this everywhere for this same reason. Why does PETA say nothing about Islamic slaughter for example, here in North America?)

The Hindu The police trying to protect a PETA activist who was attacked on Monday after she tried to persuade Muslims to celebrate Bakrid with vegetarian fare. Photo: A. M. Faruqui
Clashes broke out near the Taj-ul-Masjid in the Old Bhopal area after activists of the People for Ethical Treatment of Animals on Monday sought to persuade local Muslims to celebrate Bakrid with vegetarian fare. A policeman suffered minor injuries.

Police personnel swung into action after a crowd threw stones and footwear outside the mosque. An activist had to be rescued after the crowd surrounded her.Speaking to reporters later, Shahid Ali, Corporator of Shahajenabad and a prominent leader of the area, slammed the activists for trying to hold a campaign against a religious belief. "I am myself a vegetarian. Let them campaign for vegetarianism and protection of animals. But, they can't target a religious belief and tradition and that too outside a shrine held dear by the local community. How can one tolerate such a thing?"
8. Winston Churchill was a 'racist and white supremacist' claims Labour candidate, to the fury of the war leader's grandson
9. German police raid flats, mosque over suspected ISIS ties
(So whats that, Australia, Norway, Germany, Canada, the UK, have I missed any? And that is just the past week)
The suspects, belonging to the ultra-conservative Salafist movement, are aged between 23 and 36 and police believe they were planning a violent attack although they made no arrests.

"We will not stand by and watch as the terrorist Islamic State [of Iraq and Syria] death squads in Syria and Iraq get support from Germany," Joachim Herrmann, interior minister for the southern state of Bavaria, told reporters after detailing the raids.

The raids took place as the United States and Arab allies launched air strikes against the Islamic State of Iraq and Syria (ISIS) and Al-Qaeda militants in Syria.
10. Mohamed most popular baby name. In Israel.
(Mind you this is probably just as indicative of the lack of imagination in the muslim world as it is to their increased propensity to breed)
11. Tony Blair interview which approaches the truth at least at a tangent. Which is refreshing. Tangentially.
 12. CNN report on Ebola, which eclipses the previous already highly despairing predictions.
(Video at site)
(CNN) — The number of Ebola cases in Liberia and Sierra Leone could rise to between 550,000 and 1.4 million by January if there are no "additional interventions or changes in community behavior," the Centers for Disease Control and Prevention said in a report Tuesday. The estimate was derived from a new forecasting tool developed by the CDC.

The range of estimated cases — from 550,000 to 1.4 million — is wide because experts suspect the current count is highly under-reported. The official death toll from Ebola in West Africa has climbed to more than 2,800 in six months, with 5,800 cases confirmed as of Monday, the World Health Organization said.
(New mortality rates on this strain have been put at 71%)
13. This is interesting. Here is before and after footage of a British hostage of the Islamic State.
Before capture: BBC clip on Mr. Henning before he left. He seems to be full of Islamic cheer.
Yesterday:
CNN: A friend to ISIS:
Thank you M., Wrath of Khan, TL and many others. I think the last item, #13, is worthy of thought and further investigation. The lie about 'Killing the whole of mankind" by the muslim woman not withstanding of course.