1. Erdogan, the Prime Minister of Turkey, doing his best Mickey Mouse impersonation explains why he is now also banning access to Youtube for the people of Turkey. Story here
2. Bilal mosque in Rochdale UK gets a minaret! (How exciting! Now the local tards can finally train their snipers for a certain altitude!)
3. Not just in Geert Wilders' Holland but also in Denmark: Morrocans are the most criminal
Geert Wilders is under fire for wanting fewer Morrocans in Holland, despite the fact that 60 percent of Morrocans in Holland under 23 is know by the police, and Morrocans in general are 22 times more likely to commit violent crimes. They are 7 times more likely to be on welfare.
As can be seen on the scanned statistics from JyllandsPosten, Morrocans are also the most criminal group in Denmark.
4. Two car bombs hit Iraqi Sunni neighborhoods
5. Nigeria's Boko Haram insurgency 'affects millions'
More than three million people are facing a humanitarian crisis in three northern Nigerian states hit by an Islamist-led insurgency, the government's relief agency has said.
6. Obama's visit inspires very creative protests in Rome.
The conflict has displaced about 250,000 people since January, it added.
7. Femen founder denied asylum in Switzerland.
her application for asylum was turned down by the Swiss Federal Office for Migration on technical grounds, 20 Minuten newspaper reported on Thursday.

Because Hutsol had previously stayed in France before coming to Switzerland, the office ruled that it is up to French authorities to consider her application as an asylum seeker.
8. Burma tells Medécins Sans Frontières (Doctors Without Borders) to leave state hit by sectarian violence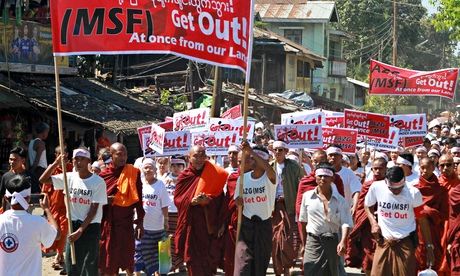 Rakhine Buddhists hold placards during a protest against Medécins Sans Frontières on Sunday in Burma. Photograph: Nyunt Win/EPA
Médecins Sans Frontières has been ordered by Burma's government to suspend all operations in a conflict-riddled state because of what officials described as a lack of impartiality in medical treatment.

"The state government decision is not against MSF as an organisation," the presidential spokesman, Ye Htut, told the Guardian. "But in Rakhine state, even the local authority do not fully trust their impartiality in the crisis and that is why we have suspended [operations].
Thank you M, Nicolai Sennels, Wrath of Khan, Fjordman and everyone. More to come tonight.