1. Last night as a sort of afterthought I posted Blue's link on what may have been the course of events to the missing 777. For those who missed it, here it is again. This is a very well reasoned argument and fits some of the anomalies I have mentioned to people and, if memory serves, posted here as well. Anomalies such as,- the pilot, while having a muslim name, was clearly a major supporter of his friends father in law, a Malay politician who was jailed for sodomy (being gay) but more importantly was anti-sharia and opposed making Malaysia a more islamic nation than it already is.
2. In military rout, Russia seizes 51 Ukrainian ships in Crimea
Ukrainian naval officers raise the Ukrainian navy flag on the Slavutych ship docked in Sevastopol's Kurrenaya Bay on March 13.
3. Chechnya president inaugurates new $10 million mosque in Arab village in Israel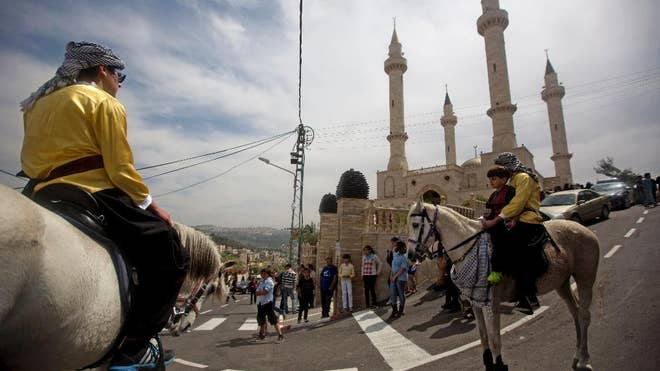 4. JERUSALEM – Masked protesters march again at Al-Quds University
5. Canada tracking 80 Muslims who have returned after waging jihad abroad
Intelligence officials are aware of about 80 Canadians who have returned home after going overseas for "terrorist purposes," according to speaking notes prepared for the director of the nation's spy agency.

The document obtained by Postmedia News does not offer explicit information about their activities, though it makes it clear that not all were involved in combat. While some individuals may have engaged in paramilitary activities, others are believed to have studied in extremist Islamic schools or provided logistical or fundraising support. Others never achieved their goals and simply returned home.
6. Femen attack pro-life demo disguised as death
(This protest reminds me of this great T shirt)
7. Dutch Police 'Colluding with Opponents of Right-Wing Politician'
Police in The Netherlands are helping opponents of right-wing politician Geert Wilders by handing out a standard form, known as the 'Wildersformulier,' to anyone wanting to make a criminal complaint against him.

Moroccans and other immigrants, as well as left-wing opponents, who want the public prosecutor to bring Wilders to court for 'discrimination' are given the form already partly filled in by police.
(This would make it officially not a democracy, when the agency with the sole and exclusive mandate for the use of force in the public interest, works for the interests of some parties and against the interests of others. The Netherlands needs more than an election when this takes place)
Thank you Richard, M, Fjordman and many who sent in material and I lost track of. (Things can get busy here) More to come and thank you all for your help