1. Four players banned from Iranian women's national team for failing gender tests
Women in Iran may not be allowed to attend football matches between male sides for religious reasons, but the beautiful game is popular among the Islamic republic's female population.

Players in Iran's burgeoning professional women's football league will now be subjected to mandatory gender tests, after it has been revealed that four national team players were found guilty of not being women. The Telegraph reports:
(I wonder if the LGBTETCETC organizations will get their labia in a twist over this one)
2. Pakistan's Walk towards Sharia
By Meer Khan
Negotiators representing Pakistani Taliban insurgents said that there could be no peace until Pakistan embraces Islamic Sharia Law and US-led forces withdraw completely from the neighboring Afghanistan. Sami ul Haq, founder of Harkat-ul-Mujahideen and the head of the TTP's three man talks team, said that there could be no peace in the region while there is NO SHARIA but democracy. The tough conditions appear to deal a blow to hopes that peace talks with the Pakistani government could end the TTP insurgency that has rocked the country since 2007.
3. Mystery surrounds discovery of Apollo statue in Gaza 
Local fisherman discovers 500kg. bronze statue of Greek god which Hamas police seize.
Lost for centuries, a rare bronze statue of the Greek god Apollo has mysteriously resurfaced in the Gaza Strip, only to vanish almost immediately from view and be taken into police custody.
(It will be interesting to see what Gaza authorities to do and with an ancient and priceless Greek artifact from classical civilization that represents a god)
4. Bomb kills two civilian contractors in Afghanistan, ISAF says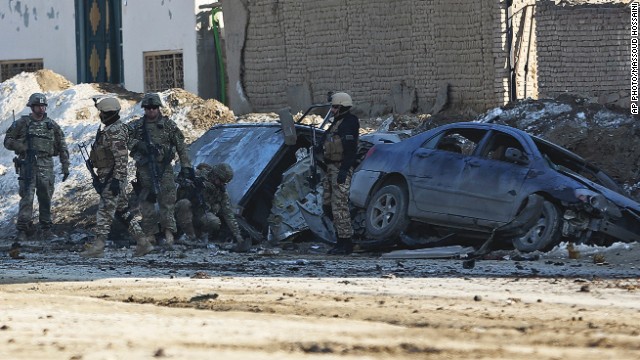 U.S. soldiers and Afghan security forces search the site of a suicide bombing in Kabul, Afghanistan, on February 10, 2014
(CNN) — Two civilian contractors working with the NATO-led International Security Assistance Force were killed in a vehicle-bomb explosion in eastern Afghanistan on Monday, ISAF said.
5. Failed Somali pirate prosecution fuels terror trial fears
The failed prosecution of an alleged Somali pirate — and the fact that that failure could leave him living freely, and permanently, inside U.S. borders — is highlighting anew the risks of trying terror suspects in American courts.

Just a few weeks ago, Ali Mohamed Ali was facing the possibility of a mandatory life sentence in a 2008 shipjacking off the coast of Yemen — an incident much like the one dramatized in the film Captain Phillips. Now, the Somali native is in immigration detention in Virginia and seeking permanent asylum in the United States
Thank you Fjordman, M, and many others. More to come.