Eh, I think that they chose to leave in order to avert a major PR problem if they ganged up on the man.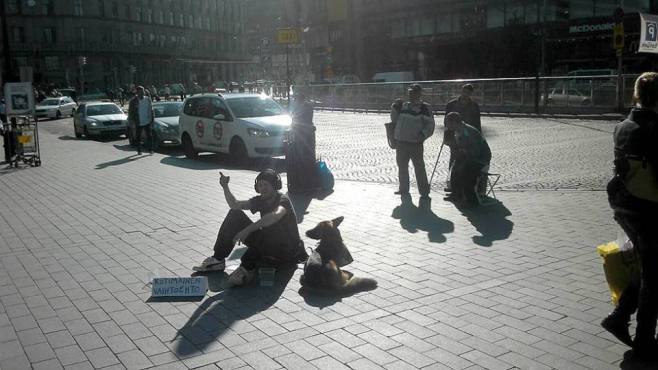 Strange beggar episode in the center of Helsinki: "Domestic option" threw musicians
IltaSanomat: HELSINKI, FINLAND on Friday afternoon, at 3:00 pm, a special beggars turf battle took place at the corner of the Helsinki Railway station. The opponents were one Finnish man and ten from eastern Europe.
Roma from Eastern Europe frequently come to play music near a taxi stand at the train station.
On Friday, their place was taken by a young Finnish man, who was accompanied by a large dog. He sat on the ground, and the cup was outstretched.
The man was carrying a cardboard sign that read 'The domestic option'. He declared at the same time his own social message about task force effectiveness.
The Roma musicians wondered about the man behind the issue. In the end there were a dozen in the consultation. The accordions, however, remained under their arms.
The Roma marveled and laughed a little over the Finnish man's taking over the block. After some consultation, they chose to leave the place. There was no fight over the turf.
The Finnish man was left begging in the sunny autumn weather.