THE SOCIALIST YANG-YANGS GO AT IT AGAIN.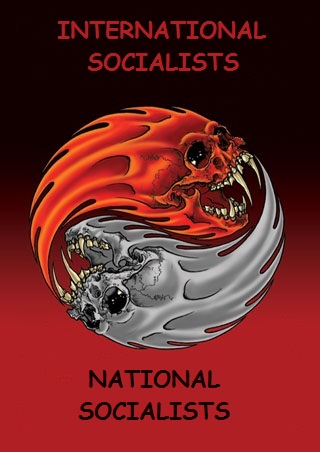 The violence meted out by these extremists is contemptible and to be roundly condemned. What's also interesting is that the one of the speakers/organizers of the book event, Li Andersson, spokesman for the Vasemmistonuoret (The Left Youth league) was seen on Finnish television debate program A2, refusing to denounce traditional Left-wing violence as she does with ultra-nationalist socialist violence, "it's different from "right-wing extremism" (8:25 mark in Finnish).
NOTE: Authors of the book, The Finnish Far-Right, Dan Laaksonen and Mikael Brunila, are radical Leftists and anti-Israel activists.
Knifing at event dealing with right-wing extremism
One person was injured Wednesday evening in a knifing that took place in the Jyväskylä city library where a presentation was underway of a new book about the extreme right in Finland.
There was no information immediately available on the extent of injuries suffered, but according to eyewitnesses, the person wounded was part of the event's security personnel, walked to an ambulance called to the scene.
A group of young men describing themselves as "patriots" started a fight after being refused entrance to a discussion event dealing with the Finnish extreme right. Bottles were also used as weapons in the fray.
Eyewitnesses say that the perpetrators fled the scene. Police are investigating the incident as aggravated assault.
The event in the city library was organized in connection with a presentation of the bookÄärioikeisto Suomessa, (or "The Finnish Far-Right") by Mikael Brunilan and Dan Koivulaakso.
Sources