The more I think about this article, the more it pisses me off. The explanation of the crusades given by the author is of course, total hokum. The Muslims never thought about the crusades in fact, other than a minor inconvenience that Europe lost, until they realized that it was a powerful tool of European self-loathing.
Euro 2012: I want to be an England fan and a Muslim. Why's that so hard?
England football fans dressing up as Christian knights from the Crusades doesn't endear Muslims to the cause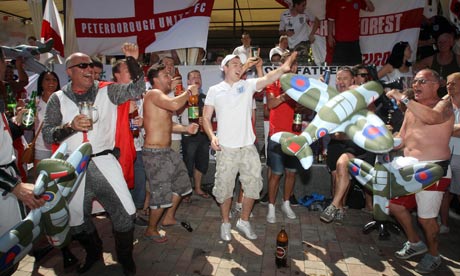 England fans outside the Golden Lion in Donetsk, Ukraine before the team's match against France. Photograph: Lewis Whyld/PA
As England play their first games of Euro 2012, I'd like to be an England fan. But even though I'm English, it's hard.
For a start, as a British Muslim, I am unsettled by the sight of England supporters dressed as Christian knights and jovially waving Crusader shields at the European championships in Poland and Ukraine. Footage of last night's cagey opener with France was interspersed with close-ups of young men dressed in the armour of Knights Templar hordes. There's an irony in the fact that images of Polish supporters chanting antisemitic slogans and giving Nazi salutes have been met with such deserved outrage, but to brandish a sword and recall the brutal and bloody invasion of Muslim lands is portrayed as harmless banter.
There is an obvious difference of course. I don't for a second believe that those dressed as Christian knights do so to offend Muslims – I hope not, anyway – whereas there is obvious menace in the sickening behaviour by neo-Nazis. But this doesn't make it any less disturbing an image for the Muslims in this country and around the world.
The Crusades are romanticised in the west as heroic battles to win back the holy lands in the name of Christianity. But for Muslims they are remembered as two centuries of brutal and unprovoked attacks on Arab lands. To celebrate this in fancy dress recalls a bloody and divisive chapter in Muslim-Christian relations. That may not be the intention of those donning the fake chainmail and helmets but there's no denying it's a uniform of war that certainly doesn't instil a feeling of inclusiveness in me.