Arrested but not named so… I guess we have to assume…
HELSINKI – Finnish police say a gunman has been arrested after firing several shots at a school in southern Finland but no one was injured.
Detective Superindent Jari Kinnunen says the attacker shot through the door of a secondary school classroom Friday in Orivesi, 190 kilometres (120 miles) north of the Helsinki.
Kinnunen says the man, in his 20's, did not resist arrest.
The school was evacuted after the incident on Friday morning.
(Tundra Tabloids) UPDATE: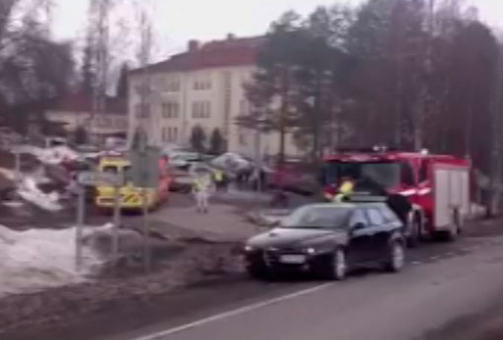 The suspect had previously escaped from the school with the student
Ilatalehti: According to information from a number of sources, the suspect of the shooting in the Orivesi school (born in 1989) had disappeared earlier in March with a female student from the school. According to the Iltalehti's information, the suspect shot the hand of the girl's father. The police did not confirm this Iltalehti.
A missing report was filed of the girl, and the police searched for her and her male friend. She was eventually found unharmed. The link between suspect and the student was reported by the Keskisuomalainen and Aamulehti newspapers.
According to the Keskisuomalainen the girl was in class, and the man shot through the door. According to the Aamulehti her parents had applied for a restraining order against the man.