Interestingly enough, the ethnic background of the shooter was immediately front and center of the report, they left no doubt that it was a Finn who shot up some foreigners. Fair enough, but when a foreigner is involved in a major crime, the details surrounding his ethnicity is noticeably absent.
NOTE: This is obviously the work of a deranged man regardless of his background, lets see how the media and politicos spin this for their own political agendas.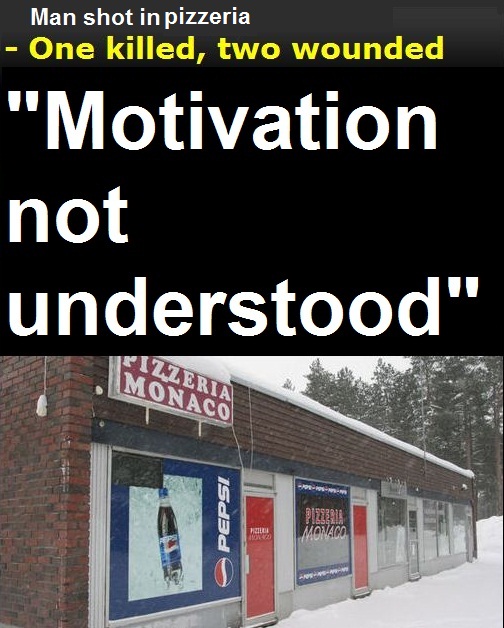 IL: One person is dead and two wounded in the Oulu, Kaukovainio, shooting incident late Saturday night.
A Finnish man opened fire on the Monaco-pizzeria located in Oulu Kaukovainio late on Saturday night.
One of the wounded is a person suspected being the gunman. The police confirmed it to the Iltalehti at three in the morning, that the shooter is still in the hospital and his condition is critical.
Investigations at the scene have continued throughout the night.
– There is not yet any idea to the motive at this stage, said spokesman of Oulu's central police.
It started at about 22.15. The man had come into the pizzeria and after a while fired several shots. Were a 21-year-old man was immediately killed.
-Pizzeria at the time had only three people. They  all belonged to the staff.
Only the 40-year old owner of the pizzaria managed to dodge bullets and flee the scene.
After the shooting, the man turned the gun on himself and shot. The suspected shooter is 24-year-old Finnish man and he is already familiar to the police.
– He has a bit of a criminal background, but later more about this too.
When police arrived at the pizzeria at the Kaukovainio mall, the shooter lay on the ground wounded.
The other wounded man was sent to another hospital, a 42-year-old pizzeria worker. His condition is now stable.
The police have not yet been able to interrogate the shooter. The Oulu shooting victims are from immigrant families.
IL.