This is what happens when patients run the asylum. All kinds of nonsensical scenarios are possible when the administrators of the courts are imbeciles. So with the verdict of this court, anyone, no matter what he or she has done, will have 'their rights' trumping that of the good citizens of the UK. KGS
NOTE: The 'wife (number 2) has some serious screws loose.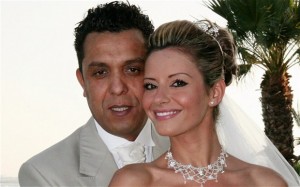 Bigamist wins 'family life' human rights case
A foreign drug-dealing bigamist has won the right to stay in Britain because of his human right to "family life".
Home Office lawyers hoped the deportation of foreign criminal Taoufik Didi would be an open-and-shut case.
He had been sentenced to three years in prison for selling cocaine to undercover police officers, and so exceeded the criteria for "automatic deportation" under the law.
However, the Moroccan launched a human rights appeal, telling immigration judges he had been in a loving relationship with a British woman, Marina Gregory, for 10 years. He now intended to wed her and start a family.
The judges believed the 47-year-old criminal and, to the disappointment of Home Office officials, granted his appeal under the Human Rights Act – ruling that his "right to private and family life" entitled him to stay on in Britain.
Yet all was not as it seemed.