(AINA) — Anger and frustration have risen among Egypt's Coptic Christians after the recent escalation of court cases against Copts charged with of contempt of Islam. Copts accuse the authorities, including the ruling Supreme Council of Armed Forces (SCAF), of exercising double standards in the application of the "contempt of religion" law. In the last month three cases have been brought against Copts, based on accusations mostly from postings on Facebook or Twitter of cartoons or comments deemed by Islamists as insulting to Islam.
"Copts have received a barrage of insults to their faith and their symbols and have had churches torched and destroyed, and no one has done anything about it," said Dr Naguib Gobrail, head of the Egyptian Union of Human Rights Organizations. "The law of contempt of religion is applied solely to punish the Copts."
The case against billionaire Naguib Sawiris, a Copt, for contempt of religion after tweeting cartoons, was heard on January 14 before a misdemeanor court in Cairo. The case was brought forth by Islamist lawyer Mamdouh Ismail and fourteen other lawyers, who filed a complaint accusing Sawiris of defamation of Islam and deliberately "mocking Islamic symbols and attire."
Sawiris, who is also a top political figure and founder of the liberal Free Egyptians Party, had posted on his twitter account in June 2011 an illustration of Mickey Mouse with a beard and Minnie Mouse wearing a niqab (full face veil); it was accompanied by the comment "Mickey and Minnie after." After the Islamist uproar, he apologized and if it was misunderstood and expressed his full respect for Islam and Muslims. He removed the cartoons, which he had originally copied from Saudi Arabian Internet websites. Islamist organized a boycott his mobile telecommunications network Mobinil, which lost over one million customers.
During the trial one of the Islamist lawyers, Dargham, said that this was the first case in which Islam is insulted in an "Islamic State," described Sawiris as a "criminal" and called for his arrest and prevention from leaving Egypt, which caused a brawl between lawyers from both sides, forcing the judge to adjourn the case to February 11. If convicted, Sawiris could face imprisonment.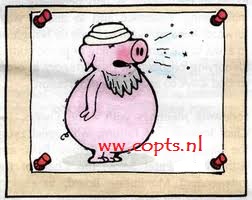 Three week ago Coptic student Gamal Masood (17), from the village of Bahig and Adr in Assuit province, was assaulted by his fellow students after the school social worker had printed and hung on a wall a web page from Facebook with the photo of Gamal and a drawing which Muslims regarded as that of their prophet. Although he denied the charge, violence and protests broke out in three villages. Muslims from the surrounding villages protested for two days. They torched his home, together with four other homes of friends and relatives. To calm them down, the head of security promised them that Gamal and his family would be evicted. While Gamal's investigations were still going on, a meeting was held on December 31 at the Assiut governor's office, attended by representatives from Al-Azhar, Salafists from the area who won the last parliamentary elections, church representatives and the authorities, where it was decided that Gamal, also accused of causing sedition, would be handed over to prosecution, and he and his entire family would be expelled from the county. Moreover, it was decided that the priests in the area had to publish an official apology in all the media. The young student is still detained, and his trial is scheduled for February 7.