Surge in military activity in the region comes amid threat of EU embargo on Iranian oil and possible closure of strait of Hormuz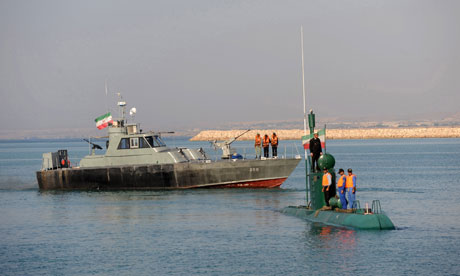 Iran's navy conducting the Velayat-90 naval war games in the strait of Hormuz on New Year's Day. Photograph: Mohsen Shandiz/Corbis
Tensions on the oil shipping lanes in the Gulf have escalated with the announcement of new naval exercises by Iran's Revolutionary Guards and news that Israel and the US are planning to carry out extensive joint manoeuvres in the region.
The naval commander for the Islamic Revolutionary Guards Corps (IRGC), Rear Admiral Ali Fadavi, said the drill in February would be "different compared to previous exercises held by the IRGC". The Iranian navy finished 10 days of exercises in the Gulf on Monday, during which it tested a range of new missiles. It warned that Iran could close the strait of Hormuz, the narrowest point in the Gulf, through which a fifth of the world's traded oil passes.
On the same day, the Israeli military said it was preparing for joint exercises with the US to rehearse missile defence and co-operation between the forces. The manoeuvres involve thousands of troops, have been planned for some time and were hailed by Israeli and US officials as their biggest joint drill.