Is this what Muslims mean when they talk about walking down the isle?  I guess the guy needed to take a bad shahada as he apparently thought the cockpit was the bathroom and screamed Alahu Ackbar, (Arabic for, 'where is the bathroom please) and pounded on the cockpit door. Please see the T shirt we presented to Geert yesterday. I guess this guy needs one of those.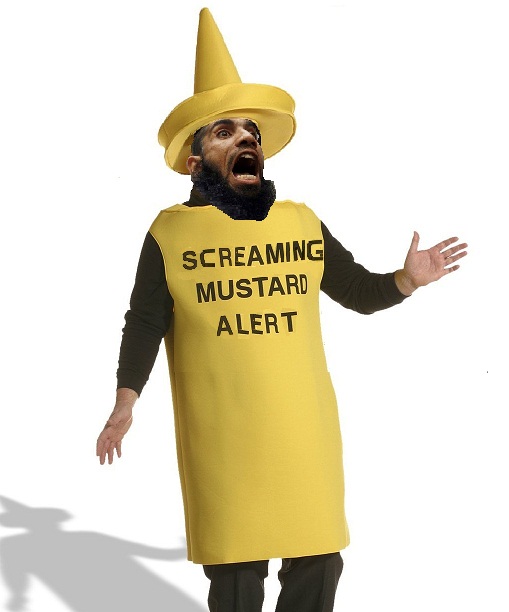 I got to make a big SHI-HAD !
NOTE: He should have gone here first KGS
By Daniel Bates
Last updated at 3:30 AM on 11th May 2011
Cousin says he may have got confused about plane's layout

Third scare in two days for air passengers in America

Security alerts at U.S. train stations and airports after death of Bin Laden

Passengers say man yelled 'God is great' in Arabic as he rushed up the aisle


'We were all looking at our lives flash before our eyes'
The Yemeni man who was wrestled to the floor after pounding on the cockpit door of a plane approaching San Francisco may have mistaken it for the bathroom.
Rageit Almurisi cannot speak English very well and could have misunderstood the signs inside the jet, his cousin claimed.

The maths teacher, who was heard yelling 'Allahu Akbar' as he allegedly battered the door, had also only been on three planes in his life and would have been unfamiliar with the layout.

Scary moment: The suspect was yelling unintelligibly as the American Airlines flight from Chicago was ten minutes out of San Francisco, police said
His family also claimed that Almurisi, 28, suffers from rheumatoid arthritis and could also have reacted badly when an air stewardess told him to sit down.

His painful joint condition meant he had to take regular walks on flights, they claimed. 'I would not be having that,' his cousin Rageh Almoraissi said.

'If a flight attendant has the nerve to grab me and try to force me to my seat, believe me, you would hear about other people having injuries.'

Almurisi sparked panic when he started yelling and banging on the cockpit door on American Airlines Flight 1561 from Chicago, just ten minutes before it was due to land on Sunday night, according to police.
But the suspect's cousin, Rageh, 29, said he was a university educated, easygoing person who had arrived in Northern California a year-and-a-half ago from Yemen in search of a better life.
More…
He told the Bay Citizen newspaper he probably overreacted when he was told to sit down.

'There's a lot of things I'm guessing, you know, I'm just trying to figure it out,' said Rageh. 'I know he wasn't trying to harm anyone. I know that for sure. He's not a terrorist. He's a nice guy.'
He added that his cousin, who has a bachelor's degree from a Yemeni university, could speak some English but had problems understanding it, especially when he was under stress and that he was 'sometimes naïve and ignorant about American culture'

'He's been in a third world country, in a village, for most of his life,' he told the Bay Citizen. 'The first Asian he saw, he didn't mean it, he wasn't trying to be funny, he was being serious.

'He said: "Are you related to Jackie Chan?" I was like, whoa. Luckily, the guy didn't understand what he said.'


Later: Police said passengers helped a male attendant get Almurisi to the ground and he was put in plastic handcuffs
Rageh added that his cousin had 'been under a lot of stress' lately and probably 'cracked'.

'His parents died when he was young and he was raised by his grandfather but he recently passed away too,' he said.
'Whilst he was living in New York with his brother he had $13,000 stolen from him as well, so he has been going through some tough times. He must have had a mental breakdown on that flight.
'I'm pretty sure he would have been provoked and badly treated – it would not have been the first time. Under the stress he was, being provoked would have sent him over the edge.'
Rageh added that his cousin was not especially religious and that he 'followed the rules' of being a Muslim but nothing more.
'There was no sign he was being radicalised on anything. I don't think that is what did it. We are very close to him and he is like a brother to me, so I'm sure we would have seen something'.

Passengers on the flight have given terrifying accounts of how Almurisi was heard to shout 'Allahu Akbar' – or 'God is great' as he hammered the cockpit door.
One, Angelina Marty, said: 'I kept saying to myself, "What's he doing? Does he have a bomb? Is he armed?".'

Ms Marty, 35, said she and other passengers were stunned when Almurisi started walking down the aisle. She said a woman in a row across from her who speaks Arabic translated that he said 'God is Great'.

Andrew Wai, another passenger, told KGO-TV that the wife of one of the men who took Almurisi down later said Almurisi was yelling 'Allahu Akbar'.

Ms Marty said: 'There was no question in everybody's mind that he was going to do something. Everybody was fixated on him. You never think that something like that would happen in your life.'

Mr Wai added: 'Flight attendants were trying to soothe different passengers. We were all looking at our lives flash before our eyes.'


American Airlines: The incident is the third scare of the weekend for U.S. air passengers and follows a number of security alerts at train stations and airports across America following the death of Bin Laden (file picture)
Almurisi has no clear or known ties to terrorism and authorities have still not yet established a motive, San Francisco police Sergeant Michael Rodriguez told the San Francisco Chronicle.

His family did admit that in September last year his uncle Jamal Almoraissi, who lives in Vallejo, was interviewed by federal authorities over an alleged 'dry run' of a terrorist attack.

Hezam al-Murisi, one of their distant cousins, was arrested in Amsterdam on his way Yemen, when police found what appeared to be suspicious items inside his travelling companion's suitcase.

They were held but released two days later due to lack of evidence. 'That was a mistake, a complete misunderstanding,' Rageh told the Bay Citizen.

'When we go back to Yemen, we bring back things for relatives, and it was just packaged weirdly. That's all.'
The incident is the third scare of the weekend for U.S. air passengers and follows a number of security alerts at train stations and airports across America following the death of Osama Bin Laden:
A man slipped into the PATH tunnel at the World Trade Center in New York and walked all the way to Jersey before saying he had left a bomb in the tunnel

Police blocked off several streets in the Bronx, New York, as the NYPD bomb squad investigated a parked SUV

The Mockingbird DART station and the surrounding area in Dallas, Texas, were evacuated on Saturday after a police dog alerted authorities to suspicious packages

Four people were arrested at Denver International Airport after staff noticed someone videotaping security lines

A picture of a little baby being patted down by security staff at Kansas City Airport was posted on Twitter
It was a male flight attendant who tackled the suspect on the American Airlines flight, and other crew members aided as the suspect banged on the cockpit door.

Hero: Vietnam veteran Tony Harris tackled a man from behind and hauled him to the ground as he grabbed the door handle of another plane
'He asked for help; a couple of passengers joined in,' said the spokesman. 'They were able to get him to ground and a flight attendant put him in plastic handcuffs.'
The two passengers who helped were believed to be a retired Secret Service agent and a retired San Mateo police officer.

The Boeing 737 carrying 162 people landed safely at 9:10pm and Almurisi was taken into police custody.

He was charged with interfering with a flight crew – a federal offence.
During the scuffle, Almurisi sustained some bruises and was checked at a hospital before being transported to San Mateo County Jail, the officer said.
It was the third terrifying incident for air passengers over the weekend.
It comes after officials stepped up security across America last week as they warned there was 'enhanced potential' for violence against the U.S. following Osama Bin Laden's death.
Elsewhere, a 60-year-old army veteran has been hailed a hero after tackling a man who went berserk aboard a passenger jet and tried to open the door at 35,000ft.
Vietnam vet Tony Harris leapt into action after a flight attendant noticed the 'burly' man run to the main door in the front of the Boeing 737, saying he had to get off the plane.

Mr Harris, a martial arts expert, tackled the man from behind and hauled him to the ground as he grabbed the door handle.

Terrified travellers watched as the pair struggled on the floor of the aircraft before Harris, with help from two other passengers, managed to handcuff the unruly man.

On the ground: A passenger tried to open the door of a Continental 737 from Houston to Chicago in mid air
The Continental Airlines flight from Houston to Chicago was diverted to St. Louis where officials took the 34-year-old man, from Burbank, Illinois, into custody. He is being questioned by police and the FBI.
Mr Harris told ABC news that he decided to act after he saw the man lunge into a flight attendant.
TWO OTHER SCARES IN THE AIR
A 34-year-old Illinois man went berserk aboard Continental Airlines Boeing 737 from Houston to Chicago and tried to open the door at 35,000ft, but Vietnam veteran and martial arts expert tackled him from behind.
A Delta Air Lines flight from Detroit to San Diego was diverted to Albuquerque, New Mexico, after a flight attendant found a note in the lavatory with the word 'bomb'. FBI agents ushered the passengers and crew to safety.
He said: 'He just pushed her right over, so he assaulted her. Well at that time I'm already in motion.
'What I did was I just jumped on him,I wrapped my legs around him, I put my 210 pounds of weight on his neck and he still wouldn't go down.'

Eventually Mr Harris managed to subdue the passenger using a choke-hold. He then sat next to him until the plane landed in St. Louis.

After he had got the situation under control the other passengers gave him a round of applause and offered to buy him a drink.
Mr Harris added: 'I asked him, 'What in the hell were you doing? What were you thinking?' He said, 'Well, it's Mother's Day'.
The incident happened at around 1pm on Sunday. The plane was on the ground at St. Louis for just over an hour before being cleared for take-off to continue on to Chicago.
Earlier on the same day a Delta Air Lines flight from Detroit to San Diego was diverted to Albuquerque, New Mexico, after a flight attendant found a note in the lavatory with the word 'bomb' on it.
FBI agents rushed to the scene at Albuquerque International Sunport airport at about 10am local time before ushering the 137 passengers and six cabin crew members away and to safety.
The pilot had decided to divert the Delta 1706 flight just before 10am after an attendant found a suspicious note on the plane.
Passenger Tim Cole, 55, of a Hazleton, Pennsylvania, said the pilot told passengers a note with the word 'bomb' on it was found in one of the bathrooms.
'The captain came on and said "You notice we're declining. We're getting ready to divert. It's probably a hoax, but we've got to take this very seriously",' Cole said from Albuquerque airport.
The passengers were then held at a warehouse at the airport while FBI agents and dogs searched everyone's carry-on luggage, he said.
Read more: http://www.dailymail.co.uk/news/article-1385083/Rageit-Almurisi-Family-defends-Yemeni-man-stormed-cockpit-San-Francisco-flight.html#ixzz1M1Gc4x2A