Tis' the season to be jolly….
Shocker: Finnish police not taking it as an act of terrorism. The Tundra Tabloids has received similar threatening cards in the mail as well due to op-eds published in a local paper voicing support for Israel. KGS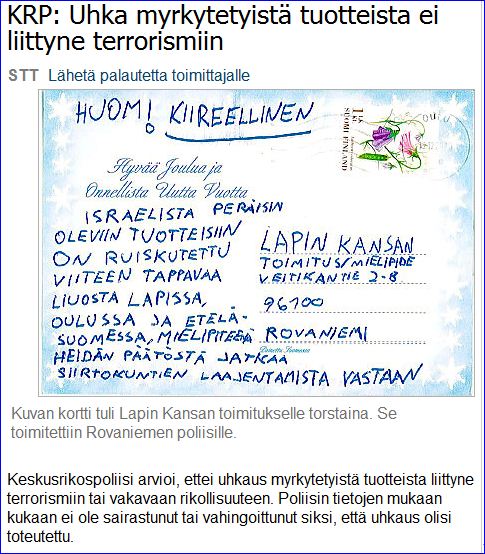 The card reads:
Attention! Urgent

Five products from Israel have been injected with a lethal solution in Lapland, Oulu and in southern Finland, as a protest against their decision to continue expanding the settlements
Lapin Kansan: Central Bureau of Investigation estimates that the threat of poisoned products not to be related to terrorism or a serious crime. According to police information, no one has been infected or hurt due to the threat.
A threat by an unknown party announced the poisoning of foreign products in northern and southern Finland, says the Central Bureau of Investigation. According them, the threat doesn't describe what products are targeted. Police believe its an act of a lone individual.
Central Bureau of Investigation has investigated the matter with the Food Surveillance and Customs authorities, but so far the police do not require any action from them.
H/T Harri