A Tundra Tabloids' source claims to know the person who saw the two perps running out of the building just before it blew. The unnamed source also says that the police have the Iraqi store owner in custody for questioning. KGS
UPDATE: According to the Helsingin Sanomat: The man who was at the city's center told the Helsingin Sanomat that he heard a loud bang and then saw how the restaurant was flying supplies out into the street. All  the windows in the Restaurant were broken. Several other people in the vicinity of the fire had heard in the morning a strong bang. The center of Tampere in the morning was full of smoke.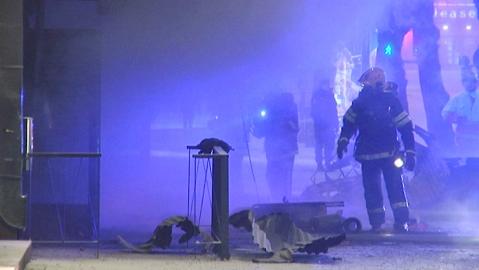 One Man Detained in Connection with Fatal Fire
YLE: Police in Tampere have detained one man thought to be involved in Monday morning's fatal fire in the city centre. Forensic evidence indicates that the fire, which took three lives, was intentionally set.
They announced on Tuesday morning they had taken one man into custody, but declined to say whether he was one of two seen leaving the scene.
Police are investigating the fire as a case of aggravated arson, three cases of first degree manslaughter and four cases of battery.
The blaze, which started in the foreign-owned Juliet kebab-pizzeria on the ground floor, caused the deaths of three and the hospitalization of another four people. Police say there is no evidence indicating that it was a crime specifically aimed against immigrants, but said that the theory could not be ruled out.
Three of the four who were hospitalized were released on Monday afternoon. One elderly woman was still in intensive care on Tuesday morning, but her condition had stabilised.
The dead were two men and one woman, all in their late 20s. They were found in stairwells on the first floor and between the 4th and 5th floors.
Police are asking the public for any eyewitness reports of people or vehicles seen near the site of the blaze just before or after the fire broke out aruond 5.26 a.m.. They have an eyewitness report of two figures dressed in dark clothing seen running from the area toward the Kyttälä neighbourhood just after the fire began.