1. J6 Video: Q Shaman Told Demonstrators to 'Go Home', 'Remain Peaceful', 'We Are Not Antifa'
Jacob Chansley, better known as the 'Q Shaman,' quoted President Trump's censored tweet in telling J6 demonstrators to 'go home' and 'remain peaceful.'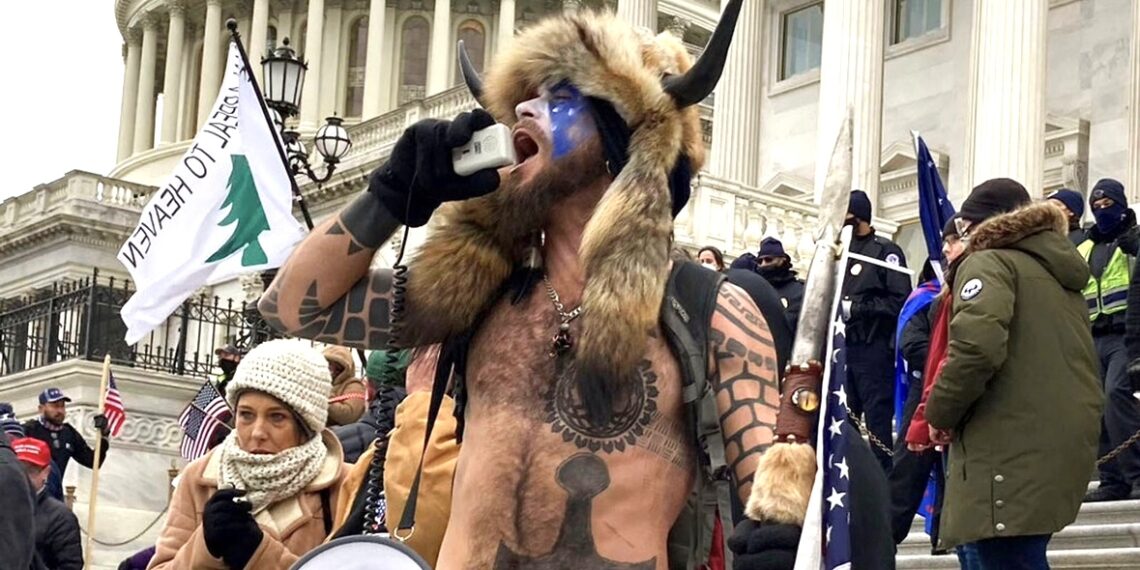 Video footage that has resurfaced from the January 6th demonstrations against election fraud shows Navy veteran Jacob Chansley, who's better known as the "Q Shaman," telling his fellow January 6th demonstrators to "go home" and "remain peaceful," quoting President Trump's post to Twitter that was censored by left-wing Big Tech as they sought to push a narrative of violence in the aftermath of the anti-fraud demonstrations.

In the recently resurfaced video footage from the US Capitol on January 6th, Jacob Chansley, better known as the "Q Shaman," directly quotes President Trump's instructions to a crowd gathered outside of the Capitol building, telling them to go home peacefully before reminding them that "we are not Antifa." Chansley directly quoted President Trump's instructions to the crowd of demonstrators, instructions that were posted online in the form of Tweets and a video statement before they were ultimately censored by Big Tech.
? Breaking: A video re-emerges of Jacob Chansley reading Trump's tweet, telling protestors to "GO HOME" and remain peaceful. pic.twitter.com/dhJKYKrblT

— Becker News (@NewsBecker) March 10, 2023
Meanwhile, he is in jail for FOUR YEARS, and ANTIFA is not even a designated terrorist group, then that is all they are. It isn't like they do charity work.
2. Andrew Klaven: Hershey's celebrates MEN for Int. Women's day
3. So Ottawa, in it's increasing campaign to turn free citizens who are property owners into Kulaks, have started a new law where if you have vacant property you have to pay an extra tax on it. The following video is a message from the city of Ottawa about this tax.
This of course, is 100% fallout from Trudeau's "Century Initiative". Something that will destroy the culture and liberties of Ottawan's, and about which we were never asked, and thanks to the UN's Migration Compact, reporters are not even allowed to report on this project in any way that might make it appear like a bad thing. So of course, they don't report on it at all.
4. Department of Energy won't explain why they came to the conclusion that the virus came from the Wuhan lab.
5. Since last week Public Health is no longer recommending boosters for the general population. The pharmacies still do, as I found out today. So I left them a printout…
Disclaimer: As always, I'm serving here solely as a messenger of new positive information and good will, not representing any organization, in effort to help our communities, while also promoting critical thinking and appreciation for the democratic foundations of our country.

The exact recommendation from the National Advisory Committee on Immunization (NACI), which was published last week is quoted below:

? Pubic Heath,
Agency of Canada
Canada
SUMMARY OF NATIONAL
ADVISORY COMMITTEEON
IMMUNIZATION (NACI)
STATEMENT OF
MARCH 3, 2023
Guidance on an additional COVID-19 booster
dose in the spring of 2023 for individuals at
high risk of severe illness due to COVID-19
OVERVIEW
•On March 3.2023, the Public Health Agency of Canada (PHAC) released guidance from
the National Advisory Committee on Immunization (NACI) on an additional COVID-19
booster dose in the spring of 2023 for individuals at high risk of severe illness due to
COVID-19. This guidance is based on current evidence, vaccine principles and NACI
expert opinion.
• NACI now recommends that:
Starting in the spring of 2023, an additional booster dose may be offered 6
or more months from the last COVID-19 vaccine dose or infection to the
following individuals who are at increased risk of severe illness from
COVID-19: (Discretionary NACI recommendation)
Adults 80 years of age and older
Adults 65 to 79 years of age, particularly if they do not have a
known history of SARS-Cov-2 infection
•Adult residents of long-term care homes and other congregate
living settings for seniors or those with complex medical care
needs
Adults 18 years of age and older who are moderately to severely
immunocompromised due to an underlying condition or
treatment
•Bivalent Omicron-targeting mRNA COVID-19 vaccines continue to be the preferred
booster products.
• Individuals who have not received previously recommended doses, including a primary
series or fall 2022 booster dose, are recommended to receive them now. For more
information, please refer to Guidance on COVID-19 vaccine booster doses: Initial
considerations for 2023.
PROTECTING AND EMPOWERING CANADIANS
TO IMPROVE THEIR HEALTH
SUMMARY OF NATIONAL ADVISORY COMMITTEE ON IMMUNIZATION (NACI) STATEMENT OF MARCH 3.2023 | 3
Thank you all for keeping these issues in mind. What you don't know won't hurt you, it will freaking kill or enslave you.
An email I received tonight:
"US B-52 heavy bomber circled for hours over Kaposvár
10 MARCH 2023 – 16:01

 Updated – 10 March 2023 – 16:10

Late Thursday afternoon, a US Air Force B-52H Stratofortress, the world's most famous heavy bomber, arrived over Kaposvár city.

The aircraft, code-named NOBLE41, departed from Romania and entered Hungarian airspace at 15:45. According to a site that tracks the aircraft's public flight path, the B-52 arrived in Kaposvár shortly after 4pm, but lingered here for a while:

For unknown reasons, the heavy bomber circled over the area, touching Nagybajom, the area around Nagyatád and Kadarkút, and flew over Kaposvár several times. Finally, at around quarter to six, it resumed its journey to its original destination, Spain.

It is interesting to note that the bomber spent more than an hour and a half circling over our heads during the whole route, but the reason for this is still unclear:

The entire route. (Photo: www.radarbox.com)

The B-52 Stratofortess aircraft were commissioned by the United States in 1955 and were developed to launch a nuclear strike against the Soviet Union. The aircraft can carry up to 8 nuclear bombs, but it can be equipped with a brutal range of equipment:

-51 bombs, each weighing 227 kg,

-30 pcs of of 454 kg bombs,

-20 pcs of JDAMs of 907 kg gravity bombs, but other gravity and nuclear bombs can be deployed suspended under the wings or carried in the fuselage.

The Boeing B-52H Stratofortress and its armament

The aircraft [model] was planned to be in service until the 2000s, but this was later extended until 2045, and now only the H-signals are in service, like the one that flew above us."