1. This is one of the most curious government tenders we have ever seen. Why did they suddenly need to kill all the pigs?
2. Here's a familiar election story. In Estonia, a large majority of flesh votes are for a rational party Euronews calls "Far right", yet there is some confusion as to who won, as nearly all 'online' voters are for the incompetent war mongering leftist leader. Apparently, that leader may still win thanks to these online votes. Odd though, that even going back to the test vote in Austria where mail ins were trialed, the non-in-person votes always go left. Curious ay?
3. Vaccinated Thailand Princess Bajrakitiyabha dies suddenly at age 44
Immediate CPR unsuccessful. ECMO unsuccessful. What a tragedy. It was Thailand which PROVED that the COVID vaccines CAUSE heart injury in nearly 30% of young adults.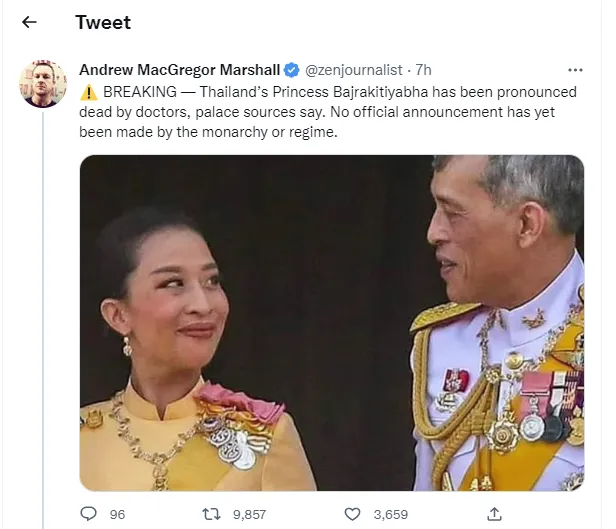 4. CBC: Federal government banning social media platform TikTok from government phones
Chief information officer made the decision, citing security concerns

The federal government is removing and blocking the video-sharing platform TikTok from all federal government devices, citing security reasons.

In an email sent to Global Affairs employees on Monday, department officials said the Chief Information Officer of Canada made the decision following a review. The review found that TikTok's data collection methods could lead to cyber attacks, the email said. 

The app will be deleted and blocked on all government-issued mobile devices on Feb. 28. The National Post first reported the story. 

"The Government of Canada continuously works to ensure the cyber security of our networks by identifying threats and vulnerabilities, including those on social media platforms," the email said.

"The government will continue to monitor the situation and will work with partners to keep the information on our systems and networks secure."
(That's a great start. Now if they want to keep Canadians safe from dangerous and even lethal disinformation they should ban CBC from all computers and TV screens in Canada. Although simply defunding them would serve the interests of freedom better than a ban. A ban, is what CBC would do to others.)
5.  Fauci 'Prompted' Scientists To Fabricate 'Proximal Origins' Paper Ruling Out Lab-Leak: House GOP
(Where is Mary Shelly when you actually need her?)
Dr. Anthony Fauci – who offshored banned gain-of-function research to make bat coronaviruses more transmissible to humans – has been accused by Congressional investigators of having 'prompted' the fabrication of a paper by a cadre of scientists aimed at disproving the Covid-19 lab-leak theory.

On February 1, 2020, Fauci and his boss, NIH Director Dr. Francis Collins, and at least eleven other scientists participated in a conference call during which several of them warned that COVID-19 may have leaked from a lab in Wuhan, China – may have been intentionally genetically manipulated.

Three days after the call, four participants from the call (Scripps Research virologist Kristian Andersen, University of Sydney virologist Edward Holmes, Tulane School of Medicine virologist Robert Garry, University of Edinburgh virologist Andrew Rambaut and Columbia University virologist Ian Lipkin) seemingly discarded their concerns over a lab-leak, and drafted "The Proximal Origin of SARS-CoV-2," which they sent to Fauci and Collins.

Also heavily involved (yet not credited) was Dr. Jeremy Farrar, the current Chief Scientist at the World Health Organization.
Thank you all who's vision graces these pages.
For anyone interested in climate science in a non-communist way, the website, Spaceweather.com is an excellent source of actual information. A MAJOR solar flare was picked up the other day and when the effects hit Earth it resulted in a shortwave black out over Australia. But it needs to be known that the actual cause of global warming and cooling is from solar radiation. The higher the sunspot number, the more solar wind, the less clouds, the warmer earth is, and the less rain. The lower the sunspot number, the greater the cosmic rays from deep space, the more clouds are seeded and the cooler and wetter earth becomes. You can have these details explained in the excellent documentary, The Cloud Mystery which can be seen on the Global Warming related media tab on the top of this site.