1. Alex Berenson: URGENT: Stillbirths nearly doubled in Singapore, one of the world's most mRNA vaccinated countries, in 2022
Meanwhile, live births plunged. The changes began in March 2022, EXACTLY nine months after Singapore mass vaccinated people of childbearing age

For two years, mRNA Covid vaccine skeptics have raised questions about whether the shots might damage fertility.

mRNA jabs alter menstrual cycles in some women. An Israeli study last June showed that sperm production falls after the Pfizer shot.

Worse, births are falling fast in many mRNA countries. The trend predates the shots, but in some countries it accelerated nine months after the widespread rollout of the jabs to women of childbearing age.

Still, data have not supported the worst fear of mRNA skeptics – a marked rise in late-term deaths or stillborn babies.

Until now.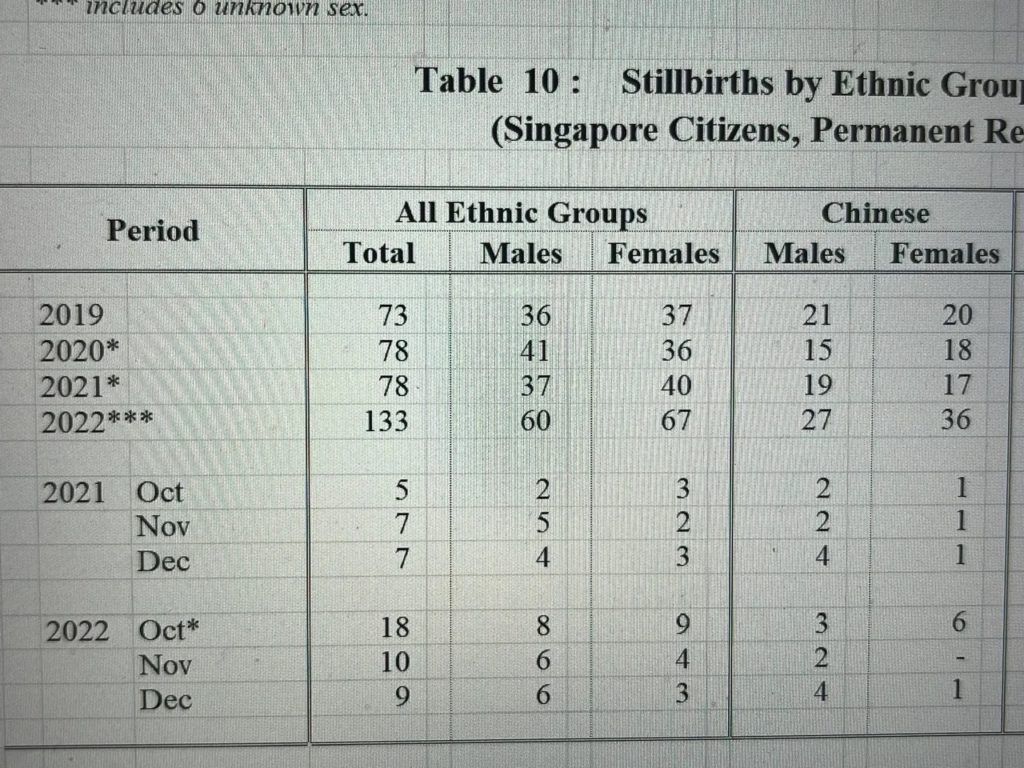 2. Ted Cruz points out the dialectic actions of the Justice department although not by that name, in hearings over Justice Merrick Garland
On Hunter Biden's laptop:
3. 28-Year-Old Bangladeshi Dies from Myocarditis Due to Moderna's COVID-19 Vaccine: Singapore MOH to Pay $168K to Family
(If the shots were mandated, then paying off the family with their own money is insult to injury. Criminal charges and real trials MUST follow agianst all who mandated and administered these shots and knew they were not properly tested. No informed consent is a violation of Nuremberg, which many nations have signed on to, including Canada, as LAW)
It would appear that the first jab associated with Moderna's mRNA-1273 (Spikevax),  the COVID-19 vaccine, was linked to the death of a 28-year-old Bangladeshi man employed in Singapore. The Singapore Health Authority (MOH)calling the incident a medical "mishap" announced the plan to make a one time payment of $168,000 to the man's family.

According to the MOH the individual collapsed and subsequently died at the workplace on July 9, 2021.

Later, the island city-state established a COVID-19 vaccine mandate from January 15, 2022. With few exceptions, all medically "eligible" however unvaccinated employees in the city with 5.64 million people were halted from going to work even if they presented negative test results. This edict was established despite the fact that health authorities have known since the spring of 2021 that the mRNA vaccines (nor the other investigational products developed in China and Russia) that these were not neutralizing vaccines—meaning they don't stop infection nor transmission of the virus.

TrialSite tracked considerable discrimination in Singapore against the unvaccinated. See "Singapore's Discrimination Against the Unvaccinated."
4. CBC Building Plastered With Suspected Vaccine Injuries And Deaths
(CBC also deserves a long list of charges under Nuremberg. As one speaker said at a protest in front of Ottawa's CBC HQ, a lot of people can be forgiven for their crimes over Covid policies and vaxx mandates, but not CBC. They need to be criminally charged for mass murder. They had a responsibility to the public, for which they were paid by the public, to show many sides of important issues. They acted as propaganda for big pharma and what appears to be Chinese captured politicians. CBC needs more than stickers. But this is a great start.)
(Toronto, ON) Activists plastered hundreds of suspected Covid "vaccine" injuries and deaths onto the doors and windows of the CBC building on Front St. early this morning.

The CBC, Canada's taxpayer-funded media corporation, has been charged by many to be complicit in propagandist lies over the safety of the experimental gene therapies, including former journalist Rodney Palmer recently saying, "They've got blood on their hands," during our live panel event.

Without any critical investigation, the CBC and other mainstream media outlets continue to push the "safe and effective narrative" in spite of overwhelming evidence of catastrophic and unprecedented levels of adverse events.
5. FBI and US Dept. of Energy agree it was a lab leak
Thank you for considering the current reality, despite the largest propaganda effort in history to convince you otherwise.
For those that don't know, Portland Oregon is so far left its probably the capitol of the new communist USA once they bother to claim victory. And 100% that has something to do with ALL Walmarts in Portland closing for good.