1. The number of serious complications after vaccinations against Sars-CoV-2 is 40 times higher than previously recorded by the Paul Ehrlich Institute (PEI).
(Open link into Chrome or something with translation from German)
The number of serious complications after vaccinations against Sars-CoV-2 is 40 times higher than previously recorded by the Paul Ehrlich Institute (PEI). This is one of the results of a long-term observational study by the Berlin Charité. Study director Professor Harald Matthes is now calling for more contact points for those affected Study with around 40,000 participants.

The study "Safety Profile of Covid-19 Vaccines" ("ImpfSurv" for short), which focuses on the effects and side effects of the various vaccines, has been running for a year. Around 40,000 vaccinated people are interviewed at regular intervals throughout Germany. Participation in the study is voluntary and independent of how the vaccines work in the subjects.
2. Supreme Court of India: "No one can be forced to be vaccinated, no mandates"…so this begs the questions, what is so special about India? Why has USA, Canada etc. and other 1st world's failed? 
India's top court on Monday ruled that no person can be forced to get vaccinated and the constitution gives everyone the right to refuse vaccination, in a milestone judgement on the country's Covid-19 policy.

A bench including Justices L Nageswara Rao and B R Gavai was hearing a petition on the mandatory inoculation policies introduced by some state governments, which barred unvaccinated people from entering certain public places.

"Considering bodily autonomy, bodily integrity is protected under Article 21. No one can be forced to get vaccinated. [But] government can regulate in areas of bodily autonomy," the bench said.

Article 21 of the Indian Constitution gives protection of life and personal liberty to citizens.

The bench, however, said that the current vaccine policy was not "unreasonable", as it was based on scientific evidence, but suggested that while infection rates are low, individuals should not be restricted from accessing public places and services.
3. Dr. Peter Breggin MD and Ginger Ross Breggin's paper: "Biden Handing Over U.S. Sovereignty to WHO", very potent & showing us what we are up against; TRUMP must evict UN out of New York, get out of WHO
Either DeSantis or Trump, the United States must get out of WHO as soon as they can and make law in the congress, and evict UN, a fraud inept corrupted agency out of New York, FIRE WHO
Biden et al. are selling us down the river and we have to act at the polls in November and in 2 years. We handle business at the polls and this time we do it properly. Complete.

The time has come to get out of World Health Organization fully and IMO the UN, end funding and stop all payments.
4. Please read this thread by Stephen Coughlin on the 'leak' of the SCOTUS draft
1 of 10) WARNING: Is the "leak" of Justice Alito's draft that overturns Roe v Wade a warning order to the mass line to prepare for action preparatory to release of the opinion? In political warfare (the Maoist insurgency model), . . . 
2) 
. . . the rapid ubiquitous reporting of the leak of the opinion follows "open communications" command and control (C3) paradigms. In Spring 2020, Unconstrained Analytics socialized "Requiem for Minnesota" – including some law enforcement – PRIOR to the Floyd event. 
3) 
It warned that the violence scheduled for Summer 2020 would start in Minnesota and explained why. Published shortly after the Floyd event, it was socialized well beforehand. 
unconstrainedanalytics.org/requiem-for-mi…
4) 
"Requiem" warned that the scheduled violence aimed at delegitimizing the election process and the election as forecast in Warning on Racism would start in Minnesota. There's a reason events began in Minnesota. 
6) 
Analyzed along political warfare lines, we now have an example of an open communication calling for the assassination of two Supreme Court Justices, Thomas and Alito followed by a binary retreat. The open communication: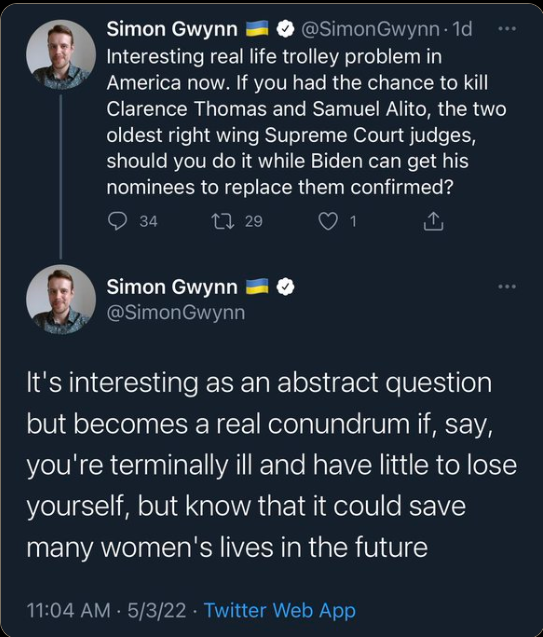 (Best to see it all at the link above)
5.  Trudeau calls someone a faggot in Parliament when asked why he turned the military on Canadian peaceful protestors.
Thank you all who give us your time and attention. 
This is the download link for all the Pfizer documents recently dumped. And there are a lot of them.
Meanwhile, a fully vaxxed gorilla died at the zoo of multiple organ failure.
Fully vaccinated female gorilla with young cubs died of multiple organ failure at the zoo.https://t.co/gDu6sZKEWM

— Stephanie Seneff (@stephanieseneff) May 6, 2022