1. A moment of truth for the b**tards who held the US embassy staff hostage in Iran
Massoumeh @ebtekarm, who took American hostages in 1979 in Iran, is angry as people ask her why she sent her son to the US

Here's a response from the mother of Pouya Bakhtiyari killed by the same regime during #IranProtests

Kids of regime officials live in luxury in the West pic.twitter.com/8se8g39USB

— Masih Alinejad ?? (@AlinejadMasih) December 3, 2020
2. Mandatory vaccinations in Canada? Perish the thought. We will just stop you from breathing till you AGREE to take it.
"What may be mandatory, is proof of vaccination, in order to have latitude and freedom to move around without wearing personal protective equipment." – Chief Medical Officer, Dr. Williams pic.twitter.com/gHupcMxbcm

— CrasHTalk (@CrasTalk) December 3, 2020
3. Al-Qaeda urges Muslims to give out poisoned masks and kill 'Crusaders who are hostile and belligerent towards Islam'
Al-Qaeda speaks of killing "unbelievers," especially those who are "hostile and belligerent towards Islam." Don't they know that their ideology has nothing to do with Islam? Why doesn't Sajid Javid publish an explanation, based on the Qur'an and Sunnah, of how their ideology is a twisted version of Islam? This explanation could be used to dissuade young Muslims from joining al-Qaeda and help keep them in the true, peaceful Islam. How about it, Sajid?
"Article In New Pro-Al-Qaeda Magazine Urges 'Lone Wolves' In The West To Exploit Coronavirus Pandemic By Handing Out Poisoned Masks, Burning Cars Of 'Crusaders,'" MEMRI, December 1, 2020:
On November 26, 2020 the pro-Al-Qaeda media outlet Jaysh Al-Malahem Al-Electroni released the first issue of a new magazine called Wolves of Manhattan, aimed at "instructing jihadis who live among the unbelievers" to carry out various kinds of attacks.[1] The issue, titled "Defeaters of the Cross" and posted on the group's Telegram and Twitter accounts, included an Arabic-language article offering ways to exploit the coronavirus pandemic by handing out poisoned masks to passersby or burning the cars of "Crusaders" on the streets.
4. Vaccination cards will be issued to everyone getting Covid-19 vaccine, health officials say
(To be clear, this is NOT the Islamic/Nazi yellow star to identify Jews. Its actually the opposite. Its a sign telling people that the holder is NOT a Jew. Nothing to fear here at all)
(CNN)The Department of Defense released the first images of a Covid-19 vaccination record card and vaccination kits Wednesday.
Vaccination cards will be used as the "simplest" way to keep track of Covid-19 shots, said Dr. Kelly Moore, associate director of the Immunization Action Coalition, which is supporting frontline workers who will administer Covid-19 vaccinations.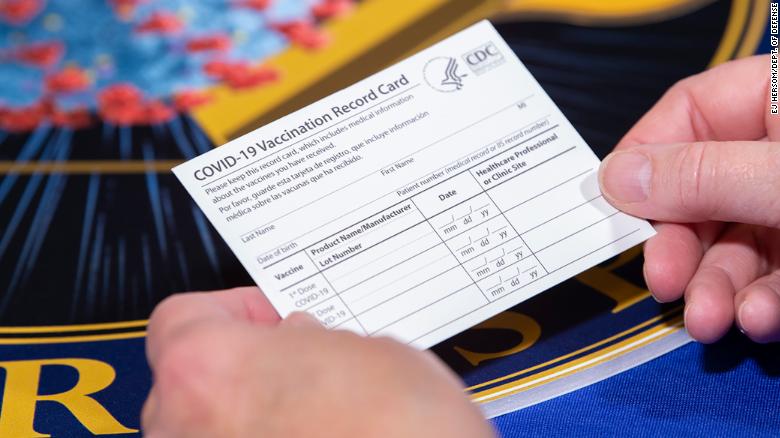 5. This is interesting. If they distribute the vaccine on a black people first basis, then aren't they asking black people to be Guinny pigs for the rest of the population? How will this work that avoids howls of outrage, both justified and not?
A draft plan New York City filed with the CDC says COVID-19 vaccine allocation decisions "must be made through an anti-racist and intersectional lens." https://t.co/v9m2XzaSY5

— Joe Goldstein (@JoeKGoldstein) December 3, 2020
Thank you Johnny U., M., Wrath of Khan, EB., ET., Richard and all who sent in materials this week. There is more to come today. We are hoping for a long awaited update from Brad.