1. Sixteen seconds of hope
2. A little honesty here and there
Democrat Congressman Calls for Prosecution of President Trump After Color Revolution Coup
They want Soviet-style retribution against Trump

Rep. Bill Pascrell (D-NJ) has released a deranged manifesto calling for President Donald Trump to be prosecuted if the ongoing color revolution coup is successful in ousting him from office.

"Donald Trump and members of his administration have committed innumerable crimes against the United States," Pascrell said.

"He has endangered our national security. He ripped families apart. He poisoned the Census. He has personally profited from his office. He has attacked our elections and sought to throttle democracy. He was rightly impeached by the House of Representatives. He has engaged in treachery, in treason. He has given up on governing and protecting our nation and if he had a shred of dignity he would resign today," he added.

Trending: BASED: Proud Boy Makes an ANTIFA Soy Boy Cower in Fear at Protest for Honest Georgia Recount

Pascrell made it clear that Trump must pay dearly for these vacuities and be punished criminally for anything that overreaching Democrat prosecutors can make stick. He also wants other Trump administration members harassed as well for his perverted revenge plot.
3. Two Churches torched in Washington State as the communist-Islamic revolution picks up speed
Ah fresh arson against churches, wonder which fire-fetishizing entity is responsible https://t.co/BpJXhvS1VZ

— V????? ? ? nameless faceless painless (@vmbrae) November 19, 2020
4. Tucker segment on the attack on the 1st amendment by Democrats. Mark Steyn, the decapitator's veto
5. Drop & Roll video explains how the election was cheated
6. Donald Trump Tweet:
Look at this in Michigan! A day AFTER the election, Biden receives a dump of 134,886 votes at 6:31AM! https://t.co/CTDaWTNs29 pic.twitter.com/nSmc2olraF

— Donald J. Trump (@realDonaldTrump) November 20, 2020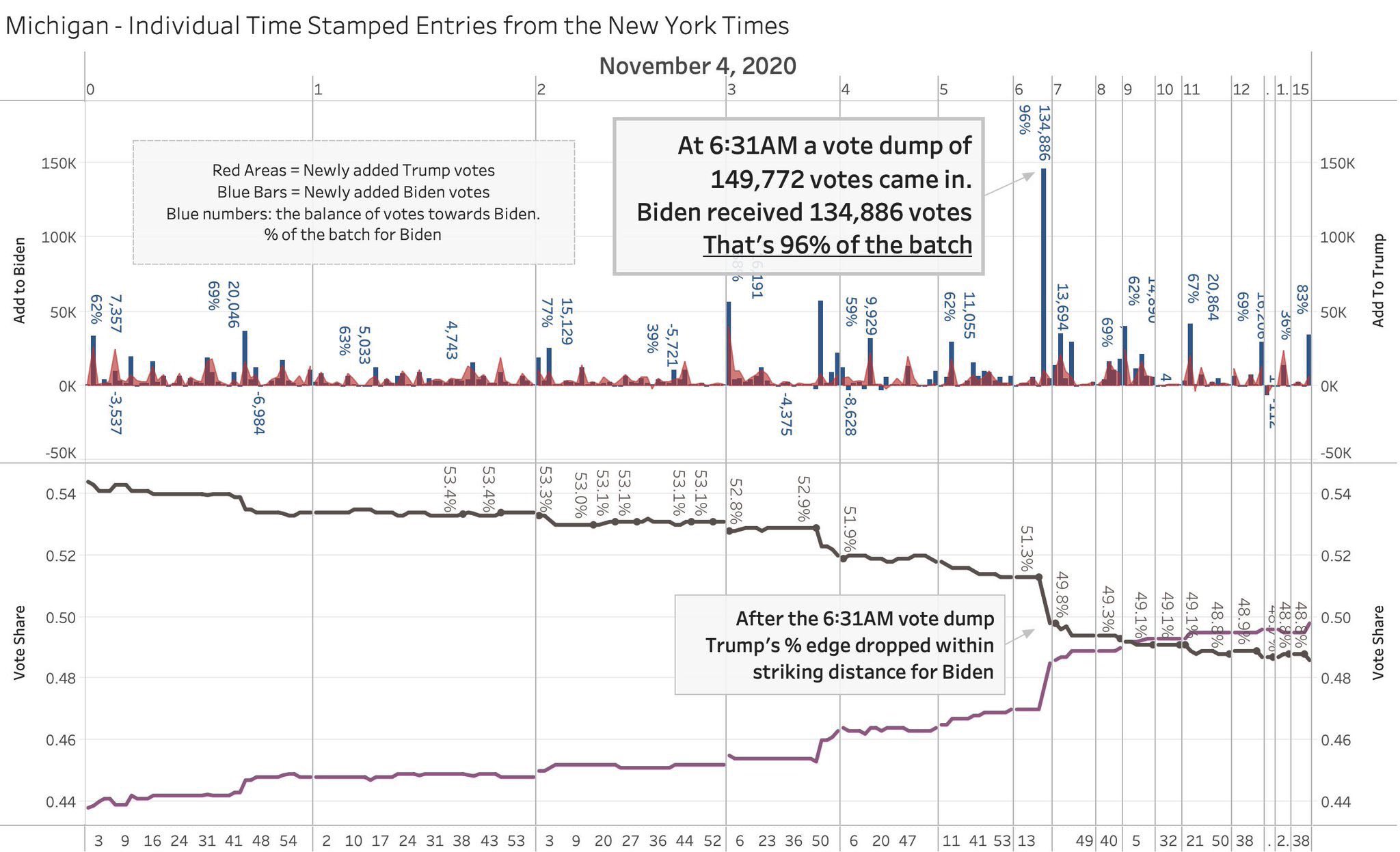 7. Tonight's Tucker Carson nearly in toto
8. Two house GOPS call for election probe
9. Michigan Democrat Doxxes Republican's Children Before She Reverses Course To Certify County Vote
Two Republicans on the Wayne County Board of Canvassers were berated, smeared as racists, and one even had her children doxxed before the pair reversed course on Tuesday night to certify the vote in Michigan's most populated county.

Abraham Aiyash, a Democrat Michigan state representative-elect, spoke of Republican Monica Palmer's children and named their school as he berated her for being a "racist." The Federalist reports:

"You, Ms. Monica Palmer from Grosse Pointe Woods, which has a history of racism, are deciding to enable and continue to perpetuate the racist history of this country and I want you to think about what that means for your kids," he said, name-dropping the name of their school and talking about the impact her decision would have on their black classmates.
BREAKING VIDEO:

The exact moment Democrat Abraham Aiyash threatened Monica Palmer's children on zoom. This extortion attempt directly influenced the decision to agree to certify the election fraud in #WayneCounty.@TheJusticeDept @JackPosobiec @DonaldJTrumpJr @realDonaldTrump pic.twitter.com/vDGiFIwmOf

— Miss Michigan (@correctthemedia) November 18, 2020
(How is this not a revolution as opposed to an election?)
10. House Republicans call for hearings into violence against Trump supporters at MAGA march
EXCLUSIVE: The top Republicans on the House Oversight Committee are demanding Chairwoman Carolyn Maloney to hold a hearing to examine the violence against supporters of President Trump after the "Million MAGA March" in Washington, D.C. last weekend.

They are also calling for answers from D.C. Mayor Muriel Bowser, claiming her "silence" on the issue is part of a "broader pattern of viewpoint discrimination."

House Oversight Committee Ranking Member James Comer, R-Ky., Rep. Jody Hice, R-Ga., and Rep. Chip Roy, R-Texas, penned a letter to Maloney, D-N.Y., after more than 20 people were arrested last weekend amid violent clashes between Trump supporters and counterprotesters in D.C.
Thank you all, the many of you who contributed to this post, and all the posts this week.
We hope to finish a very important post tonight about Germany. A well known and well liked Doctor was doing a live stream when police smashed their way into his home in classic Stasi-Nazi fashion. We think it was because he opposes both the Covid measures, as well as the new dissolution of the German constitution that took place today in Germany.
Obama met with Merkel several times after he was voted out of office, didn't he? Trudeau also. Hmmm.