1. Islamic terrorist attack in January in UK that media carefully crafted to avoid letting us know it was an act of jihad
A man carried out a series of "calculated and deliberate" attacks, including stabbing a 10-year-old boy in the neck and driving a car into a five-year-old girl, a court has heard.
Carlos Vinodchandra Racitalal, 33, formerly of Finsbury Road, Leicester, is alleged to have attacked the boy while his mother was parking her car.

Mr Racitalal is accused of a series of attacks in the city between 2 and 18 January.

He denies four attempted murder counts.

Leicester Crown Court heard Mr Racitalal, who is also facing three counts of possession of a bladed article, approached the boy on 18 January.
"The defendant came along the pavement and put a hand on [the boy's] shoulder and then drew a knife across [his] neck, cutting it open," said Christopher Donnellan QC, prosecuting. […]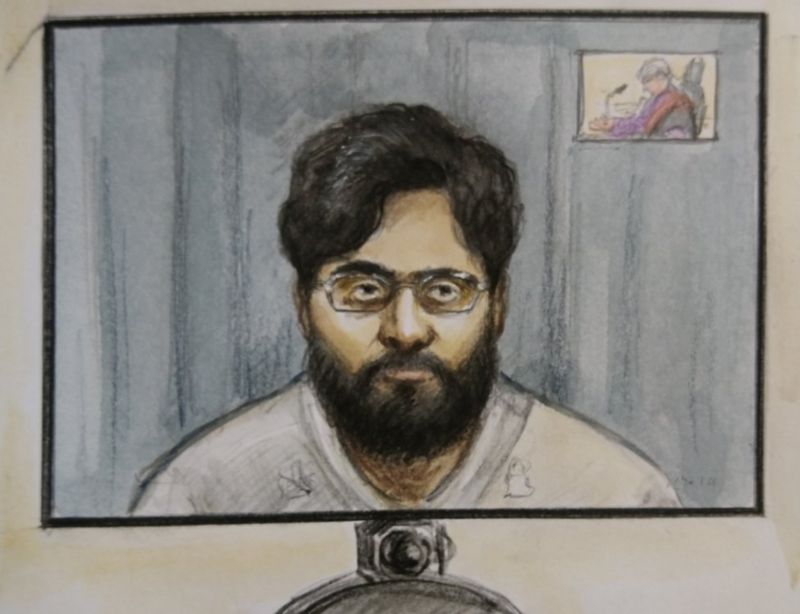 The defendant is also alleged to have driven a black Corsa into the back of a five-year-old child who was holding her grandfather's hand in an Asda car park off Abbey Lane on 2 January.

"She was launched forward into another car and fell to the ground," Mr Donnellan said.

"The defendant was driving. It wasn't an accident. It was calculated and deliberate."

The jury heard the little girl suffered injuries to her nose and chin.
2. UPS Locates Joe Biden-Related Documents That Tucker Carlson Said Were Lost
(Curiouser and curiouser)
Delivery giant UPS confirmed Thursday it found a lost trove of documents that Fox News' Tucker Carlson said would provide revelations in the ever-growing scandal involving Joe Biden's son Hunter and his overseas business dealings.

UPS Senior Public Relations Manager Matthew O'Connor told Business Insider on Thursday afternoon that the documents are located and are being sent to Carlson.

"After an extensive search, we have found the contents of the package and are arranging for its return," he said in a statement. "UPS will always focus first on our customers, and will never stop working to solve issues and make things right. We work hard to ensure every package is delivered, including essential goods, precious family belongings and critical healthcare."

It came after Glenn Zaccara, UPS's corporate media relations director, confirmed Carlson used the company to ship the materials before they were lost. "The package was reported with missing contents as it moved within our network," Zaccara said before they were located. "UPS is conducting an urgent investigation."
3. Fresh Tragedy Averted: Lyon's District Mayor Hails Police Who Arrested Man With 'LONG KNIFE' After Suspected Terror Attack In Nice
A man armed with a knife has been detained by national police in Lyon, following a suspected terrorist attack in Nice and an incident involving a knife-wielding assailant in Avignon.
The mayor of the Perrache district, located in the 2nd arrondissement of Lyon, announced on Thursday that law enforcement had arrested a man who was carrying a "long knife."

"Thank you to the police for their effective intervention which made it possible to avoid a new tragedy!" tweeted Mayor Pierre Oliver.

The suspect was an Afghan national armed with a 30-centimeter knife, local media reported. He was detained after trying to board a streetcar. 
4.Privacy investigation finds 5 million shoppers' images collected at malls across Canada
OTTAWA — Without customers' knowledge, more than five million images of Canadian shoppers' were collected through facial recognition software used by Cadillac Fairview, a parent company of malls across the country, according to an investigation by privacy officials.

The federal privacy commissioner reported Thursday that Cadillac Fairview contravened federal and provincial privacy laws by embedding cameras inside digital information kiosks at 12 shopping malls across Canada, and captured users' images without their consent.

The facial recognition software installed in Cadillac Fairview's "wayfinding" directories was called "Anonymous Video Analytics (AVA) and through cameras installed behind protective glass, was used in Canadian malls for a brief testing period in 2017 and then was in-use between May and July of 2018.
5. France now getting the treatment they have given to Israel for some time now. "France is a colonialist power which is islamophobic and an apartheid state".
6. Dr Mike Yeadon Former CSO & VP Allergy Respiratory Research Pfizer Global, 29th Oct 2020 (Discusses his concerns with various Covid policies, especially lockdowns etc. Pandemic ended with summer he explains. It might be good to see this before or after the Paul Weston video posted earlier today at the end of the links post #1)
7.  Mark Levin: A last stand for freedom and democracy
8. Twitter Warns Breitbart Reporter over Violating Pakistani Law with Mohammed Cartoons
Twitter has informed a Breitbart News Network reporter that the social network had received a "request from Pakistan" regarding two tweets related to Charlie Hebdo cartoons which allegedly "violates the law(s) of Pakistan", advising the journalist to "take appropriate action to protect your interests".

Europe Correspondent Chris Tomlinson had received a message addressed from Twitter Legal which alerted him that, "in the interest of transparency, we are writing to inform you that Twitter has received a request from Pakistan regarding your Twitter account" which "claims the following content violates the law(s) of Pakistan".
9. Senate Committee Successfully Verifies All Bobulinski Materials Reviewed To Date
The Senate Homeland Security and Governmental Affairs Committee has been successful in verifying all materials reviewed so far from Hunter Biden's ex-business partner Tony Bobulinski, the Daily Caller has learned.

Committee Chairman Sen. Ron Johnson will not call Bobulinski to testify before the November 3 elections, as the committee is working to review all the information provided to the committee by Bobulinski. The information has to be verified, as it is subject to the same false information to Congress laws that verbal or written testimony does. However, a Johnson spokesperson told the Caller that all the material provided by Bobulinski that has been reviewed so far has turned out to be legitimate. The committee has "also" not come across any "signs" or evidence to suggest the content is false, the spokesperson added.
10. Newest death threat to Project Veritas "A doozie"
Thank you EB. Coram Deo, Tania Groth, Johnny U., Babs, ET., C., Runner7500, Richard, Yogi, Xanthippa, and so many more and apologies to anyone I have forgotten.