1. Computer repairman who exposed Biden emails claims that the FBI told him to stay quiet about it
WASHINGTON D.C. – There are whistleblowers… then there are those who sound the full blown alarm.

He's the owner of Delaware computer repair store who worked on repairing a laptop that Hunter Biden dropped off. 

Now he's told reporters that the computer allegedly contained emails detailing an opportunity for a meeting between Democrat presidential nominee Joe Biden and a top Burisma executive…along with other "disturbing" items.
2. The decapitation attack against a teacher in France for Islamic blasphemy is anyone's fault except Islam and the real problem, as we all know, is the potential backlash against the people killing us because they don't like our freedoms.
is it my imagination or did she use the "Some people did something" defence? Meanwhile, the guy who did it was rejected by Polish immigration.
3. Charlie Hebdo Attack Trial Suspect Threatens Policewoman in Court
One of the suspects currently on trial in connection to the Charlie Hebdo attacks in January of 2015 is said to have threatened a female police officer in court.

Ali Riza Polat made threats to the female officer who had come to give testimony about the events of the terrorist attack on the offices of satirical magazine Charlie Hebdo and the following attack on a Jewish supermarket by Amédy Coulibaly.

Described as the right-hand man of Coulibaly, Mr Polat yelled "You're going to pay for it!" at the female investigator, which sparked outrage from the lawyers present in the court, Le Figaroreports.

"It's outrageous, there are limits that can't be crossed," General Counsel Jean-Michel Bourlès said, adding that he would be pursuing charges against Polat over the outburst.

(Yeah the limits are whenever an elite member of the system gets a threat.)
4. "A Truly Orwellian Culture" – Amazon Removes COVID Skeptic's Book For Violating Content Guidelines 
(That should help it sell. Its wierd that no matter how brilliant the evil and totalitarian are, they cannot seem to wrap their little beans around the Streisand Effect)
Around the time Twitter purged New York Post's bombshell stories about Hunter Biden from its platform, late last week, Amazon was busy censoring any criticism against the "official" COVID-19 narrative, with the banning of at least one book from its Amazon Books store. 

Political writer James Perloff's latest book, "Covid-19 and the Agendas to Come: Red-Pilled," was removed from Amazon on Thursday, he tweeted. 

"BAD NEWS. After selling over 3,500 copies for Amazon since publication on August 20, Amazon has banned my book "COVID-19 and the Agendas to Come, Red-Pilled." Individual orders can still be placed at…" Perloff tweeted.
Book: "Covid-19 and the Agendas to Come: Red-Pilled"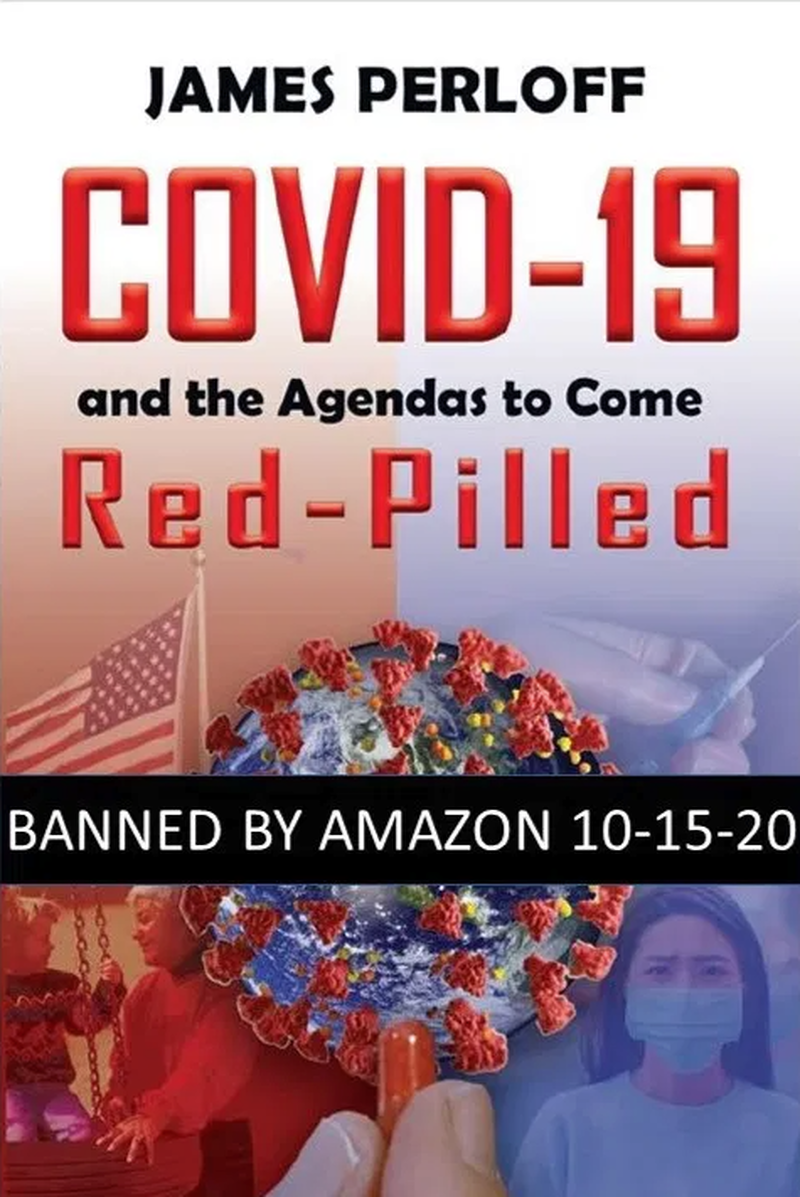 5. I wonder if all this censorship could possibly be related to the following story:
The video the world has longed to see… Covid vaccines rolling off the Pfizer production line in thousands of tiny bottles as Professor Van-Tam claims Oxford-Astra Zeneca jab will be rolled out by DECEMBER
Whizzing off the production line in thousands of tiny bottles – new footage shows the vaccine that could end the Covid misery engulfing the planet.

Drug giant Pfizer has already manufactured 'several hundred thousand doses' of the jab at its plant in Puurs, Belgium, The Mail on Sunday can reveal.

They are being stockpiled ready to be rolled out worldwide if clinical trials are a success, and regulators deem it safe and effective.

The US giant hopes to make 100 million doses available this year, of which 40 million are destined for the UK – a figure that will be dwarfed by the 1.3 billion jabs the company aims to manufacture in 2021. 

Every patient who receives the vaccine will need two doses.

In an interview with The Mail on Sunday today, Pfizer UK boss Ben Osborn says: 'It was great to see the first vial coming off the manufacturing line. 

'It just brought a tremendous smile to my face to see all of this work actually result in a product.' 
(It will be interesting to watch how well it works out for the people who choose to get it.)
6. Merkel plans to ban Christmas.
7. The important question is:
Is this an active Church? Or did the Baptist group who owned it, sell it, and that is the new owner? If this is in fact vandalism, I would ask you all to remember Kevin Krehan and what happened to him for putting 2 strips of bacon on a mosque doorknob and his friends who put part of a bacon sandwich on the steps.
I got this tweet in reply to my question about ownership:
The church looks like it is in use. I don't think that it would be on London crimes twitter account if it was not an act of vandalism and a hate crime ?

— Mandy Moseley (@MandyMoseley5) October 18, 2020
8. NYPD witnesses nearly 90% increase in retirements
What began as a stream is now a roaring torrent. In June, the New York Post reported that members of New York's Finest were retiring in record numbers over the previous year. The spike, which hit a high of 49%, was in reaction to radical changes enacted by the city's mayor, Bill de Blasio, that included a massive $1 billion cut to the force's $6 billion budget and elimination of New York's plainclothes anti-crime unit.

Now, according to the latest data released by the department, retirements have reached an 87% increase from the 1,274 retirements reported during the same period in 2019.

According to Fox News, "2,385 officers have submitted their retirement papers this year as of Oct. 6. … [D]uring the same period in 2019," 1,274 men in blue elected to hang up their uniforms.
9. The entire Biden email crimes issue could be settled with the release of the metadata from the HD by Giuliani. 
10. Unbelievable – Facebook's Lead Executive on Election Policy Was Vice-President Joe Biden's Advisor to Ukraine…
Hat Tip Fool Nelson – Put this in the stunning conflict of interest file that is truly jaw-dropping.  This is just unreal.
Anna Makanju is the Facebook executive in charge of "election integrity on the platform"; and guess what her job was before that position… "Previously, she was the special policy adviser for Europe and Eurasia to former US Vice President Joe Biden". (citation)
Thank you M., Johnny U., Wrath of Khan, ET., EB., ML., MissPiggy, Hellequin GB., and MANY more who diligently search for truth while keeping a tight grip on the real.
ANTIFA/BLM must be taught to say these things to black people. Its too common to be a random outlier.
San Francisco: Antifa physically assaulted a black man today while calling him the "n" word

Causing him to flee the area

— Drew Hernandez (@livesmattershow) October 18, 2020