1. Any sense of even vestigial justice in the US requires that Smollet be convicted and punished for his crimes in the same way a non-protected group member would be.
AMERICAN "RACISM" UPDATE:

Jussie Smollett faces 6 new counts for filing false police reports https://t.co/F7xmXgH2I3

— Col Joe (Parler: gkjoe) (@GKJoe) August 12, 2020
2. Is someone directing Biden to dog-whistle pro-sharia law to muslims?
This was inevitable.

Tucker Carlson's guest claims that Joe Biden is "enforcing Sharia Law." pic.twitter.com/HnOtjQtYWz

— Justin Baragona (@justinbaragona) August 12, 2020
3. Canadians want answers on why 20,000 infrastructure projects funded with our tax dollars can't be shown to even exist.
(Why does this feel a lot more sinister than just garden variety Liberal party corruption like Chretien was?)

In the wake of news reports about someone yelling at Catherine McKenna's office, Canadians are bringing attention to serious problem with the spending of our tax dollars.

In early June, Blacklock's Reporter had a story about how a whopping 20,000 infrastructure projects subsidized with federal tax dollars have no evidence to prove they are even real:

"Parliament's Budget Office can find no evidence of 20,000 projects subsidized with billions in federal tax dollars. Infrastructure Minister Catherine McKenna's department would not document where funds were spent, the Commons government operations committee was told: "I don't have proof that they exist.""
4. Laura Ingram on Harris as VP
5. Germany: Syrian Father and Son Convicted for Forcing Woman Into Slavery
A Syrian father and son have been convicted by a German court for smuggling a teen girl into Germany and forcing her to serve as a slave, with the son raping her at least four times.

Ahmad E. and his 22-year-old son Khaled E. both came to Germany as asylum seekers and were convicted of several charges relating to the abduction and enslavement of Katbeh A., who was brought to Germany in order to marry Khaled E. and give birth to a child in Germany.

The teen, who was smuggled across the Balkan migrant route, had sexual relations with the 22-year-old and eventually gave birth to a son in February of 2019.

Following the birth, the two men planned to take her out of the country and leave her in the Middle East, but Katbeh A. was able to get to a Turkish migrant camp where she stayed for three months before returning to Germany where she now lives in a women's shelter with her son, Bildreports.
(There is an old musician's joke that goes: "How do you get a guitarist to stop playing? Put sheet music in front of him." You could use stories like this to get feminists and BLM advocates to stop talking for a moment)
6. French Church Statues Destroyed by Repeated Vandalism Attacks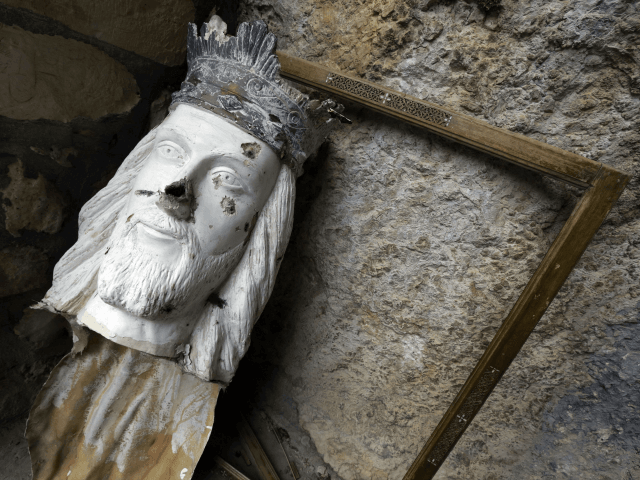 Three statues have been totally or partially destroyed at the Saint-André church in the French commune of Niort after the church saw at least three attacks in the last several weeks.

Saint-André has been forced to close its doors until the end of August or possibly even longer due to the vandalism attacks. Over the weekend several statues were attacked, including a statue of Jesus as a baby being carried by St Anthony, which was shattered into a thousand pieces.
7. Looking at the controversy around Hydroxychloroquine. Watch it while you can. If it disappears let us know so we can restore it.
8. It would be a great service to this site and its readers, if knowledgable people could comment on this epidemiologist and his claims in this video
(At about 6 minutes the speaker incorrectly defines a Chimera as an organism designed in a lab. It is our understanding that a Chimera is a creature made of other creatures. Like Mohammad's Barrack, a winged hose with the head of a woman. Or many ancient Roman creatures of legend with human and animal parts. Most of Europe during the middle ages had legends of chimeras as staple story telling stuff.)
9. We only know one thing about Covid 19/Wuhan flu. All political authority is lying to us. Possibly to justify the biggest power grab in the history of democracy.
— Aleks ?? (@Aleksa63) August 6, 2020
10. Alleged 'Jihad Bride' Mother-of-Nine Back in UK Living on Welfare, Says ISIS Suspects 'Oppressed'
A British-German dual national accused of becoming a 'jihadi bride' in Syria is back living in Britain and living on benefits, claiming that ISIS suspects are "the oppressed people".

Two years ago it was alleged that Natalie Bracht travelled to Syria to become the second wife of a 31-year-old Islamic State jihadist who had been based in London, Celso Rodrigues Da Costa.

However, Bracht, a Muslim convert and mother of nine who is now 45, denies having ever gone to the war-torn Middle Eastern nation.

At the weekend it was revealed in the Sunday People that she is now living on a canal boat at taxpayers' expense and hopes to earn money as a busker.

Bracht was flown in April from Germany to Britain, where she was reportedly "interrogated" for a number of hours under Schedule 7 of the Terrorism Act 2000 by Special Branch agents — who she said questioned her over "what I thought about Brexit, how I think about elections, what I think about vaccines".
Thank you M., Wrath of Khan, Johnny U., PC., C., Richard, John in Cheshire, Ruth J., and all who remain conscious of the meaning and nature of events today.