1. City Councillors targeted by communist mob, "report cards" placed on their homes with scientism and Neo-Marxist items graded
2. This happened:
French revolutionists/communists… https://t.co/TDvG7abymb

— TundraTabloids (@TundraTabloids) July 1, 2020
It MUST be understood that the DSA, Democrat Socialists of America, plan to make private property illegal immediately after there are no police. This entire thing has been planned MONTHS in advance of the death of Floyd, and more likely YEARS:
3. Marxists Unveil Controversial Lenin Statue In Germany
(Not suggesting anyone tear this down but instead, adding a noose to his hand with a dead landlord in it might give a better indicator of who he is, and what kind of eggs he broke to make his commie, nutrition free omelette.)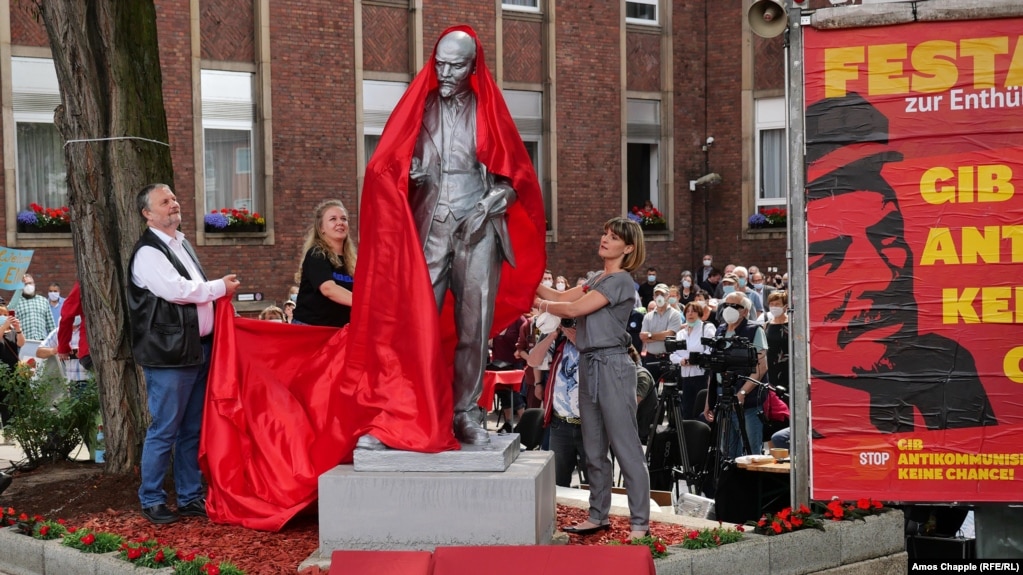 4. Massive power grabs and government overreach took another life in Canada
5. "White Lives Don't Matter" Academic: "I Resist Urges to Kneecap White Men"
(It seems Enoch Powell was right in his famous "Rivers of Blood" speech. But for reasons that may have escaped him at the time. The fact that immigrants brought en masse to the UK, and sheltered from integration by socialist policies of "multiculturalism", an oxymoron if ever there was one, can be more easily turned against the host culture with the false promise of taking over lead to this. BLM and its useful idiots and opportunistic looters either don't know or don't care what they are bringing to pass in the UK. But when they do, it will be too late for regret. But regret there will be)
More racist tweets by Cambridge University Professor Priyamvada Gopal have been unearthed, including one in which she spoke about her urge to "kneecap white men."

Gopal caused controversy last week when she tweeted "white lives don't matter," prompting a petition demanding she be fired. However, Cambridge University responded by promoting her to a full professorship, despite the fact that the tweet was censored by Twitter for hate speech.

The media's reaction was to portray Gopal as the victim of bullying while feigning infinitely greater outrage over a "white lives matter" banner that was flown over a soccer match in Manchester.

More hateful tweets have now been discovered, including one discussion where Gopal states, "I resist urges to kneecap white men every day. So, no **I** am the hero."
6. 10,800 Chinese-made Assault Weapons Parts Seized by CBP in Louisville
LOUISVILLE, Ky—At the Express Consignment Operations hubs in Louisville U.S. Customs and Border Protection (CBP) officers seized a shipment from China that contained over 10,000 Assault Weapons parts being smuggled into the country. 

The shipment was seized on May 22. Officers inspected the item, which was arriving from Shenzhen, China, destined for a residence in Melbourne, Florida. The parcel was manifested as containing 100 Steel Pin Samples. This is a common practice of smugglers manifesting the contraband as a harmless or a legitimate commodity in hopes of eluding further examination.

"The importing of any type of munitions is regulated by the ATF," said Thomas Mahn, Port Director, Louisville.  "This smuggler was knowingly trying to avoid detection, however, our officers remain vigilant, ensuring our community is safe."  

The Bureau of Alcohol, Tobacco, Firearms and Explosives (ATF) regulates and restricts firearms and ammunition. Importation of weapons or ammunition must be made by a licensed importer, dealer or manufacturer.
(If we add this to Chinese smuggling of counterfeit US dollars as we saw at the start of this year's BLM riots, of the profoundly deadly drug, carfentanil, of which a muslim jihadi in Toronto related to the Greek town terrorist, had enough to kill everyone in Canada, the 80+ tons of fake gold made by China and leveraged against multiple international loans, we start to get a picture of what Chinese unrestricted warfare looks like)
7. Joe Biden's excellent adventure
8. Daniel Greenfield on when the mob comes for the progressives.
Thank you M., Wrath of Khan, Johnny U., PC., Xanthippa, Oz-Rita, MadW., and all who sent in materials this week so far.
Hollywood Actors Pledge Never To Take A Role Where They Have To Pretend To Be Someone Else https://t.co/TDHT179Avt

— The Babylon Bee (@TheBabylonBee) June 30, 2020
(Come to think of it, aren't all actors professional cultural-appropriators? When the communists are a bit more comfortably in control, they will deal with actors just the way they deal with all the people who initially helped them take power. Because thats how it works. They have to kill or imprison all who know how to make a revolution work. But the excuse for actors will be guilty of cultural appropriation on an individual basis.)