1. WHO says AGAIN that a person with no symptoms of Covid but has the infection does NOT transmit the disease. Then when questioned she stumbles it backwards.
2. Government COVID-19 emergency measures are 'death of civil liberties by a thousand cuts': report
OTTAWA — The many emergency laws and regulations introduced to target the COVID-19 pandemic have amounted to the "death of civil liberties by a thousand cuts," a new report says.

The non-profit Canadian Civil Liberties Association (CCLA) on Friday released a lengthy document that reviews emergency measures introduced by federal, provincial and municipal levels of government in recent months, which authorized everything from unlimited spending powers to hefty fines for people who fail to practise social distancing. The organization asserts that those measures amount to a broad overreach of government powers that, left unchecked, threatens to become permanent.

"The pandemic has led to a thousand impositions on civil liberties that might feel minor alone, but which taken together represent an extraordinary change to civil liberties in Canada," the report said.

Limits to civil liberties include government-led initiatives to curb "misinformation," mandatory masks or temperature checks in private settings, restricted access to public settings, or even attempts to hinder "drive-in religious services," the report said.
3. 54 scientists lose jobs over ties to foreign countries (China)
4. Trudeau's government is asked questions about its failure to get the UN seat and answers as it answers every question every time. Canned word-salad.
5. James Woods does more in the interests of Freedom than do most journalists
I don't know if my involvement helped, but I do know that conservatives must put their fear aside and together make their voices heard. The onslaught of the liberal "thought police" and their brown shirts in the streets can no longer be endured in silence. https://t.co/VX37sVnPUG

— James Woods (@RealJamesWoods) June 20, 2020
6. Belgium: Migrant Mayor Demands Belgians Remove Statues of Former King
(AFP) — Belgium is due a reckoning with its colonial past, and things left unsaid must now be discussed, argues the Congolese-born 72-year-old who became the country's first black mayor.

Pierre Kompany's family has made a name for itself in Belgium. He is a former refugee turned pioneering politician, and his son Vincent Kompany is a star footballer in the national squad, the world's top-ranked team.
(The Great formerly British city of London also has a migrant mayor does it not? How is that working out for them?)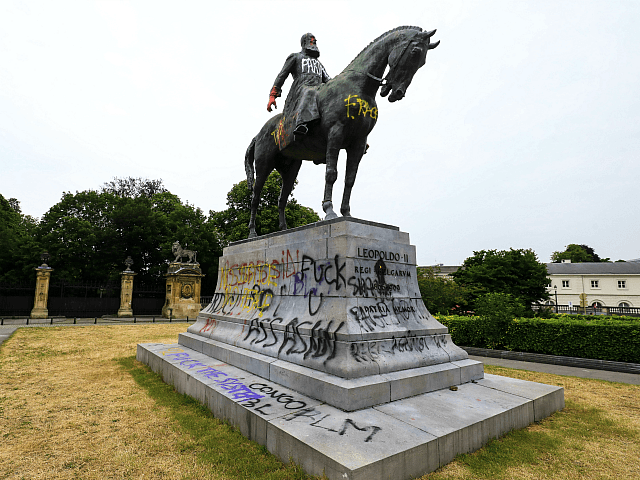 7. Police Investigating Shooting Inside Seattle's 'No Cop,' CHAZ Zone
At least two people were shot and one was killed inside Seattle's Capitol Hill Organized Protest (CHOP) area early Saturday morning, and police say they are investigating despite it being in a "no-cop" zone of the city.

Videos recorded Saturday morning show volunteer medics scrambling to help the purported victims after Seattle Police Department radio dispatchers received multiple reports of three to six gunshots around 2:20 a.m. People involved in the incident were seen fleeing the scene north from 10th Avenue and East Pine street in the city's Capitol Hill autonomous protest zone, also called CHAZ. Seattle Police abandoned the closest East Precinct building on June 8th after days of confrontations with protesters in the wake of George Floyd's death while in the custody of Minneapolis police.
Thank you M., Wrath of Khan, Richard, PePi, PC., Johnny U. and MANY more who continue to pay attention. 
And remember boys and girls, for the communists: