1. Norwegian ex-minister gets jail term for sexually abusing asylum seekers
A former fisheries minister was convicted of abusing his position as county governor and exploiting the vulnerable situations of three young men, one of whom has a mild mental disability.

A former Norwegian government minister has been sentenced to five years in jail for sexually abusing three asylum seekers over several years, prosecutors said on Thursday. 

Svein Ludvigsen, 72, a former fisheries minister, was convicted of abusing his position as county governor and exploiting the vulnerable situations of three young men, one of whom has a mild mental disability.

The sentence was handed down on Wednesday but made public a day later.

The abuse of the men, now aged between 25 and 34, occurred between 2011 and 2017, according to court documents seen by AFP. 
2.  German and Italian ships are enrolee to Europe to smuggle more Africans they grabbed out of the water just north of Libya
3. In the new West, partizan civil service is fine if you are of the left.
4. Three IED's mailed to British airport, translation.
5. British police have arrested a Swedish woman at London's Gatwick Airport on suspicion of committing a terrorism offense.
(A Swedish woman you say? Well golly gosh. Those Swedes are known for preparing acts of terrorism. Maybe an attack on all non-eaters of fermented fish?)
Police said Friday that the 40-year-old suspect was arrested Thursday afternoon after arriving in Britain on a flight from Italy.

The arrest was made by the South East Counter Terrorism police unit. Police say she is suspected of violating the Terrorism Act 2000 by preparing acts of terrorism.

She has not been charged or identified and is being questioned by police.

Britain has set its official international terrorism threat level at "severe," meaning an attack is judged by intelligence analysts to be highly likely.
6. Woman Who Invited Migrants to Camp In Her Garden Now Demands They Leave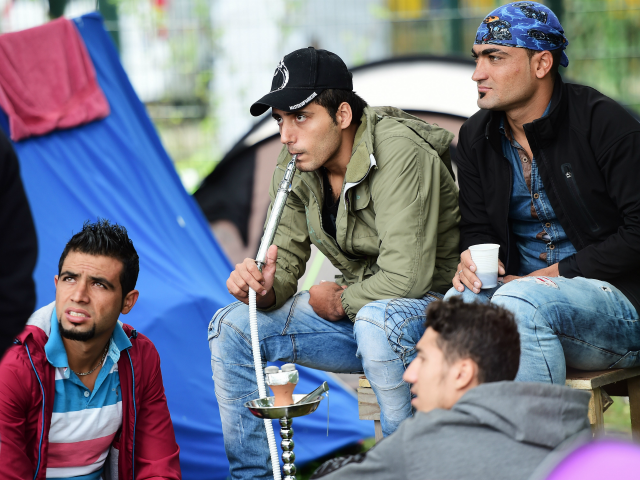 A Belgian woman who invited migrants to set up a makeshift camp in her garden now says she wants them to leave after incidents of aggression and violence.
For nearly two and a half years the Simon-Hody family have allowed migrants wanting to travel to Britain to camp out in their garden in the town of Spy, but now, after a series of incidents, they say they no longer want them there, Sudinfo reports.

The situation in the makeshift camp is said to have deteriorated so much that the family has stopped all aid to the migrants, saying that alcohol and violence led to the camp becoming more and more dangerous by the day, with one family member stating: "We did not feel safe anymore."
(What is the definition of a conservative? A progressive that has been mugged)
7. Senior Iranian politician warns Iran has a 'duty' to seize a British oil tanker if the vessel intercepted by marines in the Mediterranean is not released
A senior Iranian politician has threatened to seize a British oil tanker if its vessel which was detained off the coast of Gibraltar is not 'immediately' released.

Mohsen Rezaee, secretary of Iran's Expediency Discernment Council and commander in the Revolutionary Guards, said it was Iran's 'duty' to retaliate after Royal Marines and Gibraltar police intercepted the Grace 1 tanker on Thursday. 

Rezaee, who led the IRGC during the 1984 'Tanker War' when Iraq bombed Iranian tankers in the Gulf, tweeted: 'The Islamic Revolution was never an initiator of tension during its 40-year-old history, however, it has not hesitated to respond to bullies. 

'If UK doesn't return the Iranian tanker, the duty of responsible [Iranian] bodies is to seize a British oil tanker in a retaliatory measure.'
8. NGO ship with migrants barred from docking in Italy
An Italian humanitarian group whose boat has been barred from docking in Lampedusa said it is waiting for about 40 migrants still onboard to be transferred to Malta on military patrols, a move that could possibly avert another standoff with Italy's populist government.

Mediterranea Saving Humans said Friday in a tweet that its sailing boat ALEX was just outside Italian territorial waters, just off the southernmost island of Lampedusa, and that it has been banned from entering Italian jurisdiction by ministerial decree
9. Macron's France to Force Social Media and Search Engines to Censor 'Hate Speech'
PARIS (AP) – French lawmakers have approved a measure that is intended to force search engines and social networks to take hate speech off the internet.
The measure adopted Thursday by the lower house of the French parliament would require social networks to remove hate speech within 24 hours of a confirmed violation. Search engines would have to stop referencing the content as well.

The provision, part of a bill on internet regulation, targets videos or messages inciting or glorifying terrorism, hate, violence, or racist or religious abuse. Violators could face hefty fines.
'Save the Internet' – EU Moves to Monitor Uploads, 'Censor' Memes, 'Tax' Website Links https://t.co/YCIoWhboGJ

— Breitbart London (@BreitbartLondon) May 31, 2018
(The article uses the now common tactic of claiming it is to stop antisemitic abuse, when of course we can state definitively it cannot be, as nothing is done ever to stop muslims from preaching genocide against jewish people, and the French government actually provides cover for muslims who actually murder Jewish people.)
Thank you, M., Wrath of Khan, Tania Groth, EB., Coram Deo, Richard and so many more.