1. Here will be the next manipulated bunch of islamphilic invader positive manipulated BS very possibly.
(Youtube and other major social media famously adjusts likes, dislikes and even comments to achieve an outcome. No one is surprised by this at this late stage. Gavin B suspects this will be the next big manipulated thing we will all have to think is a #1 hit.)
2. Bare-breasted, silver-painted 'Mariannes' confront police in Paris (PHOTOS)
The yellow colors of the raging French protests are mixing with red and silver as several half-naked women posing as Marianne – a French national symbol – have faced off with police in the heart of Paris.
Half-naked women in blood-red hoodies covered in silver paint evoked the French revolutionary icon on Champs-Elysees avenue on Saturday. Their appearance was in stark contrast to the black and blue uniforms of gendarmes and police officers, and the yellow vests of hundreds of protesters around them.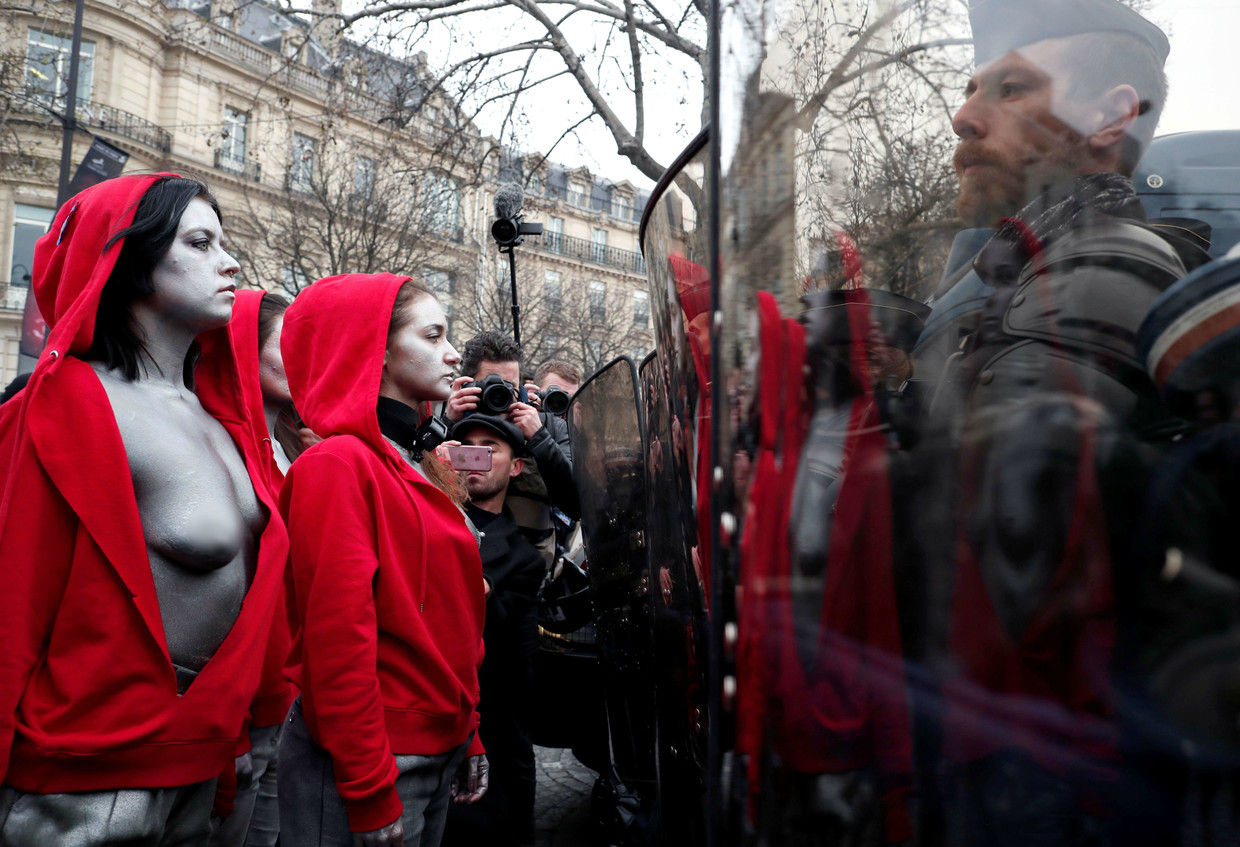 3. Yellow vests shutdown Tower Bridge as protest rages on
The group of yellow vest protesters, believed to be pro-Brexit, completely blocked Westminster Bridge.
The group have now moved down the river and blocked traffic at Tower Bridge, causing havoc in the capital.

They are seen on Facebook Live chanting: "What do we want? Brexit.

"When do we want it? Now?"

They also sung: "You're not British anymore."
4. France: (I think)
Monoprix has a brick and mortar store! I thought they were just an online place.
Good place to get cables. Especially HDMI
(It looks like the State in France is the enemy of the people now. I hope they plan and act accordingly.)
5. Massive manhunt after three women are stabbed and severely injured in Germany
German police are searching in the city of Nuremberg for the person or persons responsible for the stabbing of three women.
Yesterday, around 7:20 pm, a 56-year-old woman was stabbed without warning in the upper body, by an unknown assailant. The woman was seriously injured requiring emergency surgery.

More than three hours later, around 10:45 pm, a 26-year-old woman was stabbed and somewhat later a 34-year-old woman as well.
Both women suffer life-threatening injuries. Local police said on Friday that they couldn't rule out that the same person is responsible for all three attacks.
(There is a lot of that going around this past week.)
Thank you M., Wrath of Khan, EB., Johnny U., Sassy, and a long wonderful list that can be found in full by checking the Reader's Links for December 15, 2018