1, PEGIDA marches in Dresden amidst counter protests
(Notice the eloquence and wit of the leftist counter-protestors. Such well formed arguments and pithy as well, as the manage to express the sum total of their point of view with a single finger)
2. Bomb threats close 26 schools across Britain on GCSE exam day as one chilling call warns 'shrapnel will take children's heads off'
(That kid passes bomb threat class. A few more Palestinians and the UK can be #2 in crappy exploding rockets)
Bomb threats forced the closure of 26 schools across the UK today as students prepared to sit their GCSE exams.

Thousands of pupils were evacuated after a series of anonymous phone calls warning of hidden explosives were received by school offices up and down the country this morning.

Many students were pulled from school grounds in the middle of their exams as emergency services swooped on scene to carry out searches, in what appears to have been an elaborate hoax.

A similar incident occurred in January when a Russian Twitter group was believed to have been responsible for a series of bomb threats which saw 14 schools evacuated in Britain.

The group had invited pupils to get in touch if they wanted to 'get out of school' – raising speculation that students may have devised a similar hoax to avoid today's exams.
3. Islamic State: Warnings terror group will send out more suicide bombers as battlefield losses mount
Analysts fear Islamic State could increase its terror attacks on civilians as it loses ground on the battlefields of Iraq and Syria.
Key points:
Islamic State expected to increase terror attacks against civilians
Group is losing territory in Iraq and Syria
Expert expects to see larger scale suicide attacks, and more of them
The jihadist group has claimed responsibility for a series of recent bombings which have killed more than 180 people across the Middle East, including 140 killed in coordinated blasts in regime-held towns of Jableh and Tartous on Syria's Mediterranean coast.

The attacks come as the group comes under increasing pressure from Iraqi and Syrian forces, with Iraq's assault on the Islamic State stronghold of Fallujah entering its second day on Tuesday.
4. Turkey excluded desirable people from the refugee deal with Europe while sending over the serious medical cases.
Turkey has been accused of cherry-picking the most qualified of Syrian refugees while sending on to Europe thousands of sick and uneducated migrants.

At an internal European Union meeting in Brussels last week a Luxembourg government official claimed Turkey was sending 'serious medical cases' to Greece.

Turkey is currently home to around three million refugees from the civil war in Syria, many of them housed in squalid camps along the border.
Volunteers walk on a pile of lifejackets left behind by refugees and migrants who arrived to the Greek island of Lesbos after crossing the Aegean Sea from Turkey last year
5. Canada: My First Hizb-ut-Tahrir Conference
"Why," I said to the woman next to me, "is this flag there? Is that not the ISIS flag?"
Time: Saturday May 21, 2016, 12:00-3:00PM
Venue: Swagat Banquet Hall, 6991 Millcreek Dr., Mississauga, Ontario, Canada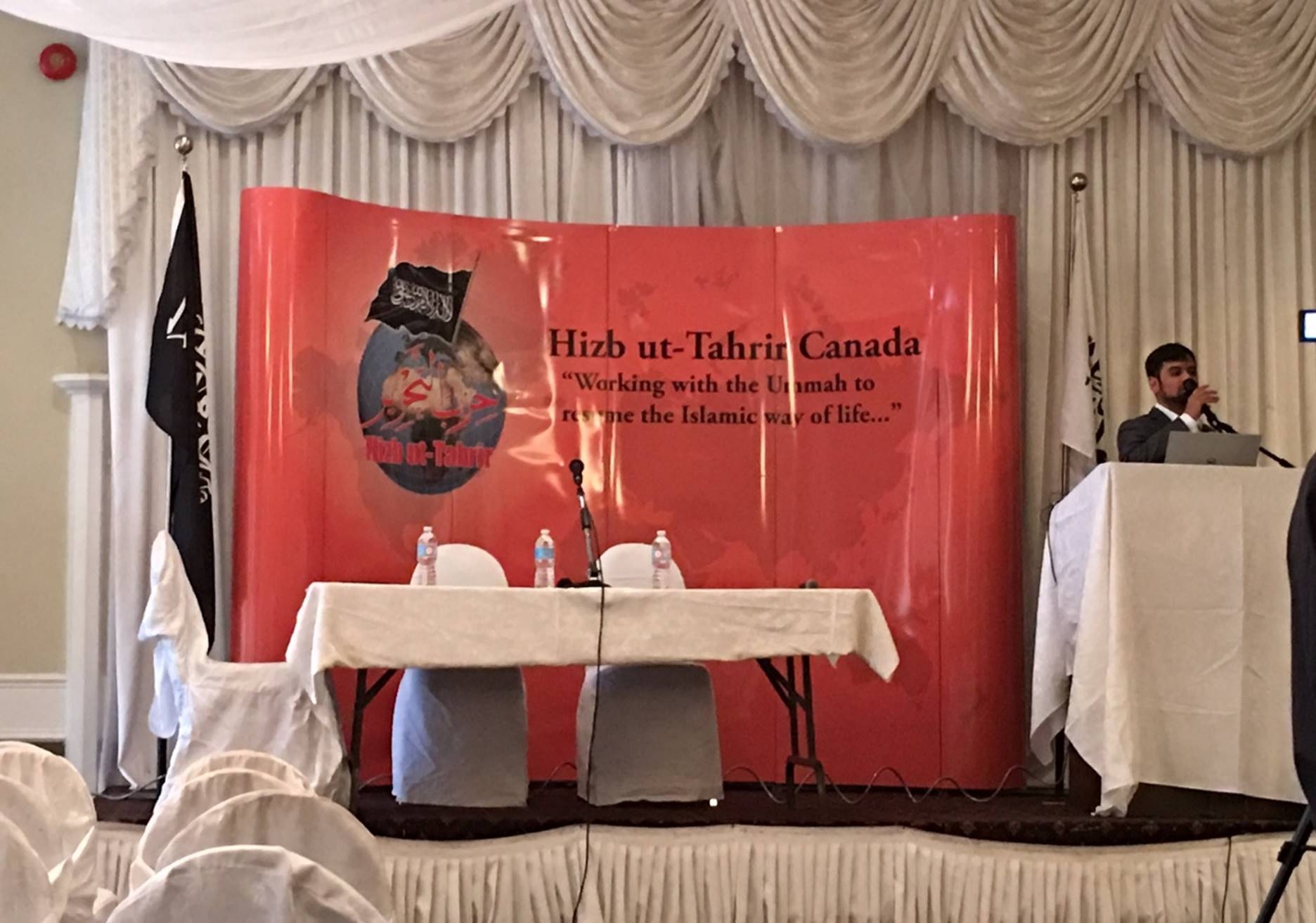 The half-full banquet hall, divided into the men's side and the women's side, admitted about 100 attendees. A black flag with white script was on display, on both the screen and on the podium. "Why," I said to the woman next to me, "is this flag there? Is that not the ISIS flag?" The woman, later identified as Naeema, said it was not, and called her son, one of the organizers, to address the question. It seemed difficult for him, too; he went off to look for someone else more knowledgeable to the help with the problem. Naeema explained that the writing was different. "I can read Arabic," I said. No one could be found to answer the question.
As the event started late, Naeema began a conversation. We talked about our origins and how long we had been in Canada. She said she had been here 40 years, so I asked about the disconnect between enjoying 40 years of democracy, yet trying to end it. I mentioned a book published by Hizb-ut-Tahrir:
"Democracy is Infidelity: its use, application and promotion are prohibited."

"??????????? ???? ???? ???? ????? ?? ??????? ?? ?????? ?????"
6. Danish teen jailed for Facebook terror threat
According to the man's indictment, he posted videos to Facebook that were produced by the terror group Isis and showed scenes of murder.

In comments posted along with the videos, the man wrote threats in English and Arabic that targeted "infidels" "lapsed [Muslims]" and "spies".

According to the indictment, the man wrote, among other things: "The knife will hit all of you and your heads will roll in the streets. You cannot hide from us."

According to broadcaster DR, the man's lawyer argued that the video and comments were posted in a closed Facebook group with only 11 members. The lawyer argued unsuccessfully that the posts were not meant to create fear amongst the general public.
7.  Idomeni police begin to clear a "refugee" camp
Thank you Nash Montana, M., Yucki, Maria J., Shabnam A., Wrath of Khan, and all who sent in valuable materials.
8. Russia busts large Islamic State terror cell
Some amazing things still to come today.
I would like to post a comment that I saw under the Lars Hedegaard video post at The Rebel.Media
Attention all Canadians. As they say in Poker: "Read it and weep"
"Mr. Hedegaard states that when Muslims reach 20% of a country's population, "it's too late". I'd be curious to know what he thinks happens when a neighbourhood reaches that 20% saturation point. Thanks to Jihadi Junior's "refugee rush", this is what is happening in parts of Toronto – very rapidly. In my neighbourhood (Etobicoke, adjacent to Pearson Airport where most of them landed) it's a perfect storm for the creation of Canada's first no-go Sharia zone. Plenty of public housing, which has been cleared of infidel tenants who have been replaced by Muslims. Plenty of large, older apartment buildings with relatively low rents, again very attractive to migrant Muslims with their government rent subsidies. Lots of businesses offering them handouts (like free Toyotas) and preferential hiring.

The changes are striking. Six months ago I could walk the half hour to the nearest grocery store and back, and see maybe one or two of them while shopping. Now it's like downtown Baghdad here, everywhere I look there are hijab wearers pushing huge strollers and texting into brand new iPhone 6's. At the grocery store, nearly all female employees are now wearing hijabs. My apartment building is filling up with them as well. Now it's no longer safe or clean to use the laundry room, they throw filthy disposable diapers into the machines. They toss filth off of their balconies. They crowd the local Tim Horton's, which used to be a place where anyone could gather. Now it's been taken over by the hijab crowd because Canadians don't want to deal with their screaming unsupervised kids, their habit of cutting to the front of the order line, and the filth of spilled drinks and food they leave behind.

In Europe the countries are a lot smaller, so the Islamic takeover is quick and very obvious. Here, the takeover is more insidious, one neighbourhood at a time. I fully expect that my neighbourhood will become a Sharia zone within the next year or two, while local politicians and media turn a blind eye. A walk through this area will show you that they are now closing in on 50% of the population. A lot of seniors and poor people live in my building. They will be forced out by these new Islamic invaders creating their no-go zone. Canadians living in other places have no idea what's really going on, or how bad it really is."
Please click over to the Rebel post if you want to respond to the author of this comment.
I think its time we infidels started doing creative crafts projects at home. Like how to fasten broken bottles to the end of broom sticks and things like that.
Also, it appears that the winner of the elections in Austria yesterday may not enjoy the same level of privilege that Obama did when he got over 100% of the vote in some areas.
Meanwhile, at the leftist hypocrisy department: