1. Molotov cocktails hurled at homes in Jewish East Jerusalem neighborhood
Police arrest Arab hurlers of Molotov cocktails at homes in Ma'ale ha-Zeitim neighborhood; residents of Ma'ale ha-Zeitim complain that similar incidents happen almost daily, but thank police for their efforts to undermine assailants.
Arab residents of East Jerusalem threw Molotov cocktails Saturday at police and Border Policeman in the East Jerusalem neighborhood Ras al-Amud, adjacent to the Jewish neighborhood of Ma'ale ha-Zeitim. The forces arrested one of the assailants. Residents of the Ma'ale ha-Zeitim neighborhood say such incidents occur almost daily.
2. "Mistakes Were Made" — Interview With A Captured ISIS Fighter In Syria
RMELAN — "The [U.S.-led coalition's] airstrikes have weakened ISIS. We can no longer make any progress. Our oil fields and refineries have been hit."

Ahmad Derwish, 29, speaks calmly, his gaze fixed on me and the Arabic translator. The ISIS fighter had been brought into the Syrian police station's room blindfolded and handcuffed, wearing orange plastic sandals and sporting the long beard characteristic of Islamic extremists.

He says the terrorist group is clear about its plans. "As long as the coalition attacks our caliphate in Syria and Iraq, we'll carry out attacks in Europe."

Derwish was captured about a month ago during the offensive on al-Shaddadi, in the northeastern al-Hasakah region, an operation during which the Syrian Kurd, Arab and Turkmen soldiers that make the Syrian Democratic Forces gained control of the area. The coalition carried out 86 airstrikes during the fighting. More than 500 people were killed, among them 400 ISIS fighters.

Derwish's left hand is completely burned, his right arm is wrapped in gauze and his head shows wounds covered with dried blood. He was an emir, a commander in al-Shaddadi area, a strategic city located halfway between the two so-called capitals of the "Islamic State," Raqqa in Syria and Mosul in Iraq.

For the interview, Derwish was brought from a secret prison in northern Syria, where he usually spends his days in isolation. The soldier bringing him hides his face behind a mask, for fear of retaliation.
3. Germany: And another reason the military cannot be unionized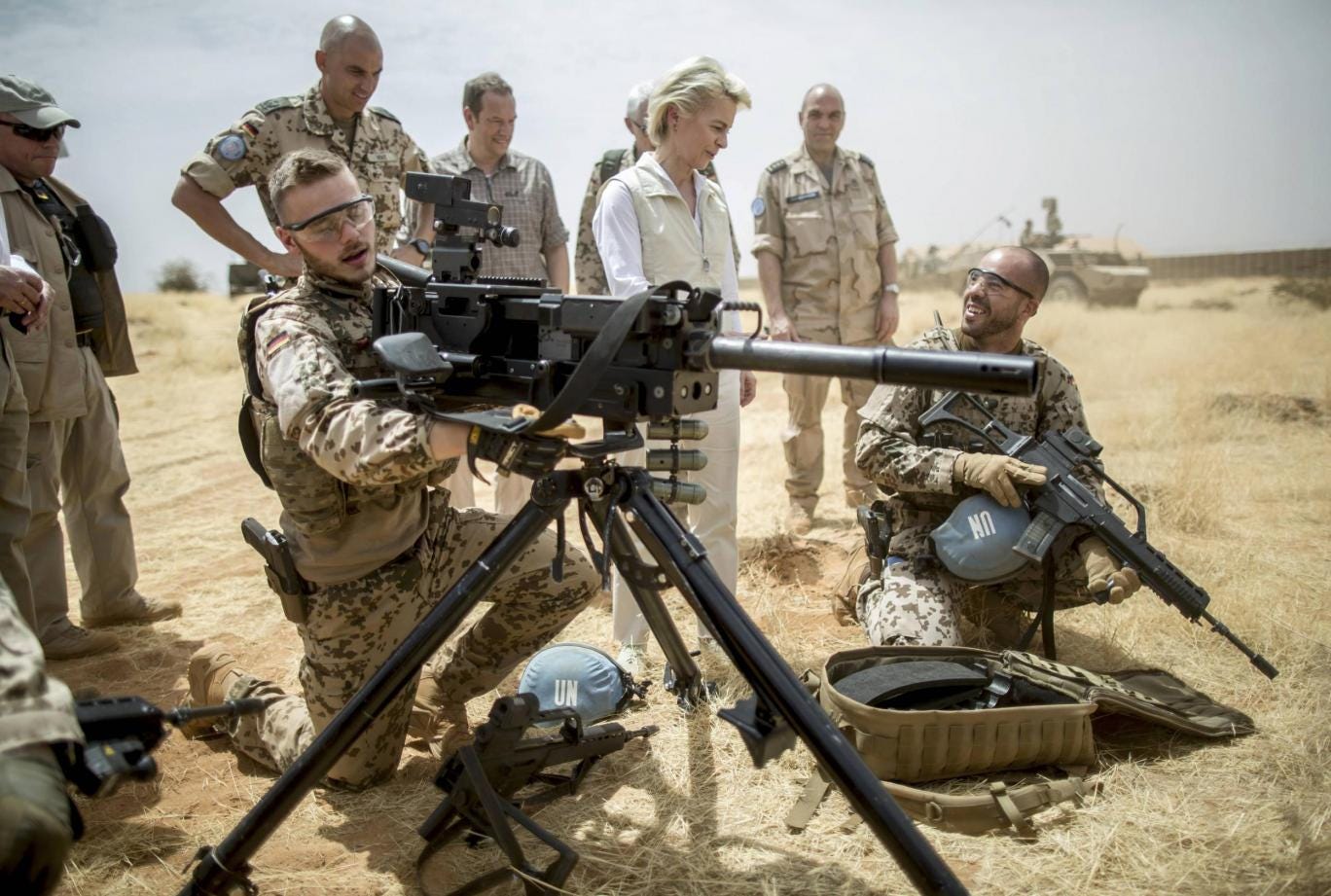 German soldiers were forced to leave a four-week Nato military exercise in Norway after 12 days after using up all their overtime.

Currently, military personnel are allotted a 41-hour working week where overtime cannot be compensated by additional income but with corresponding free time.

Soldiers have complained to the German parliamentary watchdog that they are spending entire days doing nothing due to the country's working restrictions.
4. Paris Metro: Muslims will be muslims.
5. Another Muslim arrested for sexually molesting women in a hotel pool, this time in Canada.
LPS said they received a complaint from an adult woman and two minor females regarding a man touching them inappropriately in the hotel swimming pool.
Police say the man was located at the hotel where he was arrested without incident.
Wijdan Yasir, 28, from Calgary, faces three charges of sexual assault and two charges of sexual interference with a minor.
Yasir was released from custody on $1,000 bail and he is to appear in Lethbridge court on April 29.
The victims were not known to the accused.
(Could this be why so many Muslims live in the desert? The second they get in water they start raping everyone?)
6. Stunned driver finds 23 migrants in his lorry – 200 MILES from cross-channel ports
(Remember, whenever a food truck is found to contain a bunch of stow aways inside, all the contents must be thrown out, and rightfully so. There have been actual food shortages in the UK because of this)
SWNS

A driver found 23 migrants hiding in the back of his lorry
Police including armed officers swarmed to the scene after getting a call from startled driver of the refrigerated vehicle.

He had pulled into a service area off the M4 outside Chippenham, Wiltshire, and discovered the group of 23 shivering in the back.

The immigrants were given thermal blankets to keep warm as they waited to be taken to hospitals in Swindon and Southmead, Bristol.
7. The Children of Islamic State. A Spiegel article on sex slavery by the newest Islamic entity.
Islamic State fighters are known to keep sex slaves. Although they usually force the women to use contraception, many still become pregnant with their rapists' babies. The women who manage to escape are left with deep emotional scars.
At night, when Khaula lies in bed and finally falls asleep, she often dreams of her child. Each time, the same images appear before her: She sees her hands clasped together in front of her chest, forming a hollow. When she lifts her upper hand, a bird is sitting beneath it. She sees its body and its feathers, but the bird doesn't look at her, and there is no song to be heard from its throat. Its tiny head is missing.

"Every time I have this dream, I can't move for a time," says Khaula. After eight months as an Islamic State (IS) captive, she gave birth to a baby girl. The child's father had been her tormentor, an Iraqi IS fighter from Mosul. He had plenty of daughters already and had wanted Khaula, a Yazidi woman kidnapped by IS, to give him a son.

That was 12 months ago. Khaula is now living in Germany, without her child. She's sitting in the side room of a café in the German state of Baden-Württemberg, where she has come to share her story. She's a quiet woman of 23 with black curls and enjoys wearing Kurdish garments.

Khaula shares a dormitory with other women who have been freed. The location must be kept secret, and the name "Khaula" is an alias. With IS sympathizers in Germany as well, the women are endangered here too.
8. 72% of struck off doctors are from overseas: Cases include an Indian GP who ran an immigration scam and a Malaysian medic who secretly filmed female patients
Nearly three-quarters of doctors struck off the medical register in Britain are foreign, according to shocking figures uncovered in a Mail on Sunday investigation.

Medics who trained overseas have been banned from practising for a series of shocking blunders and misdemeanours.

Cases include an Indian GP who ran an immigration scam from his surgery, a Ghanaian neurosurgeon who pretended he had removed a patient's brain tumour, and a Malaysian doctor who used 007-style watches to secretly film intimate examinations with his female patients.
And on it goes. Thank you Xanthippa, Kathy, M., Wrath of Khan, Dagawker, GO., and so many of you willing to make the effort to send in materials. Please everyone, do check the daily links post comments for more. Editing and other Counter-Jihad work takes a LOT of time and effort and not everything I would like to post makes it in.
More to come later tonight and possibly the Robert Spencer event in Montreal which was very on the QT but was a great evening. Also there is still the Q&A from both Ottawa and Montreal to edit and post. A very interesting event out of Sweden as well, we are waiting for the translation to subtitle it and we have an interview with one of the main participants to go with it so that might be up tonight as well.
Stay tuned.