Before I start, let me say that the process/criteria of determining what gets posted is in constant change but the change is in a linear curve. At the start of this blog, I and others who wrote and contributed to this site used to look for articles about the effect of leftism and Islam that indicated what we suspected at the time was the case. As the years went by, finding the material became in some ways, easier and easier to find as the problem metastasized and harder as governments began to harden into totalitarian entities, determined to hide facts in order to shape and force public opinion.
The next stage was that the standard of evidence and degree of severity required to post went up. Because the raw volume of data proving the point became so high, that one didn't need the more questionable articles etc. as there was so much hard data on video and brilliant opeds by people like Daniel Greenfield and so on. Finding material became easier and selecting what to post became a different process. More like a man at an all you can eat buffet.
At the moment, it feels like a coal miner in an avalanche of coal. The problem isn't finding the stuff, its trying to not get overwhelmed by the sheer volume and horror of it.
I point this out not as a request for any change in anyone's behaviour. I sincerely hope that people continue to post, especially to the daily links post, all the material they find which they feel people will find important to their understanding or to assist their decision making process. But because this progression is in itself a data point to how severe the issue is.
One wonders at what point the facts on the ground become so overwhelming that those who insist we are wrong have made a decision tantamount to a personal declaration of faith to multiculturalism and cultural Marxism to the extent that standing up and protecting those beliefs in the face of evidence to the contrary, makes them feel sort of like martyrs to their political faith.
That may in fact be the psychological mechanism that holds so many in denial of reality as it presents itself daily everywhere. Well, that and government collusion with Muslims and leftist groups to suppress those same facts such as we saw with the German government after New Years Eve attacks in Cologne.
More on that aspect of this issue in the post below:
1. Cologne Police Reveal 'Cover Up' Of New Year's Eve Rape Attacks Ordered By Government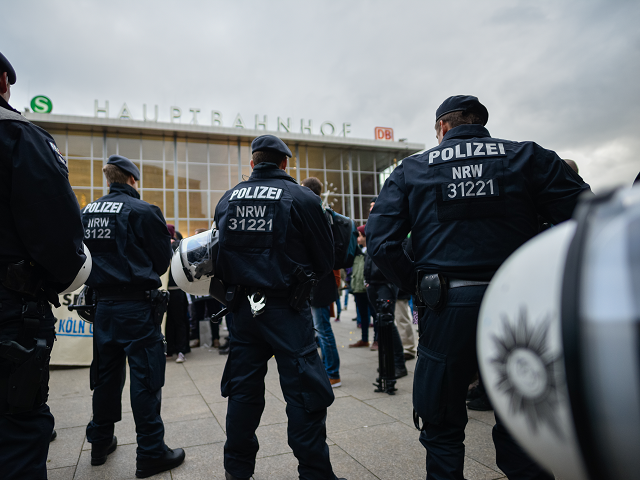 A leaked cache of confidential emails and notes passed between the North Rhine-Westphalia (NRW) state government and local police has revealed the extent to which the force were placed under pressure to cover up the migrant sex attacks at New Year's Eve.
Reportedly released to Cologne-based German newspaper the Express by an inside police source, the documents may imperil the position of NRW interior minister Ralf Jäger. The minister has been clinging to his position since the attacks first became known, days after the event, and even went so far as to fire his chief of police to "restore faith" in the city.
(Again, please see this report from Polish TV also linked above in the prologue)
2. Peace loving muslims attempt to force their way past a police line at the Macedonian border
A group of women and children entered the forbidden zone along the railway tracks, between the two borders, and attempted to break the fence between the camp and the rails, following which clashes with police broke out after a group of men tried to join them. Certain members of the group then attempted to tear down the border fence; then police drove them back with batons.
(I have been sent additional material on this very important story confirming aspects and details of it. It seems that the Ontario government at least, and possibly the federal government are threatening health workers that they may only report on attacks against the migrants by Canadians. But any sexual assault or other crime by the migrants against Canadians which result in a hospital or doctor visit to the Canadian, usually woman, must not be reported at the risk of that health care worker being barred from working in the health care profession permanently everywhere)
Are government of Ontario officials covering up sexual assault crimes being carried out by newly arrived Syrian refugees? A series of events in Mississauga, Oshawa and Waterloo may be connected by two common threads: enforced silence from officials and the involvement of Syrian "refugees."

In one particular case, two contrasting versions of the story are appearing. One version of the story says that a woman was sexually assaulted behind a brick wall used to divide two parking lots not far from a police station.  Another version of the story says that the "new Canadian" was unable to understand "Canadian culture" and that there was a "sexual misunderstanding" that was misinterpreted.

Is it possible that that government officials would order that the problems not be discussed or reported?

The question is important as the long term implications can be disastrous.  In the city of Rotherham, UK, some 1,400 girls between the age of 11 and 14 were beaten, raped, drugged and forced into sexual slavery for more than a decade.  The victims were primarily white girls and the perpetrators were mainly Pakistani-Kashmiri Muslims.
4. Muslims increase the level of violence applied to border guards at Idomeni between Greece and Macedonia.
5. Male Norwegian politician raped by asylum seeker says he feels GUILTY that his attacker will now be deported because the man might suffer back in Somalia
(This would be an example of the people referred to in my opening remarks. Someone who no matter what happens to even himself directly, will not betray his religious zeal about his leftist politics. He feels now that he has a higher authority as he is a victim who advocates for his attacker. Sadly the next victim may not feel that way about the rape. ML had a rather brilliant solution for him though. Perhaps he should marry his attacker. Then he can stay in the country. Providing of course he agrees to be 100% responsible, including jail time, for any consequences of that muslim rapist's actions in Europe after the ceremony)
A Norwegian politician has spoken of how how he felt guilty that the Somali asylum seeker who raped him was deported.

Karsten Nordal Hauken, from Ås, Akershus, was raped in his home and the perpetrator was subsequently caught and jailed for 4.5 years.

However, when Nordal Hauken found out that the man was to be deported back to Somalia after serving his time, he reveals he felt guilt that the man would possibly face hardship in his old country.
Guilt: Left-wing politician Karsten Nordal Hauken was raped by a Somalian asylum seeker, but said the rapists subsequent deportation left him feeling guilty and sorry for his attacker
Nordal Hauken has told his story as part of a television series on Norwegian state broadcaster NRK called Jeg mot Meg [Me against Myself] about mental illness and psychological struggles.
6. Toronto Black Lives Matter co-founder equates Trudeau government to KKK
Yusra Khogali is a Toronto based community organizer and activist, and one of the co-founders of the Black Lives Matter Toronto chapter movement.
On her official Facebook page, Yusra Khogali introduces herself as follows:

"She is a daughter of the Sudanese diaspora by ancestry, born in Nairobi, but a Toronto bred and based black feminist spoken word poet who uses her art as a form of resistance to challenge various forms of Canadian state-sanctioned anti-blackness. She is also working on completing her masters of arts degree as a student in Social Justice Education at the University of Toronto Ontario Institute for Studies in Education. Yusra believes in the self determination of black peoples lives globally and all her artistic resistance and activism, education and community organizing is dedicated to die fighting for this."

Yusra Khogali was this week in hot water after writing a tweet asking Allah for strength to sustain her will to murder "white folks".

"Plz. Allah Give Me Strength not to cuss/kill these men and White Folks out here today. Plz plz plz," she twitted on February 9, 2016. CBC News reported that Khogali did not respond to requests for comment.
(In fact, Black Lives Matters; is likely just a vector for cultural-Marxism as really none of their policies or demands have anything to do with improving the lot of Black people anywhere in the world. They are however, an effective battering ram against classical liberals.)
Thank you M., Wrath of Khan, ML., Pym Purnell, and many more who sent in materials.
There is some really interesting things still to come today. Please check back in a little while, if this is still the top post.