1. Sharia in UK: Wife-beating and child marriages are shocking reality, claims explosive book
(But who can blame the UK. I mean yes, they have abandoned rule of law, thousands of years of their own history and culture and the near total disenfranchisement of their own people but look what they got in return!)
GETTY

A book Elham Malea says some Sharia law courts in the UK are more extreme than in parts of Pakistan
It also says some Islamic clerics support chopping off the hands of criminals while others are in favour of a father having the power to annul his daughter's marriage if he does not approve of her partner.

The book was written following a four-year investigation into around 80 Islamic councils across London and the Midlands, in which disputes within Muslim communities are settled.
2. World on brink of new FINANCIAL CRASH: Ex-bank chief warns another crisis is 'certain'
(It is getting harder to tell reality from those hard-to-leave video adds for free plans to survive the coming apocalyptic XXXX you have to crash your browser to stop if you venture on to the wrong sites)
Mervyn King, who headed the bank between 2003 and 2013, believes the world economy will soon face another crash as regulators have failed to reform banking.

He has also claimed that the 2008 crisis was the fault of the financial system, not individual greedy bankers, in his new book, The End Of Alchemy: Money, Banking And The Future Of The Global Economy.
(On this site we have been suggesting that 'reverse alchemy' is the way to go for some time. Sadly this is very difficult everywhere except the USA or for organized criminals elsewhere)
3. Ex-Guantanamo detainee prominently featured in al Qaeda propaganda
Ibrahim al Qosi, a senior AQAP leader and spokesman, delivered a two-part critique of the Saudi government earlier this month.
Ex-Guantanamo detainee Ibrahim al Qosi has become a prominent fixture in Al Qaeda in the Arabian Peninsula's (AQAP) propaganda since early December, when he first revealed that he is a senior leader in the group. Qosi most recently delivered a two-part critique of the Saudi monarchy, entitled "A Message to Our People in the Land of the Two Holy Mosques."

Qosi begins his nearly 50-minute lecture, which was posted online on Feb. 6, by denouncing the Saudi government's execution of more than 40 "mujahideen" in January. The men were killed, he says, because they declared jihad against the "Crusaders" and opposed American interests around the globe.
4. Egyptian MP. gets hit with shoe for hosting an Israeli diplomat at his house
An Egyptian parliamentarian has garnered support on social media after throwing his shoe at a famous lawmaker once the latter entered the parliament on Sunday.
https://www.youtube.com/watch?v=CbMi-hRYar4
5. In India, a man killed 14 members of his own family then killed himself. But the RT video strangely cropped the top of his door in this clip
So what was it they cropped out?
It seems this was a conspicuously muslim household. Photo is screen grab from Indian news here and embedded below
6. Maridi market explosion. Sadr City (Near Bagdad Iraq) in 2016 (No audio on clip)
Islamic State claims responsibility for attack
An explosion at an outdoor market on Sunday in Sadr City, a southern suburb of the Iraqi capital Baghdad, leaving at least 30 people dead and 60 injured, officials said. ISIS militants claim the attack in a statement circulated online.

A police officer reported a bomb ripping through the packed Mredi market in the Shiite district of Sadr City, with a suicide bomber blowing himself up amid the crowd that had gathered at the site of the first bombing only minutes later.

He said those wounded were taken to a near-by hospital. Police sealed off the area of the incident.

This attack was the deadliest In the recent wave of explosions that have hit commercial areas in and outside Baghdad,

Furthermore, in the town of Mahmoudiya, about 30 kilometers (20 miles) south of Baghdad, three shoppers were killed and 10 wounded in a bomb explosion, another police officer said. Four others were killed in a separate bomb attack in Baghdad's southern Dora neighborhood, he added.
7. Remember the story of the dead imam found in a children's playground? (Perhaps one of the few muslims in the UK not actually raping them at the time) Well they seem to have charged someone with his murder.
Mohammed Hussain Syeedy, 21, has been charged with murder and conspiracy to commit murder.

He will appear at Bury Magistrates Court on Monday.

A 17-year-old boy previously arrested on suspicion of murder is on bail until April 20.

Locals said Mr Uddin had been to evening prayers at the Bilal Jamia Masjid Mosque in Bulwer Street before visiting a friend.

It is believed he was taking a shortcut through the playground on his way home after eating dinner at a friend's house in South Street.

Mr Uddin was formerly the imam at the Jalalia Jaame Mosque in Trafalgar Street, Rochdale.
8. Hillary Emails: State Discussed 'Cooperating,' 'Increased Investment' With Egypt's Muslim Brotherhood Government
(At last. The inside proof of what we have been observing since the first 'Arab Spring', more accurately, the Muslim Brotherhood overthrow of all other kinds of government in the region)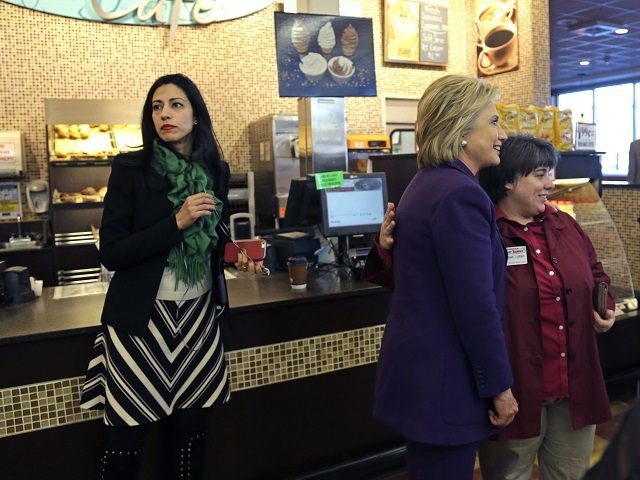 TEL AVIV – 1,500 pages of former Secretary of State Hillary Clinton's emails provide insight into the level of support the U.S. was considering in 2012 for Egypt's newly elected Muslim Brotherhood government.
On August 30, 2012, Robert D. Hormats, the under-secretary of state for economic affairs, wrote to Clinton's then-Deputy Chief of Staff Jake Sullivan to update him on a meeting he held with Muslim Brotherhood Deputy Supreme Adviser Khairat al-Shater.

Shater was later sentenced to life imprisonment and then to death for multiple alleged crimes, including inciting violence and financial improprieties.

The email reveals Hormats and other U.S. diplomats discussed  methods of cooperation with Shater, including an increase in American direct foreign investment.
Thank you Wrath of Khan, Richard, M., and all who sent in materials and comments. More to come.