1. Paris suspects 'in Greece same day as bombers'
Photos at Paris Charles-de-Gaulle Airport show wanted terrorists Salah Abdeslam (L) and Mohamed Abrini. File photo: AFP
Two suicide bombers who died in the Paris attacks and two men held in Austria for suspected links to the operation were all processed as migrants on a Greek island on the same day, a source close to the probe has said.
Two suspects in the November 13th attacks were arrested over the weekend at a refugee centre in the western city of Salzburg after a tip-off from French police, a separate source in Austria told the AFP news agency.

The Austrian source said the men were Algerian and Pakistani.

Fingerprint analysis has shown the suspects were processed among migrants arriving on the Greek island of Leros on October 3, according to a French source close to the investigation.
2. The only condition made by Asaad for this interview was that they do not edit it and play it in toto. This is a most reasonable condition, but also shows the decline of Western journalism as to his, and frankly many of our, expectations of how journalism that presents counter-narrative materials.
3. Calling the Danes Nazis is 'nonsense': Rabbi
(It's good to read a rational rabbi)
Melchior stressed that he did not agree with his government's tough measures against refugees, but he said that any comparison to Nazi Germany, which organised the murder of approximately six million Jews, was completely unacceptable.

"Any comparison with Nazi Germany is nonsense. It should never be done, not in this case and not in other cases," he said.
4. Iraq: Unverified video claims to show US strike on Iraqi forces, 30+ reported dead
5. Obama mocks Russia. For some reason. Gateway Pundit begs to disagree
6. New Russian Air Defenses in Syria Keep U.S. Grounded
There is a new crisis for the international effort to destroy the Islamic State, created by the Kremlin. The U.S. has stopped flying manned air-support missions for rebels in a key part of northern Syria due to Russia's expansion of air defense systems there, and the Barack Obama administration is scrambling to figure out what to do about it.

Russia's military operations inside Syria have been expanding in recent weeks, and the latest Russian deployments, made without any advance notice to the U.S., have disrupted the U.S.-led coalition's efforts to support Syrian rebel forces fighting against the Islamic State near the Turkey-Syria border, just west of the Euphrates River, several Obama administration and U.S. defense officials told us. This crucial part of the battlefield, known inside the military as Box 4, is where a number of groups have been fighting the Islamic State for control, until recently with overhead support from U.S. fighter jets.
7. Italy: Andrea Orlando: 'Isis' threatens to behead Italian minister in letter sent with AK-47 bullets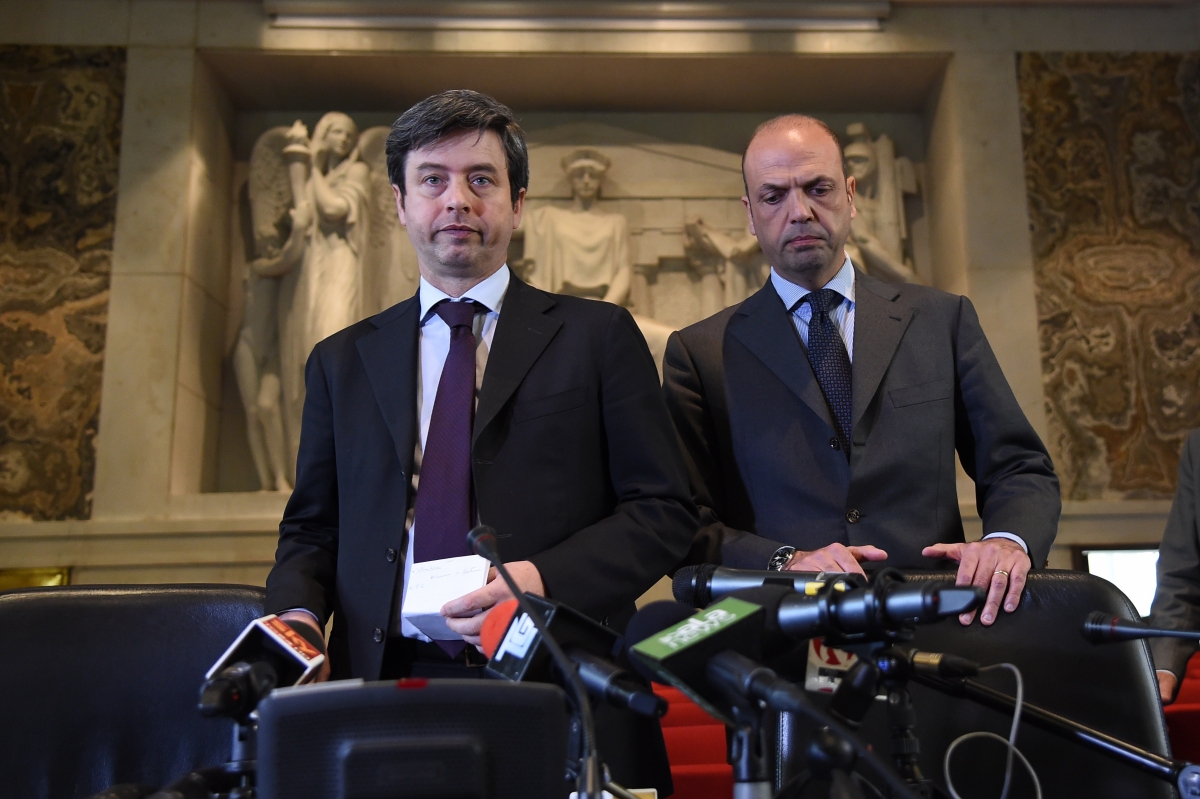 Italian police have opened an investigation after a threat letter with Arabic writing and bullets was delivered to a government minister. The message addressed to Justice Minister Andrea Orlando was signed "Isis", an acronym for the Islamic State group.

It contained two AK-47 bullets and a letter reading: "We will come to Rome and cut off your head. God is great," officials said. The address on the envelope had been written in English with a stencil, La Repubblica newspaper reported, adding that police sent it and its content for analysis.

Numerous lawmakers and officials expressed solidarity with Orlando. "Threats will not stop his commitment against terrorism," tweeted the speaker of the Chamber of Deputies, Laura Boldrini.

IS (Daesh) has often issued propagandistic threats against Rome and the Vatican, but Orlando had not been personally targeted before. The Islamist group usually makes threats through online statements or videos, while envelopes with bullets are the typical intimidation method used by the Italian mob.
8. Poland raids NATO counterintelligence office in Warsaw to oust director
(Now this is interesting. There has to be a story behind this move all Europe must know, and all of us would find informative as to NATO's goals etc. one might easily imagine)
In an unprecedented move a NATO member, Poland, has conducted a raid in the small hours of Friday morning against the temporary offices of a counterintelligence centre in Warsaw due to be NATO-affiliated.
The new Law and Justice government, is currently purging Poland's administration and installing its own people.
"One does not do such matters in this way. It needs to be negotiated internationally. Everything can be solved by law and not in the night, forcing the door. This is an absolute scandal," said former Defence Minister Tomasz Siemoniak.
Law and Justice had demanded that the centre's director step down. He did not respond to the demand, so the military police arrived at 1.30 in the morning to let him in, with a duplicate key. The eventual HQ, under construction, will be in Krakow.
9. Senseless! Why are Syrian refugees being foisted on a remote Scottish island with high unemployment and poverty – then given perks some locals don't enjoy?
Wobbling on new red bicycles, three excited Syrian boys pedal the wrong direction along a one-way street in this very wet outpost of the British Isles. They are unaware they're breaking the law because they can't speak a word of English and certainly don't know of the existence of the Highway Code.

Local motorists, shaking their heads in surprise, are forced to swerve to let them pass safely by.

The young refugees — aged between eight and 13 — come from some of the 15 families who are newly resident on this island off the West of Scotland (population 6,500). They are here as part of the Government's policy of resettling 20,000 people from the Syrian civil war in Britain over the next five years.

This week, three more charter flights arrived in the UK to help fulfil David Cameron's promise to help refugees, which he has described as 'our moral duty'. This latest batch means the Government has met its target of resettling 1,000 Syrians in Britain by Christmas.
A long way from home: Syrian refugees arrive on the Scottish island of Bute earlier this month, among the first of the island's new arrivals 
10. Former al Qaeda recruiter speaks out
11. The Mujahideen for the Islamic State: Let Them Come to Berlin
(This is an original translation by Nash Montana of a German article. See the whole thing at GoV)
The following article about Islamic State proselytizers in Berlin was published recently by the Berliner Zeitung. Many thanks to Nash Montana for the translation:
Islamists Openly Recruiting for the Islamic State in Berlin-Spandau

Loyalists of the terrorist army "Islamic State" apparently loudly tried to recruit for new members. In the subway on Line 7 they sang fight songs and distributed flyers.

A spokesman for the police confirmed to the Berliner Zeitung, when asked, that the incident at Subway Line 7 took place around 11:30pm between Rohrdamm and Spandau stations. According to one witness who reported to the police, seven men were singing in Arabic in the subway car. The song was identified as a so-called 'Fight-Nasheed' for violent jihad. They then proceeded to involve passengers in discussion in Arabic, and passed out flyers in the size of DIN A5 [5.83? × 8.27?].

Police have requested surveillance videos

The witness, who did not speak Arabic, asked two Arab women, who confirmed to him that this was a recruitment in process for the Islamic State. The witness then filed a complaint with the police. "We are now investigating because of open support for a terrorist organization," the police spokesman states. He says that they have requested all the surveillance videos of the subway car in question from the Berlin Transport Authority (BVG).
12. Video on school closure over forcing kids to write the declaration of Islamic faith (and I believe, being told to don a headscarf)
Thank you Maia J., M., PubliousL. GoV. Wrath of Khan, and many more
The prize for most annoying website must now go to the International Business Times. They have an autoplay video that un-pauses itself, turns its own volume back up and starts playing at random intervals and manages to avoid turning on the little speaker icon which appears on the new version of Firefox to show you which tab is making noise so you can deal with it.
I really do not see the percentage in a news service literally harassing its clientele like that. If you must it, you don't want to hear it. And the only value in not showing the speaker icon is so you cannot find the source of the audio and stop it.
The video itself is of some interest. Gazanians had the clever idea of dressing up like Santa and harassing Israeli security personnel. The only reason I can fathom is to get shot so that muslims can show the world images of evil Jews killing Santa. Will post more on it as I get more. But publicity stunts by muslims isn't a priority.
Lastly, the word 'Taqyyia gets kicked around a lot in our circles. The video below is a fantastic example of it, where 'taqyyia means to lie to the unbeliever in order to preserve the image of, islam or making sure the unbeliever is vulnerable to islam and its believers.
Here is the comment I left at the Youtube page
Saying that knowing the enemy ideology and motivation gives nothing in the way of strategy is a lie and in fact, a clumsy lie. It is like saying knowing the Soviet Union was driven by Marxism was not strategically important. Had we not known that, we would have all blown up the world instead of bankrupting them thanks to their impossible economic system. The one that sunk them. Same for Nazis. Fareed is lying to protect the image of islam. I wonder if there is a name for that? Tak-something I think.