1. Two homeless Arabs attack soldiers at Rome cathedral
(ANSA) – Rome, December 15 – A Palestinian and a Tunisian national were arrested after they tried to disarm soldiers stationed outside Santa Maria Maggiore cathedral while yelling "Allah (God) is great", Rome police said Tuesday.

When police intervened, the two men aged 40 and 30 called other foreigners in the area to their aid, and assaulted and threatened the arresting officers.
2. American plumber's truck seen in Syria used by Islamic State terrorists
(This video contains potential proof of more Turkish support of the Islamic State as it was a Turk who brokered the truck from the US to the IS)
3. The countries where a majority of Muslims want to live under sharia law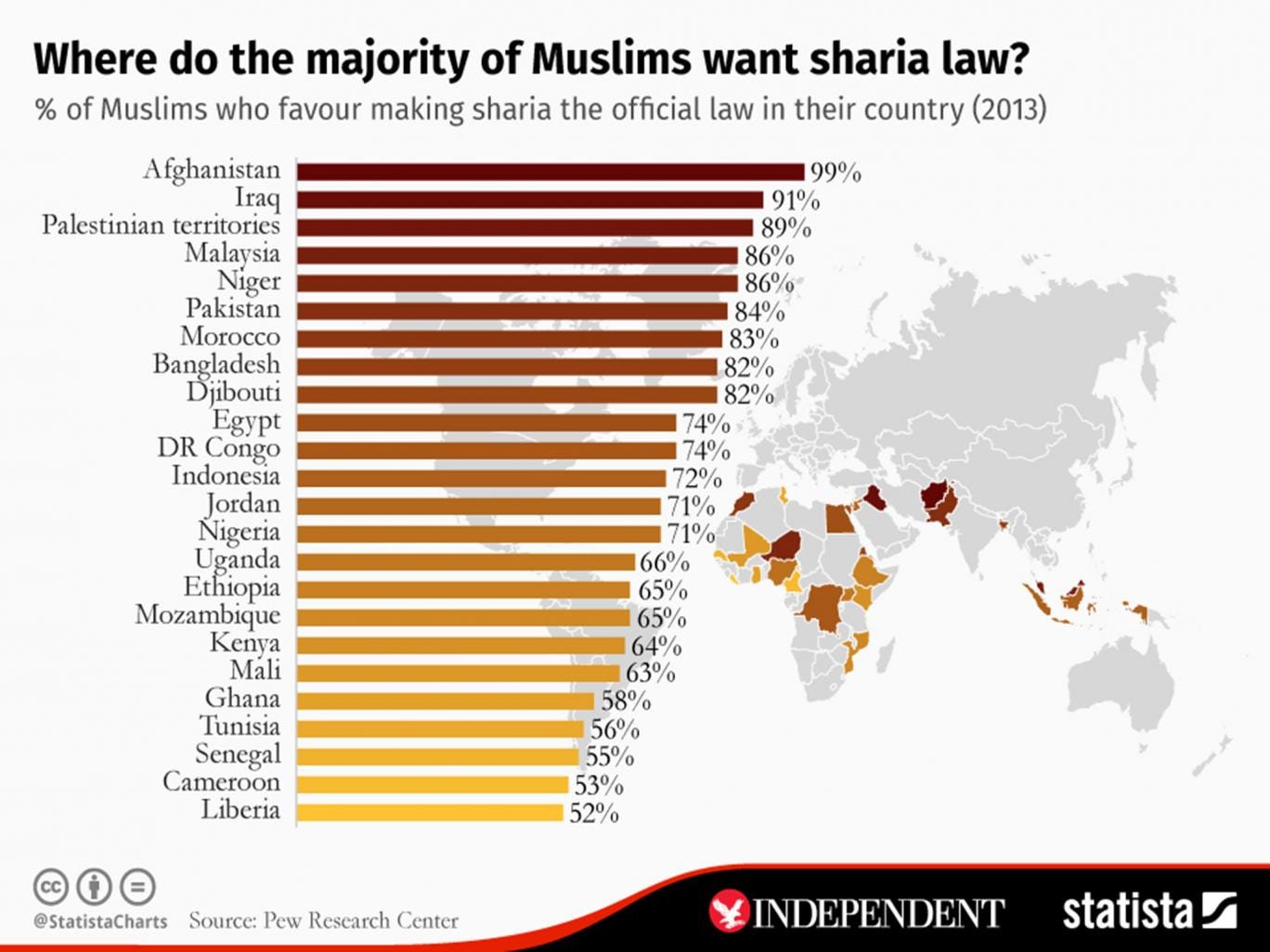 4. Report: Turkey detains suspected IS suicide bomber
(Is 'Patsy' a Turkish name?)
ANKARA, Turkey (AP) — Turkey's state-run news agency says police have detained a Syrian Islamic State militant suspected of planning a suicide attack against the U.S. Consulate in Istanbul.

Anadolu Agency said the man was detained on Tuesday in Kahramanmaras, a province close to the border with Syria. It didn't cite a source for the report.
5. A good rant about Obama and his use of terrorism to sell the end of the 2nd amendment
6. Here is a report on islamic groups in Canada. I haven't read it all yet but the person who  sent it generally vets materials. Point de Bascule is still the source for all issues of Islamic penetration, subversion and infiltration in Canada and is brilliantly checked and laid out.
7. Young white men are the most derided group in Britain, study finds
(I guess if White British men don't like the way they are treated in GB. they should just pack their bags and go back where they came from. Or maybe there is another alternative…)
People were asked for their views on different groups of differing ages, genders and ethnicities.

They were asked to score them on specific positive and negative criteria.

These included how likely they are to be honest, to be intelligent, to work hard, to be polite, to help others, to be violent, to travel without buying a ticket, to take drugs, to have many sexual encounters, and to get drunk.

The polling company explored attitudes to 48 different groups.
They looked at eight different ethnic/national groups, three ages (twenties, forties and sixties) and the two genders.
8. Activists: Nigeria Military Killed Hundreds of Shiites
Police opened fire Tuesday on unarmed Shiite Muslim protesters in the northern city of Kaduna, leaving three dead Tuesday, the spokesman for Shiites in Nigeria said, as activists accused soldiers of having killed hundreds of Shiites in "a massacre" in a nearby town in recent days.

Spokesman Ibrahim Musa of the Shiite Islamic Movement in Nigeria says 10 people were also wounded when police shot "peaceful protesters." They were demanding the international community condemn the mass killings over the weekend in the ancient Muslim university town of Zaria, and demanding the military release their leader, Ibraheem Zakzaky.

The police spokesman in Kaduna did not immediately respond to requests for information.
9. Canada's Growing Jihadi Cancer
The border that terrorists are most likely to cross into the United States is not the one with Mexico, but Canada.

Ignore growing Muslim fundamentalism and extremism in Canada at your peril. That's the message an increasingly vocal number of moderate and secular Canadian Muslims and counterterrorism experts want to send to the United States and the rest of the world.

The attention focused last week on the Ontario branch of al-Huda, the same religious school the San Bernardino killer Tashfeen Malik attended in Pakistan, is just one example of increasing Saudi-funded Islamic fundamentalism all over Canada.

Radical mosques with reported ties to terrorist organizations have flourished in and around Toronto as well as in Montreal, while some politicians, including Canada's new prime minister, Justin Trudeau, have been reluctant to constrain or even criticize these groups, defending them in the name of diversity and multiculturalism.
10. Government hotel bill for Syrian refugees expected to near $80 million by March
(Sure seems like it should be a bigger problem than a single $14.00 glass of orange juice)
The federal government wants to book a swath of hotel rooms in Toronto and Montreal to accommodate the influx of Syrian refugees expected over the next several weeks.

Between now and March, Ottawa needs 300 rooms daily in each of the two cities to house about 600 refugees per night, according to a notice posted Friday on a government procurement website. Suppliers will also be expected to provide meals.

The length of stays will vary: some will leave the next morning, others will need "two or more nights."

"As we gear up for more arrivals, we want to ensure that we have the necessary hotel rooms to accommodate," said Nancy Chan, a spokeswoman for Citizenship and Immigration Canada.
11. Massachusetts judge orders landlord to learn about Islam after dispute with Muslim tenant
BOSTON – After a landlord was convicted of pushing her Muslim tenant down a flight of stairs, a judge ordered her to respect the rights of all Muslims and to take an introductory course on Islam. Now the highest court in Massachusetts is being asked to decide whether the judge violated the landlord's constitutional rights.

The Supreme Judicial Court will hear arguments next month in a case that poses interesting legal questions at a time when the country is grappling with anti-Muslim backlash following deadly attacks in Paris and San Bernardino, California, both allegedly carried out by radical Muslims.
(Lets see, what does the 1st amendment say: "Congress shall make no law respecting an establishment of religion, or prohibiting the free exercise thereof; or abridging the freedom of speech, or of the press; or the right of the people peaceably to assemble, and to petition the Government for a redress of grievances". I would think a judge ordering someone to learn about a religion and respect it comes mighty close to "establishing a religion" myself)
12. Le Pen Cleared of Charges Linked to Muslim Prayer Comments
A French court on Tuesday acquitted French far-right leader Marine Le Pen of incitement to hatred, a charge leveled after she compared Muslim street prayers to a foreign occupation.

A court in Lyon followed the prosecution's demand that Le Pen, who made the remark five years ago, be cleared, according to her lawyer, David Dassa-Le Deist.

The ruling, delivered in writing, came two days after Le Pen's anti-immigration National Front party gained a record number of votes but still suffered a stinging defeat in France's regional election.

Four anti-racism associations had filed a complaint after Le Pen said in a 2010 political rally in the southeast city of Lyon that Muslim street prayers could be compared to the Nazi occupation of France. Le Pen had faced up to a year in prison and a 45,000-euro ($50,000) fine if convicted. Her father, Jean-Marie Le Pen, has been convicted several times of the same charge but never imprisoned.
(This probably saved a few French establishment necks)
Thank you M., Wrath of Khan, PePi, Richard, Shabnam, Grace, and all who sent in materials. The LA schools thing is clearly under represented at this time on this site. That is because from our perspective there is little to post yet. There may be if something substantial appears but then again there may not beyond a hoax can now carry that much economic devastation.
More to come.