Last night I was AFK for quite a while as I had to go out of town on related work. It was great, but of course all hell broke loose the second the car hit city limits. Thanks to all of you who kept readers up to date on events with comments in the daily links post.
And now, we try and catch up and sort it out.
1. Paris gets attacked again.
France is at war, calls for large anti IS coalition.
(It is interesting that Ruptly titles it Anti IS and not the Obama Patented ISIL)
(The French leader should be apprised that terrorism is a tactic and you cannot wage war on it. Its like waging a war against burning things or wearing camouflage. His war is with islam but the French have not taken enough damage yet to force truth into the narrative)
2. European Union, upset that people are starting to arm themselves in self defense against the European Union policy of letting in millions of muslims who hate Europe, are going to implement restrictions on buying guns for the public showing that they are ready to sacrifice not just the Jews, as I wrote before but now all people and especicially the working poor and their children (who typically live in the areas the governments cede to the muslims
3. Saint Denis wrap up: 2 dead, 7 arrested in massive raid near Paris
3b. Police in St. Denis France chop down Church door where they suspect the mastermind of last week's attacks may be holed up
4. French police raid that left two jihadis dead 'prevented terror cell from attacking Charles de Gaulle airport'… but mystery remains over whether they have caught Paris massacre mastermind
A French police raid where a female terrorist blew herself up and another jihadi was killed by a grenade was to stop a new ISIS double terror attack on Paris, security sources claimed today.
More than 100 armed officers stormed a flat in Saint-Denis this morning believing Paris massacres mastermind Abdelhamid Abaaoud, 27, was inside with six other terrorists – but the French authorities will not say if he was there or if he is dead or alive.
A female terrorist believed to be Abaaoud's jihadi bride or cousin blew herself up with a suicide vest and another suspect died during the six-hour siege where five people were taken alive and arrested. Two more suspects were held 'nearby'.

State broadcaster France 2 has claimed the group was a 'fourth unit' on top of the three who killed 129 on Friday and were planning simultaneous attacks with AK-47s and bombs on Charles de Gaulle airport and the Quatre Temps shopping centre in the city's business district, Le Défense.

The Saint-Denis siege started at 4.25am when SWAT teams and special forces surrounded the building after security services hunting for Abaaoud spent days watching flats and tapping phones.

A woman 'with long blonde hair' is said to have fired her AK-47 at police before blowing herself up as an assault squad stormed their hideout. A seven-year-old sniffer dog called Diesel sent into the block to look for booby traps was killed in the blast. Another terror suspect was killed by a grenade blast.

The stand-off ended as a bloodied and half-naked suspect was dragged out of the apartment close to the Stade de France at 10.24am.

At least five police were injured in the ferocious gunfight including one shot in the foot seen being carried from the scene. Witnesses told MailOnline their street was 'turned into a warzone' after long periods of intense machine gun fire and at least seven large explosions, caused by the suicide bomber and hand grenades. There were no hostages involved.
Scroll down for video 
Mystery suspect: Hooded police officers pull a man arrested in the gun battle through crowds of other officers and soldiers as the Saint-Denis siege ended after six hours
(I would say This is significant)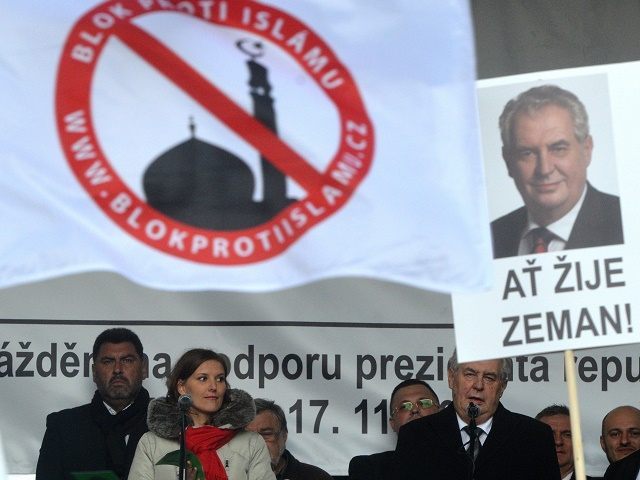 The president of the Czech Republic has said opponents of Islam should not be referred to as extremists at a rally today advocating closing the Republic's borders to Muslim migrants.

Speaking to a crowd this afternoon that included observers from Germany's PEGIDA movement and Britain's Tommy Robinson, president Miloš Zeman was a guest of the Czech political action group 'Block Against Islam'.

Speaking on stage, the president said nobody else would be able to dictate to the Czech people, and took aim at the mainstream media, which he accused of "massaging" the migrant crisis for their own ends. He took a strong position defending free speech, remarking that everyone had the right to an opinion, but Czechs should never try to silence people with opposite views.
6. Turkish Soccer Fans Chant 'Allahu Akbar' During Moment of Silence for Paris Victims
(Gonna be tough for France to preserve the multi culti utopia when this sort of thing keeps happening. Of course their pledge to take another 30,000 muslims with no security check will supress any natural tendencies)
(The thing is, there is no way of knowing that the fans are Turkish cause they don't check passports at the games. BUt you can know that anyone who screams "allah hu ackbar" at a minute of silence for dead kafirs is almost certainly a muslim. So now we see that even Breitbart, wittingly or unwittingly is a purveyor of the narrative)
7. Terror Suspects Had Planned Attack On Paris Business District
(Breitbart emphasizes the importance of this with a historic size font in the description)
A woman suicide bomber blew herself up and another militant died when police raided the apartment in the St. Denis suburb as part of the investigation into last week's coordinated bombings and shootings.

"The police forces were looking for terrorists who were preparing another attack on the basis of information from the (local) counter-terrorism services and overseas," said the source close to the investigation.

"This new team was planning an attack on La Defense."

The French interior ministry declined to confirm or deny the information.

Officials said police had been hunting Abdelhamid Abaaoud, a Belgian Islamist militant accused of ordering the Nov. 13 attack, but more than eight hours after the launch of the pre-dawn raid it was still unclear if they had found him.
8. TORONTO Canada:
Peel cops shoot suspected suicide bomber
Hours after the horrific terror attacks in Paris, a stand-off unfolded between police officers and a suspected suicide bomber in a Mississauga neighbourhood, the Toronto Sun has learned.

French officials were still counting their dead when Peel Regional Police officers ended a frightening confrontation by opening fire on the 26-year-old man at Golden Orchard Dr. and Grand Forks Rd. — near Bloor St. and Dixie Rd. — shortly after 2 a.m. Saturday.

In the aftermath of the shooting, police downplayed the incident saying only that the call involved "an emotionally disturbed person."

But the presence of the service's Explosive Disposal Unit and heavily armed Tactical officers at the scene suggested a far more serious threat was afoot.

A source, who asked not to be named, revealed to Sun on Monday that the bomb squad responded because the man in question was wearing what appeared to be a suicide vest and holding what looked like a triggering device.
Than you Tundra Tabloids, Buck, M., PP. WhupTdue, and many more and there is considerable horror to come. Some disturbing revelations about treatment of the bodies in the first Paris attack on the 13th seems imminent for example. More later.