1. Ezra busts Toronto for gross religious selective enforcement in favour of islam and against Christianity
2. Kashmir: Indian soldiers killed in 'Pakistan firing'
Pakistani forces have killed two Indian soldiers in firing along the de facto border that divides Kashmir between the two countries, India's army has said.

The incident happened in the Gurez area of Bandipora district on Monday evening, an army officer said.

India and Pakistan have often accused each other of unprovoked firing along the disputed border.

A ceasefire agreed in 2003 remains in place, but the neighbours often accuse each other of violating it.

Monday's incident happened days before Indian Prime Minister Narendra Modi's scheduled visit to Indian-administered Kashmir.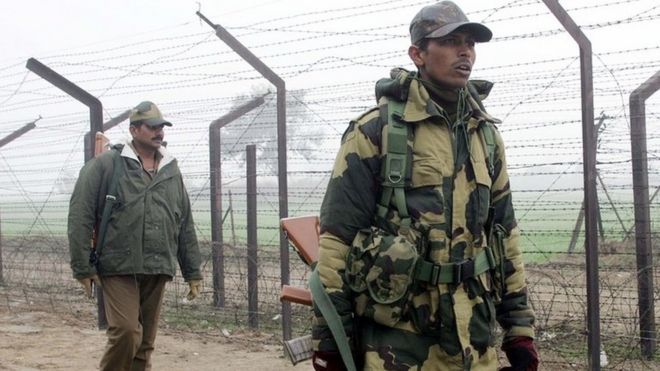 3. Terrorists release video demanding $100M to free hostage group that includes two Canadians
Abu Sayyaf gunmen released a video Tuesday threatening to kill four hostages, including two Canadians, kidnapped in the southern Philippines six weeks ago unless it received a ransom of more than $100-million.

The 90-second clip obtained by the SITE Intelligence Group showed black-clad men standing over Canadians John Ridsdel and Robert Hall, as well Hall's Filipino girlfriend Marites Flor and Norwegian Kjartan Sekkingstad.

"We're being ransomed for each for one billion pesos," Ridsdel said as a man held a machete above his neck. "I appeal to the Canadian Prime Minister and the people of Canada, please pay this ransom as soon as possible or our lives are in great danger."
(Note to all people in the Western world. Do not travel to places where muslims get rich by kidnapping and killing non muslims. We in the West must not give in to the medieval system which controlled much of the world of paying ransoms and tributes to the muslim savages and thugs. Dint pay, don't go and only offer the locals aid in the form of methods of fighting the muslims in the areas seeking total control)
4. Spanish police bust Islamic State cell in Madrid
5. Gates of Vienna: The GDR's Belated Revenge on Angela Merkel
Everyone wants to know what motives Chancellor Angela Merkel has for inviting millions of "refugees" in the Middle East to come to Germany. In the following op-ed from Die Welt, Henryk Broder offers some suggestions. Many thanks to JLH for the translation:
The GDR's Belated Revenge on Angela Merkel

"We can do it!" says the Federal Chancellor, like a mantra. A very similar motto was once in circulation — "That, we can do it!" It was not much use to those in power that time, either.

Henryk M. Broder
October 27, 2015

On the occasion of the tenth party convention of the SED[1], the party leadership commissioned ten posters which were intended to honor the role of the SED in the building of the first German workers' and farmers' party. On one of them, two hands intertwine powerfully, Above them is "Our Thanks to You, Party." On another a pupil holds out a notebook in which she has written "I do my best, so do Mommy and Daddy."

In three other similarly designed posters are a soldier, a miner and a farm woman, all offering "Everything for the Good of the People." The soldier says "That, we can protect!", the miner says "That, we can handle!" and the farm woman says "That, we can do!" The woman is wearing grey-blue overalls, is powerfully built and has her hair in a bob cut — and is the spitting image of the chancellor. Yes, Angela Merkel could have looked like that 34 years ago.
6. Top French Weatherman Fired For Denying Global Warming
Top French weatherman Philippe Verdier was fired Saturday for publishing a book critical of the climate change narrative.

Verdier's story first gained traction in early October following reports that he was forced to take a vacation after his new book Climate Investigation published. In the book, Verdier accuses global warming scientists of misleading the public and using scare tactics to force conformity on the issue, reports France 24. He specifically goes after the U.N.'s Intergovernmental Panel on Climate Change (IPCC), alleging that they have "politicized" climate change and intentionally published false data.

"I am being punished for exercising my freedom of expression," said Verdier. He was reportedly summoned two weeks ago to a meeting with top executives from French news channel France Televisions and received his official notice of termination on Saturday.
7. Johnny U. Left some headlines from Hungarian news that are worth reading. They generally are tomorrow's newspaper for the rest of Europe and next year's headlines for North America.
From the Hungarian border chief:
Hungary may build a fence on Romania border.

Expect another five years of migrant pressure.

Subsaharan migrants have not yet mobilized in large numbers but this is expected to begin soon.

Slovenian guards carrying machine guns, with swat teams deployed when migrants wander off track

Slovenia planning a fence with Croatian border,  Austria with Slovenia,  and Croatia with Serbia.

Merkel says a Balkan war may result
8. Iran: Tehran celebrates US Embassy take-over anniversary
(Notice how the signs are in English, because in the manner of the petulant child, there is no satisfaction in your contempt of someone or something if they aren't fully aware of it)
9. 40 Quebec schools get bomb threats
10. Worthy Facebook rant by what I think is a Latin American living in Sweden about how the country is so skewed left that they invite the world's worst dictators to the Nobel Prize ceremony and ban Sweden's own Swedish SD party for telling the truth about their cultures.
10. 'We blindfold her and cut three times. They can't scream – other girls would think badly of them': Mother and daughter 'cutters' who carry out genital mutilation reveal cruel insight to their trade
(And this is one of hundreds of reasons why the concept of 'multiculturalism' is in fact an oxymoron)
Two women known as 'cutters' have described how girls are pinned down and blindfolded while being cut with a razor blade during gruesome FGM procedures in the backstreets of Kenya.

CNN's Nima Elbagir gained exclusive access to a mother and daughter known as 'cutters' in Nairobi, Kenya, where the practice of female genital mutilation remains commonplace.

It is here that many British girls with links to the African country are taken during their school holidays in order to undergo the brutal and barbaric procedure.
Thank you M., Buck, Wrath of Khan, Johnny U. Liberty Dk. Gates of Vienna and many many more and much more to come shortly.